Share this infographic on your site!
World Cup 2014: A Consumer's Guide
The Cup's final game is the single most viewed sporting event on earth.
Yes… it's bigger than the Olympics:
3.2 billion, OR 46 % of the world, watched the 2010 tournament on TV
1 billion: World Cup, Cricket match, India v. Pakistan (2011)
600 million: Olympics' viewers, on average, any given minute
111.5 million: Superbowl, in U.S. and elsewhere.
June 12-July 13: The World Cup Tournament Dates
Some facts:
• 76: number of nations that have appeared at least once
• 2,208: number of goals scored
• 5 – Most wins. Brazil won the World Cup in 1958, 1962, 1970, 1994, and 2002. Italy (four wins), Germany (three), Uruguay, Argentina (twice each), England, France and Spain (once each) are the other past winners in this year's field.
• Bosnia-Herzegovina: their first major tournament.
• The 2014 World Cup will see matches take place in 12 different cities, more than any other finals on record.
• From north to south, there will be games in Manaus, Fortaleza, Natal, Recife, Salvador, Cuiaba, Brasilia, Belo Horizonte, Rio de Janeiro, Sao Paolo, Curitiba and Porto Alegre.
• 1.1 million tickets (so far) allocated to fans.
Timeline: 
July 13, 1930 – The first World Cup begins in Montevideo, Uruguay.
1942, 1946: The tournament is not held because of World War II. Play resumes in 1950.
2010 – The World Cup takes place in South Africa. Spain wins its first World Cup championship by defeating the Netherlands in the final, 1-0.
June 12-July 13, 2014 –  Brazil.
2018- The World Cup in Russia.
2022- The World Cup in Qatar.
Greatest World Cup Players Ever
• Diego Maradona, Argentina (21 games, 8 goals)
• Pele, Brazil (14 games, 12 goals)
• Franz Beckenbauer, West Germany (18 games, 5 goals)
• Giuseppe Meazza, Italy (8 games, 3 goals)
• Gerd Mueller, West Germany (13 games, 14 goals)
Bracket-ology
Hosts: Brazil
Teams represented in 2014
South America: Argentina, Colombia, Ecuador, Chile and Uruguay
North/Central America and Caribbean: United States, Costa Rica, Honduras and Mexico
Asia: Japan, Australia, Iran and South Korea
Africa: Nigeria, Ivory Coast, Cameroon, Ghana and Algeria
Europe: Netherlands, Italy, Belgium, Switzerland, Germany, Russia, Bosnia and Herzegovina, England, Spain, Greece, Portugal, Croatia and France.
Group A: Brazil, Croatia, Cameroon, Mexico
Group B: Spain, Netherlands, Chile, Argentina
Group C: Colombia, Greece, Cote d'Ivorie, Japan
Group D: Uruguay, Costa Rica, England, Italy,
Group E: Switzerland, Ecuador, France, Honduras
Group F: Argentina, Bosnia and Herzegovina, Iran, Nigeria
Group G: Germany, Portugal, Ghana, U.S.A.
Group H: Belgium, Algeria, Russia, Republic of Korea
8 groups, 4 teams in each. The top 2 advance to second round of 16, and successive rounds to reach the finals.
Followed by Round 2, Quarterfinals, Semi-finals and Finals
Established Superstars:
• Cristiano Ronaldo, Portugal
• Lionel Messi, Argentina
• Neymar, Brazil
• Andrea Pirlo, Italy
• Mario Gotze, Germany
7 Emerging stars:
Son Heung-Min (South Korea), 20, a forward
Christian Atsu (Ghana), left winger
Paul Pogba (France). midfielder
Diego Reyes (Mexico), defender
Angelo Henriquez (Chile), forward
Kenneth Omeruo (Nigeria), center back
Bernard (Brazil), forward
Betcha didn't know: Brazil will use robots to help police the world cup games.
• $7.2 million: amount paid to Massachusetts based iRobot for 30 PackBot robots
• PackBots can travel at 9 mph
• iRobot's models include a host of sensors including GPS, video, thermal detection, electronic compass and system diagnostics.
Bookie Odds
Top 5 favorites:
• Brazil, 3-1
• Argentina, 5-1
• Germany, 11-2
• Spain, 7-1
• Belgium, 14-1
And some others:
France: 22-1
England: 25-1
Mexico: 125-1
USA: 150-1
Honduras: 3,000-1
Brazil Essentials:
201 million: population
Brasilia: the capital
It's the 5th largest country in the world
Language: Portuguese
Has 25% of the world's rainforests
Every city in Brazil has a soccer stadium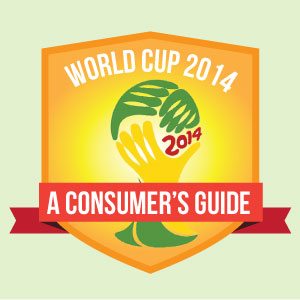 Sources:
http://sports-facts.top5.com/the-worlds-top-5-most-watched-sporting-events/?page=2
http://www.theguardian.com/football/2013/dec/08/brazil-world-cup-2014-timetabe-fixtures
http://bleacherreport.com/articles/1873961-top-10-must-watch-players-at-the-fifa-2014-world-cup/page/11
http://www.infowars.com/brazil-will-use-robots-to-police-the-2014-world-cup/
http://www.paddypower.com/football/international-football/2014-world-cup#top