Missouri is synonymous with the frontier – wild with potential, promising of adventure. For the sports enthusiast, what more can you ask for? There are nearly 100 state parks totaling 200,000 acres, with 3,500 campsites, 194 cabins, and 1,000 miles of trails, which span across a singular, diverse landscape: the Missouri and Mississippi River plains and the famous Ozark plateau region, whose limestone and dolostone bedrock have created popular caving destinations. Missouri culture has produced some of the country's most famous music, literature, and film figures — from Chuck Berry, to Mark Twain, to Walt Disney — but its passion for sports is palpable. Five major professional teams call Missouri home, and high school and collegiate athletics are a nearly year-round obsession, as well. Of course, all this makes Missouri a great spot for aspiring sports and recreation professionals, and a number of schools offer degrees in the field. Check out our favorite locations, universities, and degree programs for sports management below!
Planning Your Education
Currently there are 10 universities in the state of Missouri offering online programming in sports management degree fields located throughout the state. While this level of choice and convenience is great, potential students should be counseled to know that there are many potential ways to enter into sports management fields. Many degree types can give students a variety of unique edges on competition, but it's for students to choose which degree type is the best for entering into a sports management field or role of their choice. For an in-depth treatment of this subject, check out our degrees page. Or if you already know what degree types your interested in, check out our directory of sports management degrees in Missouri.
Types of Degrees Surveyed:
Sports Management
Coaching Education
Nutrition
Recreation Management
Kinesiology
Communications and Public Relations
Physical Education
Health and Wellness
Sports Psychology
Business Administration: Sports Management
Degree Levels Surveyed:
Associates
Bachelors
Masters
Doctoral Degrees
Graduate and Undergraduate Certifications
Career Opportunities
Number of Jobs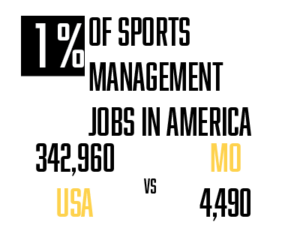 There are about 4,500 sports management professionals in Missouri, which makes up 1% of the sector's national workforce. Most available openings are full-time, according to Indeed.com, but part-time, temp, commission, contract, and internship roles are available for those interested. Following statewide employment trends, St. Louis, Kansas City, Springfield, Independence, and Columbia currently offer the most openings, ranging from public high school and university athletic departments, to sports apparel companies, to healthcare and consulting agencies. Though the state recently suffered the loss of the Rams NFL franchise to Los Angeles, the St. Louis Cardinals, Kansas City Chiefs, Kansas City Royals, St. Louis Blues, and Sporting Kansas City are still tremendously popular. At the collegiate level, there are 67 colleges and universities in the state, all potential employers. In particular, The University of Missouri in Columbia is a major competitor in the SEC (itself perhaps the most competitive NCAA conference).
Earning Percentiles for Sports Management Professionals in Missouri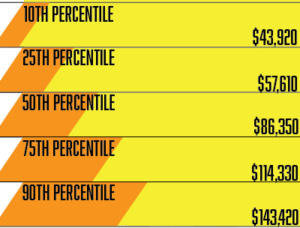 Missouri ranks 22nd in the country for median household income, which corresponds well with the state's average salaries for sports management professionals. If anything, salaries are better than expected. While the sector as a whole has slightly shrunk in recent years, that trend has raised salaries 23% across the board, with the 50th percentile pulling in nearly $90k a year. If we compare this data with the nationwide mean salary for leadership positions, $117k, Missouri still looks average to above average; top earners average $143k while the bottom bracket earns $44k – on par with average entry-level salaries. Altogether, with the wealth of top-tier colleges and universities offering a variety of undergraduate and graduate degrees in the field, range of potential employers, and rapidly growing salaries, Missouri is a great location for aspiring sports management professionals.
Need more inspiration to pursue sports management-related opportunities in Missouri today? Check out the range of job opportunities below!
Missouri Sports Management Jobs from Indeed
jobs by
Top Sports Management Degree Programs: MO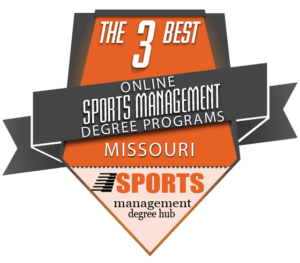 While there are a variety of top schools offering a range of sports management-related degrees online in Missouri, students will first and foremost want to consider the exact degree type they're interested in pursuing. We've chosen out our three "recommended" schools for Missouri below, but aspiring students should keep in mind that not each of these universities will necessarily have a program of study that can lead directly to the particular sports management career of your choice. If you're already set on pursuing sports management-related schooling in the state of Missouri, we advise you to not only consult out ranking of top schools below, but also peruse our database of all sports management-related programs in Missouri below. While there are additional benefits of pursuing an online degree in your own state (in-state tuition, and the ability to take classes or intensives in person), future students should also note that there are many online programs available nationwide, and consult our wide-ranging rankings for the top online sports management schools in the nation.
With that said, there are many top Missouri-based programs available entirely online. We've selected our top three through equally weighting two metrics: the number of sports-management related degrees available online through the institution, and the academic prestige of the given institution.
[tcpaccordion id="1485"]
MO Sports Management Degree Database
A.T. Still University of Health Science
Kirksville, MO
Online SM Degrees: 6

ADDRESS & CONTACT INFO (660) 626-2121
800 W Jefferson St, Kirksville, MO 63501

GRADUATE DEGREES

Master of Science in KinesiologyDoctor of Physical Therapy Post Professional Program Online Transitional Doctor of Physical Therapy Non-Degree Doctor of Athletic Training Degree Doctor of Health Education Degree Doctor of Health Sciences (Dhsc)

Founder of osteopathic healthcareCommunity focused
Missouri State University Springfield
Springfield, MO
Online SM Degrees: 3

ADDRESS & CONTACT INFO (417) 836-5000
901 S National Ave, Springfield, MO 65897

UNDERGRADUATE DEGREES

Bachelor of Science in Communication Studies Bachelor of Science in Health Services

GRADUATE DEGREES

Master of Arts in Communication

Second largest university in the stateOver 110,000 alumni worldwide
MIssouri Baptist University
St Louis, MO
Online SM Degrees: 3

ADDRESS & CONTACT INFO (314) 434-1115
1 College Park Dr, St. Louis, MO 63141

UNDERGRADUATE DEGREES

Bachelor of Science in Sports Management

GRADUATE DEGREES

Master of Science in Fitness Management Master of Science in Sport Management

Affordable tuition ratesPersonalized
instruction
Drury University
Springfield, MO
Online SM Degrees: 2

ADDRESS & CONTACT INFO (417) 873-7879
900 N Benton Ave, Springfield, MO 65802

UNDERGRADUATE DEGREES

Bachelor of Science in Organizational Communication And Development Bachelor of Science in Health Services

Great valueSmall
and intimate classes
Webster University
Webster Groves, MO
Online SM Degrees: 2

ADDRESS & CONTACT INFO (314) 968-6900
470 E Lockwood Ave, Webster Groves, MO 63119

GRADUATE DEGREES

Master of Arts in Advertising and Marketing Communications Master of Arts in Communications Management

Top-rated for diversityGlobalized
curriculum
Washington University St Louis
St. Louis, MO
Online SM Degrees: 1

ADDRESS & CONTACT INFO (314) 935-5000
1 Brookings Dr, St. Louis, MO 63130

National top-25 rankingHybrid
delivery options
Missouri University of Science and Technology
Rolla, MO
Online SM Degrees: 1

ADDRESS & CONTACT INFO (573) 341-4111
1201 N State St, Rolla, MO 65409

"Best Investment" rank by NewsweekOne of the region's oldest technological institutions
University of Missouri Saint Louis
St Louis, MO
Online SM Degrees: 1

ADDRESS & CONTACT INFO (314) 516-5000
1 University Blvd, St. Louis, MO 63121

Largest public research university in eastern MissouriAlumni working in 50 states and 63 countries
Logan University
Chesterfield, MO
Online SM Degrees: 1

ADDRESS & CONTACT INFO (636) 227-2100
1851 Schoettler Rd, Chesterfield, MO 63017

91% of faculty have terminal degreesDiverse and engaging community
Missouri Southern University
Joplin, MO
Online SM Degrees: 1

ADDRESS & CONTACT INFO (866) 818-6778
3950 Newman Rd, Joplin, MO 64801

Region-wide tuition discount programHonors program