The Land of Lincoln is home to some of the nation's greatest cities, small towns, and lakes. A short drive from St. Louis, Southern Illinois hosts numerous vineyards, the Shawnee National Forest, and countless outdoor sporting opportunities. Northern Illinois plays host to some of the world's best-known sports teams, sporting events, and fitness hubs in Chicago. The State of Illinois also houses the greatest number of in-state learning opportunities in the Midwest, maintaining eleven national universities, six of which have ranked among the top 100 institutions in the United States. One of the best parts of living in the twenty-first century is that residents from almost anywhere can choose to attend college almost anywhere so that someone in Southern Illinois can attend a university in Northern Illinois, and vice versa, all from the privacy of their own home. To be sure, there are a growing number of reasons why a growing number of U.S. citizens want to move to Illinois—the same reasons why Illinois residents might want to stay right where they are—and get everything they need from a degree in sports management online.
Planning Your Education
There are currently 13 universities in the State of Illinois offering online programs of study in sports management. While this level of choice and convenience is great, potential students should be counseled to know that there are many potential ways to enter into sports management fields. Many degree types can give students a variety of unique edges on competition, but it's for students to choose which degree type is the best for entering into a sports management field or role of their choice. For an in-depth treatment of this subject, check out our degrees page. Or if you already know what degree types you're interested in, check out our directory of sports management degrees in Illinois.
Types of Degrees Surveyed:
Sports Management
Coaching Education
Nutrition
Recreation Management
Kinesiology
Communications and Public Relations
Physical Education
Health and Wellness
Sports Psychology
Business Administration: Sports Management
Degree Levels Surveyed:
Associates
Bachelors
Masters
Doctoral Degrees
Graduate and Undergraduate Certifications
Career Opportunities
Number of Jobs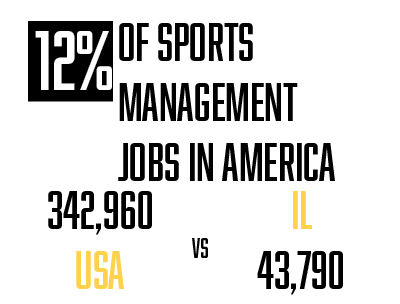 Illinois is one of the larger markets for sports management jobs in the nation, acting as homebase for approximately 13% of all sports management professionals in the United States. Although some positions will be filled by people who are already climbing the ladder of sports management career paths, new job opportunities have risen over the last decade, having grown 26% between 2006 and 2010, a rate that is 21 points higher than the national average during that same time frame. According to Indeed.com, there are over 1,200 job openings related to the search terms "sports management" in Illinois. These jobs tend to congregate around the Chicago metro area, although many are also located in the Southern Illinois-St. Louis metro area. The vast majority of these jobs openings are listed under the classification of Full-Time, affording sports professionals a wealth of opportunity to further their careers in the State of Illinois, where conversations and careers that revolve around professional sports powerhouses like the Bulls, Cubs, and Bears are common cultural currency.
Earning Percentiles for Sports Management Professionals in Illinois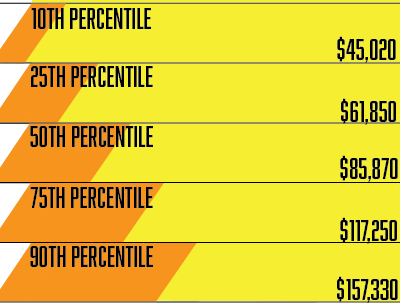 Across all segments of the working population, Illinois yields the eighteenth highest average wages in the nation by state. Sports management jobs in Illinois tend to offer salaries that are above average, with all but 10% of sports management professionals earning above the Illinois average income of $53,234. For leadership positions in spectator sports, the mean salary for management positions is $117,000 nationwide, a figure the top 25% of sports management professionals in Illinois either meet or supersede. This income distribution means that at least one in every four sports management professionals in Illinois is in a leadership position and taking home equal to or more than most sports management professionals in similar positions and other states.
Need more inspiration to pursue sports management-related opportunities in Illinois today? Check out the range of job opportunities below!
Illinois Sports Management Jobs from Indeed
jobs by
Top Sports Management Degree Programs: IL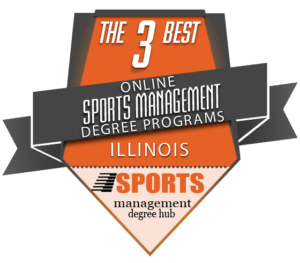 While there are a variety of top schools offering a range of sports management-related degrees online in Illinois, students will first and foremost want to consider the exact degree type they're interested in pursuing. We've chosen out our three "recommended" schools for Illinois below, but aspiring students should keep in mind that not each of these universities will necessarily have a program of study that can lead directly to the particular sports management career of your choice. If you're already set on pursuing sports management-related schooling in the state of Illinois, we advise you to not only consult our ranking of top schools below but also peruse our database of all sports management-related programs in Illinois below. While there are additional benefits of pursuing an online degree in your own state (in-state tuition, and the ability to take classes or intensives in person), future students should also note that there are many online programs available nationwide, and consult our wide-ranging rankings for the top online sports management schools in the nation.
With that said, there are many top Illinois-based programs available entirely online. We've selected our top three through equally weighting two metrics: the number of sports-management related degrees available online through the institution, and the academic prestige of the given institution.
[tcpaccordion id="998"]
University of Illinois at Urbana-Champaign
Urbana-Champaign, IL
Online SM Degrees: 4

ADDRESS & CONTACT INFO (217) 333-1000
University of Illinois at Urbana-Champaign Champaign, IL 61801

GRADUATE DEGREES

MS Recreation, Sport and Tourism MS Food Science and Human Nutrition, Masters in Health Communication Online Masters(HCOM), Program Masters in Strategic Brand communication

A Top 50 School for Multiple DecadesOne of the First Online Education Programs in the U.S.
Rosalind Franklin University
Chicago, IL
Online SM Degrees: 4

ADDRESS & CONTACT INFO (847) 578-3000
3333 Green Bay Rd, North Chicago, IL 60064

GRADUATE DEGREES

Master in Health Promotion and Wellness Masters in Science in Clinical Nutrition Master of Science in Health Promotion and Wellness Master of Science in Nutrition Education

Can Be Completed in 2 Years Part-TiimeMultiple Certificate Options
DePaul University
Chicago, IL
Online SM Degrees: 2

ADDRESS & CONTACT INFO (312) 362-8000
1 E Jackson Blvd, Chicago, IL 60604

Bachelor of Arts in Communication And Media

GRADUATE DEGREES

Master of Science in Sport, Fitness And Recreation Leadership (Ms)

Award-Winning Training for Online FacultyOne-on-One Interaction Guaranteed
Greenville College
Greenville, IL
Online SM Degrees: 2

ADDRESS & CONTACT INFO (618) 664-2800
315 E College Ave, Greenville, IL 62246

Bachelor of Science in Health Psychology

GRADUATE DEGREES

Master of Arts in Education in Coaching

Courses Taught by Award-Winning FacultyFully Supported Online Learning Environment
Concordia University-Chicago
River Forest, IL
Online SM Degrees: 2

ADDRESS & CONTACT INFO (708) 771-8300
7400 Augusta St, River Forest, IL 60305

GRADUATE DEGREES

Master of Business Administration - Sports ManagementDoctor of Leadership - Sports Leadership

No Application FeesOnly School in State to Offer Online Doctorate in Sports Management
University of Illinois at Chicago
Chicago, IL
Online SM Degrees: 1

ADDRESS & CONTACT INFO (312) 996-7000
1200 West Harrison Street, Suite 1100, Chicago, IL 60607-7161

Consistently Ranked Among Top 10 Schools in the WorldNo GRE Required
Benedictine University
Lisle, IL
Online SM Degrees: 1

ADDRESS & CONTACT INFO (630) 829-6000
5700 College Rd, Lisle, IL 60532

Can Be Completed in 2.5 Years Part-TiimeMultiple Dual Degree Options for Those with Nursing Background
National Louis University
Chicago, IL
Online SM Degrees: 1

ADDRESS & CONTACT INFO (888) 658-8632
122 S Michigan Ave, Chicago, IL 60603

Built-In Mentorship ProgramIn-Person Meetings Only Once Per Term
Northern Illinois University
Dekalb, IL
Online SM Degrees: 1

ADDRESS & CONTACT INFO (815) 753-1000
1425 Lincoln Hwy, DeKalb, IL 60115

Generous Transfer PolicyAffordable In-State Tuition
McKendree University
Lebanon, IL
Online SM Degrees: 1

ADDRESS & CONTACT INFO (618) 537-4481
701 College Rd, Lebanon, IL 62254

Military Friendly UniversityAffordable and Discounted Tuition Options
Quincy University
Quincy, IL
Online SM Degrees: 1

ADDRESS & CONTACT INFO (217) 222-8020
1800 College Ave, Quincy, IL 62301

Generous Transfer PolicyMilitary Friendly University
Roosevelt University
Chicago, IL
Online SM Degrees: 1

ADDRESS & CONTACT INFO (312) 341-3500
430 S Michigan Ave, Chicago, IL 60605

One of the First Online Education Programs in the U.S.Generous Transfer Policy
The Chicago School of Professional Psychiatry
Chicago, IL
Online SM Degrees: 1

ADDRESS & CONTACT INFO (312) 329-6600
325 N Wells St, Chicago, IL 60654

Only School in State to Offer Online Masters in Sports PsychologyOne-on-One Interaction Guaranteed