Online Sports Management Degrees Minnesota
Minnesotans stay active: a recent study by the Centers for Disease Control ranked the state first in the country for physical exercise; according to a survey, 85% of respondents said they had exercised at least once in the last month. And despite bitterly cold winters, Minnesotans like their outdoor recreation, including traditional sports like skiing and hockey, plus ice fishing, snowshoeing, curling, broom ball, and bandy, a hockey-like sport that's unique to Minnesota. In the summer, people take advantage of blue skies and near-perfect temps. Water sports are highly popular — water skiing was invented here – and nearly 40% of residents fish, second only to Alaska. Camping, hiking, and bike trails are another go-to. At the professional level, Minnesota has teams in every major sport, including the Vikings, Twins, Timberwolves, Wild, and Minnesota United FC, all of which enjoy avid fan bases. Twenty-seven schools compete in the NCAA, and Minnesota also boasts a large population of Olympic athletes. All this makes Minnesota a great home for sports management professionals, and universities are starting to expand relevant offerings at the undergraduate and graduate level. To review some of the top sports management degrees available in-state, check out our favorite locations, universities, and degree programs below!
Planning Your Education
Currently there are 5 universities in the state of Minnesota offering online programming in sports management degree fields located throughout the state. While this level of choice and convenience is great, potential students should be counseled to know that there are many potential ways to enter into sports management fields. Many degree types can give students a variety of unique edges on competition, but it's for students to choose which degree type is the best for entering into a sports management field or role of their choice. For an in-depth treatment of this subject, check out our degrees page. Or if you already know what degree types your interested in, check out our directory of sports management degrees in Minnesota.
Types of Degrees Surveyed:
Sports Management
Coaching Education
Nutrition
Recreation Management
Kinesiology
Communications and Public Relations
Physical Education
Health and Wellness
Sports Psychology
Business Administration: Sports Management
Degree Levels Surveyed:
Associates
Bachelors
Masters
Doctoral Degrees
Graduate and Undergraduate Certifications
Career Opportunities
Number of Jobs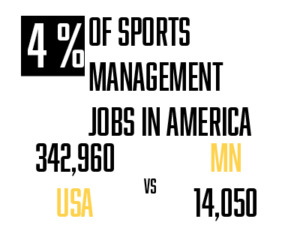 There more than 14,000 sports management professionals in Minnesota, which makes up about 4% of the sector's national workforce and represents a 28% uptick in recent years, six times the national growth rate. According to Indeed.com, the majority of positions are entry level and full-time, but part-time, contract, commission, temp, and internship roles are also available for those interested. As expected, Minneapolis-St. Paul is the field's biggest employment hub, followed by Bloomington, Rochester, Woodbury, Eden Prairie, and Chanhassen. Among the most desirable jobs can be found at one of the state's five major professional sports teams: the Vikings remain one of the most popular, storied franchises in the NFL, and the Minnesota Wild sold out more than 300 NHL games in a row. From there, high school and collegiate athletics offer excellent opportunities, as do a number of Minnesota health and fitness clubs, sports retailers, and more.
Earning Percentiles for Sports Management Professionals in Minnesota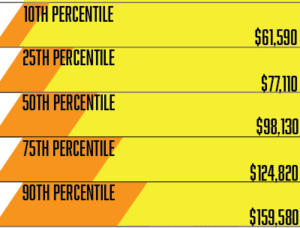 e in recent years. To compare at the national level, the mean salary for management positions in spectator sports is $117,000 nationwide, which would land around the 60th percentile in Minnesota. Earners at the top of the bracket can make over $160k, but the real distinguisher is at the low end, where even the 10th percentile (typically entry-level workers) can make over $60k a year. (That's $15,000 more than the mean salary for most college-educated entry-level professionals.) Better yet, national trends indicate that the sports management field will continue to grow and Minnesota should follow suit.
Need more inspiration to pursue sports management-related opportunities in Minnesota today? Check out the range of job opportunities below!
Minnesota Sports Management Jobs from Indeed
jobs by
Top Sports Management Degree Programs: MN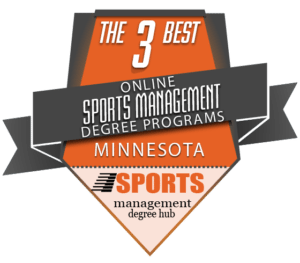 While there are a variety of top schools offering a range of sports management-related degrees online in Minnesota, students will first and foremost want to consider the exact degree type they're interested in pursuing. We've chosen out our three "recommended" schools for Minnesota below, but aspiring students should keep in mind that not each of these universities will necessarily have a program of study that can lead directly to the particular sports management career of your choice. If you're already set on pursuing sports management-related schooling in the state of Minnesota, we advise you to not only consult out ranking of top schools below, but also peruse our database of all sports management-related programs in Minnesota below. While there are additional benefits of pursuing an online degree in your own state (in-state tuition, and the ability to take classes or intensives in person), future students should also note that there are many online programs available nationwide, and consult our wide-ranging rankings for the top online sports management schools in the nation.
With that said, there are many top Minnesota-based programs available entirely online. We've selected our top three through equally weighting two metrics: the number of sports-management related degrees available online through the institution, and the academic prestige of the given institution.
1.) University of Minnesota-Twin Cities

CHARACTERISTICS



DEGREES
Bachelor of Science in Sport & Recreation Management Bachelor of Science in Communication Bachelor of Science in Health Management

---

Founded in 1850, US News ranks The University of Minnesota - Twin Cities among the top 30 public schools in the region and the top 75 national universities. For aspiring sports management professionals, Twin Cities offers relevant online bachelor's in Sport & Recreation Management, Health Management, and Communication, for anyone interested in sports media, marketing, or administration. At the graduate level, prospective students may also be interested in an MA in Integrative Health and Well-Being Coaching, which is delivered in a blended format with in-person intensives two weekends per semester. All online courses are designed to accommodate students' individual schedules and are often self-paced for flexibility. Considering the school's enrollment of 50,000, its 17:1 student-to-faculty ratio is excellent; nearly 40% of classes have less than 20 students. Financial aid opportunities are also available: half of full-time undergraduates receive some form of aid, and the average need met is 75%.

2.) Concordia University-Saint Paul

CHARACTERISTICS



DEGREES
Bachelor of Arts in Sport Management Bachelor of Arts (B.A.) in Exercise Science Bachelor of Arts in Communication StudiesMaster of Arts in Sport ManagementDoctor of Physical Therapy

---

Founded in 1893, Concordia University - St. Paul is a private Christian institution with 4,400 students, ranked in the Midwest region's Tier 1 of schools. Concordia offers bachelor's, master's, and doctoral degrees in a range of sports-related tracks, including Exercise Science (BA/MS), Sports Management (BA/MA), and Physical Therapy (PhD). For maximum flexibility, undergraduate courses deliver asynchronously and bachelor's and master's tracks deliver in accelerated 7-week blocks; the doctorate delivers in 11-week blocks. With a 16:1 student-to-faculty ratio, Concordia programs combine intimate, personalized instruction with a collaborative learning atmosphere to provide a unique educational experience. Three-quarters of classes consist of fewer than 20 students, and no classes exceed 49 students. Over 70% of full-time undergrads receive some form of financial aid, and the average need met is 60%.

3.) Minnesota State University-Mankato

CHARACTERISTICS



DEGREES
Bachelor of Science in Technical CommunicationMaster of Science in Communication Studies Master of Science in Technical Communication

---

Minnesota State University - Mankato, founded in 1867, has a total enrollment of 15,100. Ranked among the top 30 public schools in the region, Mankato offers an online bachelor's Technical Communication and master's degrees in Technical Communications and Communication Studies, all of which may be relevant for careers in sports media, broadcast journalism, marketing and advertising, and general sports management/administration. All online courses are designed to accommodate students' unique schedules, and the university suggests that a 3-credit course requires at least 12 hours of work per week. The school's 23:1 student-to-faculty ratio supports a vibrant, collaborative educational community that balances individual instruction with peer-to-peer learning. A third of classes consist of less than 20 students, and less than 10% of classes have more than 49. Student services include academic advising, career development, library access, veterans services, and more.
MN Sports Management Degree Database
Northwest Technical College
Bemidji, MN
Online SM Degrees: 1

ADDRESS & CONTACT INFO (218) 333-6600
905 Grant Ave SE, Bemidji, MN 56601

Streamlined program requirementsStackable credentials
University of Minnesota-Crookston
Crookston, MN
Online SM Degrees: 2

ADDRESS & CONTACT INFO (218) 281-6510
2900 University Ave, Crookston, MN 56716





UNDERGRADUATE DEGREES

Bachelor of Science in Sport & Recreation Management Bachelor of Science in Communication

Experiential learning emphasisRecognized
for affordability
University of Minnesota-Twin Cities
Minneapolis, MN
Online SM Degrees: 3

ADDRESS & CONTACT INFO (612) 625-5000
Minneapolis, MN 55455





UNDERGRADUATE DEGREES

Bachelor of Science in Sport & Recreation Management Bachelor of Science in Communication Bachelor of Science in Health Management

Great financial aidHighly
diverse student body
Minnesota State University-Mankato
Mankato, MN
Online SM Degrees: 3

ADDRESS & CONTACT INFO (507) 389-1866
Mankato, MN 56001





UNDERGRADUATE DEGREES

Bachelor of Science in Technical Communication

GRADUATE DEGREES

Master of Science in Communication Studies Master of Science in Technical Communication

Rolling admissionPersonal
academic advising services
Concordia University-Saint Paul
St Paul, MN
Online SM Degrees: 5

ADDRESS & CONTACT INFO (651) 641-8230
1282 Concordia Ave, St Paul, MN 55104





UNDERGRADUATE DEGREES

Bachelor of Arts in Sport Management Bachelor of Arts (B.A.) in Exercise Science Bachelor of Arts in Communication Studies

GRADUATE DEGREES

Master of Arts in Sport ManagementDoctor of Physical Therapy

High job placement rateCareer-focused
curricula