Online Sports Management Degrees: Michigan
Michigan is known as the Great Lakes State for a reason.
It is is the only state comprised of two peninsulas the upper and lower peninsulas surrounded by Lake Michigan to the South West, Lake Superior to the North above the upper peninsula, Lake Huron to the East and Lake Erie to the South East. No matter where you are in this Midwestern state, you're close to one of the finest lakes in the nation. As such, Michigan has a lot to offer for outdoor enthusiasts like boating and fishing, kayaking, or water skiing. There's also hiking, camping and biking on Mackinac Island, or one of the several state forests or relaxing at the Sleeping Bear Dunes National Lake Shore. Detroit alone has 4 professional sports teams including the very popular Detroit Red Wings- their state hockey team.Michigan is also home to one of the largest schools in the country, Michigan State University home to Spartan Athletics- one of the two Big 10 schools located in Michigan. The other of course being the University of Michigan- it's called the "Wolverine State" for a reason. Grand Rapids, Ann Arbor and Detroit are popular areas for those who wish to branch out even further into fields like sports nutrition, sports medicine and therapy as well dietetics.
Planning Your Education

Currently there are 7 universities in the state of Michigan offering online programming in sports management degree fields located throughout the state. while this level of choice and convenience is great, potential students should be counseled to know that there are many potential ways to enter into sports management fields. Many degree types can give students a variety of unique edges on competition, but it's for students to choose which degree type is the best for entering into a sports management field or role of their choice. For an in-depth treatment of this subject, check out our degrees page. Or if you already know what degree types your interested in, check out our directory of sports management degrees in Michigan.
Types of Degrees Surveyed:
Sports Management
Coaching Education
Nutrition
Recreation Management
Kinesiology
Communications and Public Relations
Physical Education
Health and Wellness
Sports Psychology
Business Administration: Sports Management
Degree Levels Surveyed:
Associates
Bachelors
Masters
Doctoral Degrees
Graduate and Undergraduate Certifications
Career Opportunities
Number of Jobs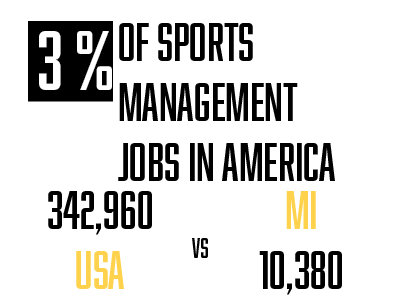 Sports management career opportunities in Michigan represent about 3% of positions available across the nation. Though competition may be high for sports management careers in the state of Michigan, the range of available positions are good. According to a search through indeed.com individuals looking to make a career in sports management have a vast range of opportunities for not only managing but also teaching, coaching, physical therapy, and more. Some top employers are universities such as Michigan State University, the University of Michigan, public schools, preschools, athletic training facilities and sports-related injury treatment and rehabilitation centers. Michigan is known for its varied summer and winter weather and as such is a- popular destinations for rafting, kayaking, tennis, swimming, hiking, and biking so additional opportunities arise seasonally. When it comes to college athleticism Michigan is home to not one but two Big 10 schools: the University of Michigan and Michigan State. There are traditional and unique sports opportunities at both including basket ball and foot ball as well as water polo, gymnastics and track and field. If you're ready for the big leagues popular sports include baseball, basketball, football, hockey, soccer, and gold. Marketing and communication positions are more ample also consider working through other pro-sports initiatives such as internships are often foot-in-the-door opportunities for those whose passion lie in working with professional leagues.
Earning Percentiles for Sports Management Professionals in Michigan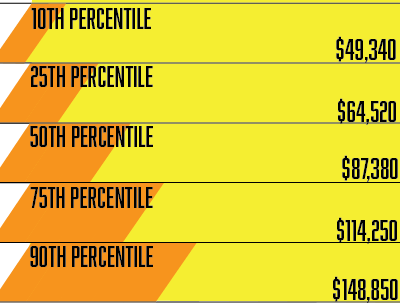 Over a five-year period, Michigan has seen a decline in sports management jobs. That being said, the decline has shown a contrasting drastic increase in salary greatly above the national average growth. This indicates a 11% salary growth in a five-year period. By way of comparison the average mean income per capita for Michigan is listed as $51,084 whereas sports management-related fields average $95,530. This indicates that opportunities are available at a figure close to the 50th percentile for all sports management related careers in Michigan. This indicates both a higher number of upper-level sports management positions, and wages that are generally higher than average for these fields. Combined with ancillary sports management fields, Big 10 sports, major and minor hockey teams, other major professional sports, and the vast range of physical therapy and sports-related industry professions, if The Great Lakes State is where you call home, then these options will help you land your career in sports management.
Need more inspiration to start pursuing sports management-related opportunities in Georgia today? Check out the range of job openings across the state below
Michigan Sports Management Jobs from Indeed
jobs by
Top Sports Management Degree Programs: MI
While there are a variety of top schools offering a range of sports management-related degrees online in Michigan, students will first and foremost want to consider the exact degree type they're interested in pursuing. We've chosen out our three "recommended" schools for Michigan below, but aspiring students should keep in mind that not each of these universities will necessarily have a program of study that can lead directly to the particular sports management career of your choice. If you're already set on pursuing sports management-related schooling in the state of Michigan, we advise you to not only consult out ranking of top schools below, but also peruse our database of all sports management-related programs in Michigan below. While there are additional benefits of pursuing an online degree in your own state (in-state tuition, and the ability to take classes or intensives in person), future students should also note that there are many online programs available nationwide, and consult our wide-ranging rankings for the top online sports management schools in the nation.
With that said, there are many top Michigan-based programs available entirely online. We've selected our top three through equally weighting two metrics: the number of sports-management related degrees available online through the institution, and the academic prestige of the given institution.
1.) Michigan State University

CHARACTERISTICS


DEGREES
Kinesiology (M.S.)
Sport coaching and leadership (M.S.)
Health Professions Education - Master of Arts
Masters in Sports Administration
Master of Arts in Sports Education

---

Michigan State University is a public land and sea grant university located in East Lansing, Michigan. Ranked by U.S. News as one of the top public schools in the nation and best college for veterans, Michigan State is one of the highest value schools in the country. There are over 50,000 students enrolled that represent a diverse population. The student-to-faculty ratio is 17:1. In-state tuition is affordable, accolades are endless, and the research initiative are innovative. In fact, Michigan State is home to the facility for Rare Isotope Beams, the Great Lakes Bioenergy Research Center and AgBioResearch which focuses on food, energy, and the environment. The Higher Learning Commission accredits bachelor's, master's, certification and doctoral degree programs. MSU is also the largest eco-friendly campuse in the nation. Additionally, there are over 60 fully online degree programs and certificates available including five sports management-related master's degrees in health, sports administration, and sports education.

2.) Central Michigan University

CHARACTERISTICS


DEGREES
Bachelor of Science in Community Development - Health SciencesMaster of Science in Nutrition And Dietetics Master of Science in Administration - Recreation & Park Administration

---

Central Michigan University (CMU) is a public research university located in Mount Pleasant, Michigan and enrolls 27,000 students. The student body represents all 50 states and over 40 countries across the globe. U.S. News ranks CMU as one of the top schools in the nation and the engineering and business programs also rank highly. There are over 200 academic programs available. The Higher Learning Commission accredits CMU to offer comprehensive programming for undergraduates, master's, professionals, and doctoral students. Research initiatives include an island research station, neuroscience research for undergraduates and graduates, and a MakerBot Innovation Center. When it comes to online learning, CMU has ranks highly for both its online bachelor's and master's degree programs according to U.S. News . Programs are very suitable for working professionals of which 95% occupy those enrolled through online learning. Degrees ranging from bachelor's to doctorates are available 100% online including three health-related degrees: the B.S. in Community Development with an emphasis in Health Sciences, M.S. in Nutrition and Dietetics, and a M.S. in Administration in Recreation and Park Administration.

3.) Kellogg Community College

CHARACTERISTICS


DEGREES
Bachelor of Professional Studies in Organizational Leadership And Communication (Uw-Eau Claire) Bachelor of Science in Information And Communication Technologies (Uw-Stout) Bachelor's in Communication (Uw-Milwaukee) Bachelor's in Communication Arts (Uw-Superior) Bachelor of Science in Health And Wellness Management (Collaborative Degree)Master's in Exercise And Sport Science-Sport Administration (Uw-La Crosse) Master of Science in Information And Communication Technologies (Uw-Stout) Master of Science in Technical And Professional Communication

---

Kellogg Community College is a public college located in Battle Creek, Michigan. There are additional satellite campuses located in Albion, Hastings, and Coldwater. This community college is fully accredited by the Higher Learning Commission and offers over 100 pre-professional college university degree programs. KCC enrolls over 6,000 students that represent a diverse population. In-state and out-of-state tuition and fees remain low- far lower than the national average. In addition to traditional style classes, KCC engages students through service learning opportunities and online distance learning opportunities. Of all the programs surveyed in the state of Michigan, Kellogg Community College offers the most by way of distance learning for sports management and health-related fields. A large component to sports management is communication across systems. There are 8 programs available fully online that related to sports management careers: BPS in organizational leadership and communication, a B.S. in information and communication technologies, BA in communication, BS in Health and Wellness Management, a MS in exercise and sport science, MS in Information and Communication Technologies, and an M.S. in Technical and Professional Communication.
Michigan State University
East Lansing, MI
Online SM Degrees: 5

ADDRESS & CONTACT INFO(517) 355-1855
East Lansing, MI 48824

GRADUATE DEGREES

Kinesiology (MS)
Sport Coaching and Leadership (MS)
Health Professions Education - Master of Arts(AP)
Masters in Sports Administration
Master of Arts in Sports Education

A top 100 SchoolMilitary-Friendly
Central Michigan University
Mount Pleasant, MI
Online SM Degrees: 3

ADDRESS & CONTACT INFO(989) 774-4000
Warriner Hall, Mount Pleasant, MI 48859

UNDERGRADUATE DEGREES

Bachelor of Science in Community Development - Health Sciences


GRADUATE DEGREES

Master of Science in Nutrition And Dietetics Master of Science in Administration - Recreation & Park Administration

a great research school Top-ranked online programs for undergraduates and graduates
Kellog Community College
Battle Creek, MI
Online SM Degrees: 8

ADDRESS & CONTACT INFO(269) 965-3931
450 North Ave, Battle Creek, MI 49017

UNDERGRADUATE DEGREES

Bachelor of Professional Studies in Organizational Leadership And Communication (Uw-Eau Claire) Bachelor of Science in Information And Communication Technologies (Uw-Stout) Bachelor's in Communication (Uw-Milwaukee) Bachelor's in Communication Arts (Uw-Superior) Bachelor of Science in Health And Wellness Management (Collaborative Degree)


GRADUATE DEGREES

Master's in Exercise And Sport Science-Sport Administration (Uw-La Crosse) Master of Science in Information And Communication Technologies (Uw-Stout) Master of Science in Technical And Professional Communication

Offers online bachelor's and master's degrees low tuition rate
Wayne State University
Detroit, MI
Online SM Degrees: 1

ADDRESS & CONTACT INFO(313) 577-2424
656 W. Kirby, Detroit, MI 48202
Ferris State University
Big Rapids, MI
Online SM Degrees: 1

ADDRESS & CONTACT INFO(231) 591-2000
1201 S. State Street CSS201, Big Rapids, MI 49307
Baker College of Allen Park
Allen Park, MI
Online SM Degrees: 2

ADDRESS & CONTACT INFO(313) 425-3700
4500 Enterprise Dr, Allen Park, MI 48101
Siena Heights University
Adrian, MI
Online SM Degrees: 1

ADDRESS & CONTACT INFO(800) 521-0009
1247 E. Siena Heights Drive, Adrian, MI 49221