Online Sports Management Degrees: Tennessee
If you're looking for sports and recreation, look no further than Tennessee, which offers them in spades. The state's unique landscape features are perhaps the most diverse in the country, a land of mountains, valleys, hollows, rivers, lakes, coves, and caves. Lots of caves; about 10,000 at last official count, though many more are likely waiting to be discovered. The eastern half of the state includes the highest point of the Appalachian Trail, as well as the famous Smoky Mountains National Park, the most visited in the country (11.3 million visitors in 2016). Middle Tennessee touches the Cumblerand Plateau, Nashville Basin, and parts of the legendary Natchez Trace, all offering a Tennessee sportsman's paradise of hiking, climbing, caving, fishing, and hunting. West Tennessee sees the land taper off into the Gulf Coastal Plain and Mississippi River. In addition to myriad outdoor recreation options, Tennessee is home three major professional sports teams in the NBA, NFl, and NHL; beloved collegiate athletics at Vanderbilt, Middle Tennessee, Memphis, and especially University of Tennessee; and perennially popular high-school athletic competitions. All this makes Tennessee a great spot for sports and recreation careers, and a number of schools offer degrees in the field. Check out our favorite locations, universities, and degree programs for sports management below!
Planning Your Education

Currently there are 3 universities in the state of Tennessee offering online programming in sports management degree fields located throughout the state. While this level of choice and convenience is great, potential students should be counseled to know that there are many potential ways to enter into sports management fields. Many degree types can give students a variety of unique edges on competition, but it's for students to choose which degree type is the best for entering into a sports management field or role of their choice. For an in-depth treatment of this subject, check out our degrees page. Or if you already know what degree types your interested in, check out our directory of sports management degrees in Tennessee.
Types of Degrees Surveyed:
Sports Management
Coaching Education
Nutrition
Recreation Management
Kinesiology
Communications and Public Relations
Physical Education
Health and Wellness
Sports Psychology
Business Administration: Sports Management
Degree Levels Surveyed:
Associates
Bachelors
Masters
Doctoral Degrees
Graduate and Undergraduate Certifications
Career Opportunities
Number of Jobs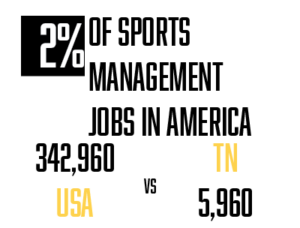 There are about 6,000 sports management professionals in Tennessee, which makes up 2% of the sector's national workforce. While this may seem on the low side, the sector is one the rise, growing as much as 24% in recent years compared to 5% national growth. According to Indeed.com, most current openings are full-time at the entry and mid level, though part-time, temp, commission, contract, and internship roles are available for those interested; Memphis, Nashville, Knoxville, Chattanooga, Franklin, and Jackson are among the largest markets. Many employers are colleges: there are over 150 colleges and universities in the state, and several schools are major D-1 competitors, like University of Tennessee, Vanderbilt, Memphis, Middle Tennessee State, and Austin Peay State. The Tennessee Titans, Memphis Grizzlies, and Nashville Predators offer professional sports career tracks, as well as a number of minor league teams. Don't forget secondary school athletic positions, too — Tennesseans take their high school sports seriously.
Earning Percentiles for Sports Management Professionals in Tennessee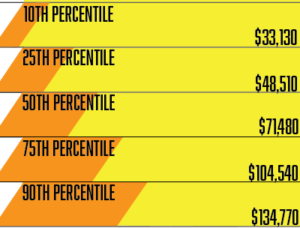 Considering that Tennessee ranks 45th in the country for median household income, sports management professionals' salaries are well-above average, nearly twice the state's mean salary and growing 7% in recent years. For leadership positions nationwide, the mean salary for spectator sports is $117,000, which would place square between Tennessee's 75th-90th percentile sports management professionals. Taking into account the significant disparity between bottom and top-bracket earners, it's apparent that there are a fair amount of upper-level, high-paying positions offsetting the bottom 10th percentile earners, who make just $33k a year. (Still, the 50th percentile making $70k is a decent number.) Altogether, with the wealth of top-tier colleges and universities offering a variety of undergraduate and graduate degrees in the field, Tennessee is an excellent opportunity for aspiring sports management professionals.
Need more inspiration to pursue sports management-related opportunities in Tennessee today? Check out the range of job opportunities below!
Tennessee Sports Management Jobs from Indeed
jobs by
Top Sports Management Degree Programs: TN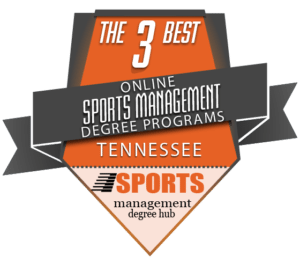 While there are a variety of top schools offering a range of sports management-related degrees online in Tennessee, students will first and foremost want to consider the exact degree type they're interested in pursuing. We've chosen out our three "recommended" schools for Tennessee below, but aspiring students should keep in mind that not each of these universities will necessarily have a program of study that can lead directly to the particular sports management career of your choice. If you're already set on pursuing sports management-related schooling in the state of Tennessee, we advise you to not only consult out ranking of top schools below, but also peruse our database of all sports management-related programs in Tennessee below. While there are additional benefits of pursuing an online degree in your own state (in-state tuition, and the ability to take classes or intensives in person), future students should also note that there are many online programs available nationwide, and consult our wide-ranging rankings for the top online sports management schools in the nation.
With that said, there are many top Tennessee-based programs available entirely online. We've selected our top three through equally weighting two metrics: the number of sports-management related degrees available online through the institution, and the academic prestige of the given institution.
1.) East Tennessee University

CHARACTERISTICS




DEGREES
Sport Management, Master of Science Sport Science and Coach Education, Master of Science, Strength and Conditioning ConcentrationGlobal Sport Leadership, Doctor of Education

---

East Tennessee State University, founded in 1911, is a public institution with an enrollment of 14,300, ranked Tier 2 by US News. For students interested sports-related degrees — or current professionals — ETSU offers three unique graduate tracks, including an MS in Sports Management, MS in Sport Science and Coach Education (with a Strength and Conditioning Concentration), and EdD in Global Sport Leadership. (Being the most germane for our purposes, the MS in Sports Management curriculum covers promotion, performance, and production.) All are available 100% online and designed for maximum flexibility, with synchronous and asynchronous delivery opportunities. The university's 17:1 student-to-faculty ratio supports a learning environment that's both intimate and collaborative, and nearly half of all classes have fewer than 20 students. Less than 8% have more than 50. Student services include online tutoring, transfer assistance, library services, and more.

2.) Austin Peay University

CHARACTERISTICS




DEGREES
Bachelor of Arts in Communication Arts - Information Specialist ConcentrationMaster of Arts in Communication Arts - Corporate Communication Master of Science in Health And Human Performance

---

Founded in 1927, Austin Peay State University has a total enrollment of 10,100. US News ranks Austin Peay in the top 30 public schools in the South, and the school's liberal arts foundation emphasizes critical thinking, communication skills, leadership, and a lifelong learning. For current or aspiring sports professionals, three online tracks may be of interest: a BA in Communication Arts, with a Information Specialist concentration; MA in Communication Arts, with concentrations in wither Corporate Communication or Marketing; and MS in Health and Human Performance. All programs are 100% online and designed to accommodate the schedules of students, working professionals, and adult learners. The master's in Health and Human Performance can be completed in just one year, and transfer credits can serve to accelerate other degrees. Unique student services include tech support, innovative content delivery, online proctoring, and more.

CHARACTERISTICS




DEGREES
Bachelor of Science in Communication

---

King University, founded in 1867, is a private institution with a total enrollment of about 2,900. Ranked among the top regional universities in the South, King is Presbyterian-affiliated and aims to prepare students on social, intellectual, and spiritual levels. For students interested in degrees that may be relevant sports professions, King offers an online BS in Communication designed for adult learners, which can be completed in as little as 16 months, and is especially useful for careers in radio and broadcast, sports marketing and promotion, and administration. In particular, students will develop skills in writing, presentation, design, critical thinking, leadership, and conflict management. The program concludes with a comprehensive assessment portfolio, which can be leveraged toward potential employers. With a 14:1 student-to-faculty ratio, all King courses are intimate and founded on individualized instruction; over three-quarters of classes have less than 20 students.
TN Sports Management Degree Database
East Tennessee State University
Johnson City, TN
Online SM Degrees: 3

ADDRESS & CONTACT INFO(423) 439-1000
1276 Gilbreath Dr, Johnson City, TN 37614

GRADUATE DEGREES

Sport Management, Master of Science Sport Science and Coach Education, Master of Science, Strength and Conditioning ConcentrationGlobal Sport Leadership, Doctor of Education

Award-winning facultyInterdisciplinary approach
Austin Peay State University
Clarksville, TN
Online SM Degrees: 3

ADDRESS & CONTACT INFO(931) 221-7011
601 College St, Clarksville, TN 37044

UNDERGRADUATE DEGREES

Bachelor of Arts in Communication Arts - Information Specialist Concentration

GRADUATE DEGREES

Master of Arts in Communication Arts - Corporate Communication Master of Science in Health And Human Performance

One-on-one tech supportMultimedia resouces
King College
Bristol, TN
Online SM Degrees: 1

ADDRESS & CONTACT INFO(800) 362-0014
1350 King College Rd, Bristol, TN 37620

Small class sizesDesigned to accommoate adult learners