In the Bluegrass State things are done a little differently, and the general sports interests of this state stem from some unique historical heritages- in particular horseback racing. The Kentucky Derby may be one of the hallmark sporting events of the great state of Kentucky but it's not the only weird and wonderful tradition out there. In addition to Bluegrass or mountain music, when thinking of Kentucky one should also consider the array of sports that take place up in those blue mountain and well… within them. Like for example spelunking in the Diamond Caverns, and Mammoth Cave National Park. Cave climbers rejoice in this majestic space. We would certainly be amiss if we didn't include the college sport traditions that are popular in Kentucky- particularly the famous "Battle for the Bluegrass" rivalry between the Kentucky Wildcats and Louisville Cardinals. That is only scratching the surface regarding NCAA. And as sports management jobs are on a slow and steady climb expect to find sports management-related opportunities in not only athletics but also in exercise physiology, coaching, physical therapy and more. If you're ready to ride your way into a career in sports management then the state of Kentucky may just be the perfect spot to say "whoa"
Planning Your Education
Currently there are 3 universities in the state of Kentucky offering online programming in sports management degree fields located throughout the state. Students should be counseled to know that there are many potential ways to enter into sports management fields. Many degree types can give students a variety of unique edges on competition, but it's for students to choose which degree type is the best for entering into a sports management field or role of their choice. For an in-depth treatment of this subject, check out our degrees page. Or if you already know what degree types your interested in, check out our directory of sports management degrees in Kentucky.
Types of Degrees Surveyed:
Sports Management
Coaching Education
Nutrition
Recreation Management
Kinesiology
Communications and Public Relations
Physical Education
Health and Wellness
Sports Psychology
Business Administration: Sports Management
Degree Levels Surveyed:
Associates
Bachelors
Masters
Doctoral Degrees
Graduate and Undergraduate Certifications
Career Opportunities
Number of Jobs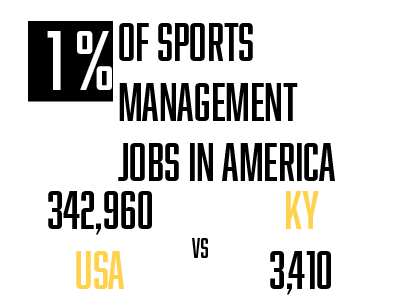 Sports management career opportunities in Kentucky represent about 1% of positions available across the nation. Though competition may be high for sports management careers in the state of Kentucky, sports management career opportunities have been steadily on the rise since 2006 and growing at a rate of about 5%. According to our career analysis conducted through the U.S. Bureau of Labor Statistics individuals looking to make a career in sports management have a vast range of opportunities for not only managing but also teaching, coaching, physical therapy, and more. Some top employers are universities such as the University of Kentucky, the University of Louisville, public schools, preschools, athletic training facilities and particularly sports-related injury treatment and rehabilitation centers. Kentucky is known for the Kentucky Derby and other unique sporting events like NASCAR. As a popular destinations for rafting, kayaking, tennis, swimming, hiking, and biking additional sports management career opportunities arise seasonally. When it comes to college athletics, Kentucky is home to the Eastern Kentucky Colonels and Lady Colonels, Kentucky Wildcats of University of Kentucky, Louisville Cardinals and more. Marketing and communication positions are available as a foot-in-the door approach to sports management careers. As competition is fierce, individuals looking for career opportunities with professional sports establishments may consider entering through other pro-sports initiatives such as internships, sports camps, and outreach.
Earning Percentiles for Sports Management Professionals in Kentucky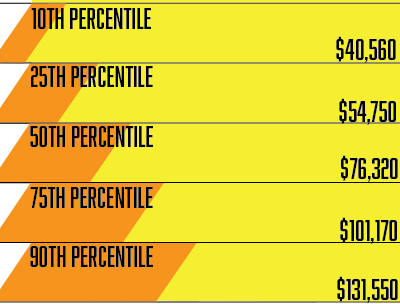 Over a five-year period, Kentucky has seen a slow and steady increase in sports management careers. Along with it, salaries have also risen. In fact, over 5 years there has been an 11% growth in salary- above the national average. By way of comparison the average mean income per capita for Kentucky is listed as $45,215 according to the Department of Numbers whereas sports management-related fields average $80,870. This indicates that opportunities are available at a figure close to the 50th percentile for all sports management related careers in Kentucky. What this shows us is that positions available include both a higher number of upper-level sports management positions, higher paid position in physical therapy, and wages that are generally higher than average when compared to other fields. Combined with ancillary sports management fields, college sports, horse racing, other major professional sports, as well as the vast range of physical therapy and sports-related industry professions, if the Bluegrass State is where you call home, then these consideration will help you navigate your career in the field of sports management.
Need more inspiration to pursue sports management-related opportunities in Kentucky today? Check out the range of job opportunities below!
KentuckySports Management Jobs from Indeed
jobs by
Top Sports Management Degree Programs: KY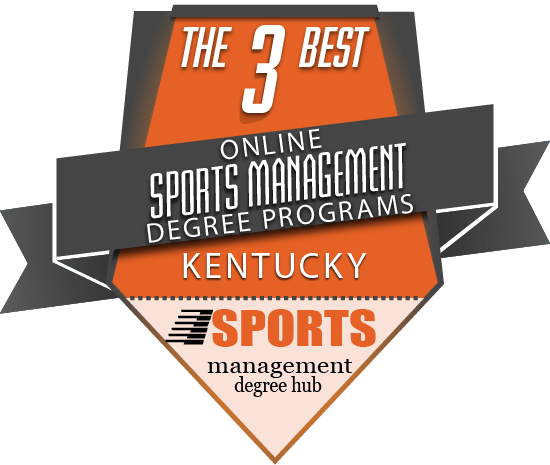 While there are a variety of top schools offering a range of sports management-related degrees online in Kentucky, students will first and foremost want to consider the exact degree type they're interested in pursuing. We've chosen out our three "recommended" schools for Kentucky below, but aspiring students should keep in mind that not each of these universities will necessarily have a program of study that can lead directly to the particular sports management career of your choice. If you're already set on pursuing sports management-related schooling in the state of Kentucky, we advise you to not only consult out ranking of top schools below, but also peruse our database of all sports management-related programs in Kentucky below. While there are additional benefits of pursuing an online degree in your own state (in-state tuition, and the ability to take classes or intensives in person), future students should also note that there are many online programs available nationwide, and consult our wide-ranging rankings for the top online sports management schools in the nation.
With that said, there are many top Kentucky-based programs available entirely online. We've selected our top three through equally weighting two metrics: the number of sports-management related degrees available online through the institution, and the academic prestige of the given institution.
[tcpaccordion id="1599"]
KY Sports Management Degree Database
Western Kentucky University
Bowling Green, KY
Online SM Degrees: 2

ADDRESS & CONTACT INFO(270) 745-0111
1906 College Heights Blvd, Bowling Green, KY 42101
Morehead State University
Morehead, KY
Online SM Degrees: 1

ADDRESS & CONTACT INFO(606) 783-2221
150 University Blvd, Morehead, KY 40351
Southeast Kentucky Community and Technical College
Cumberland, KY
Online SM Degrees: 1

ADDRESS & CONTACT INFO(606) 589-2145
700 College Rd, Cumberland, KY 40823