The most populous state in the union also has perhaps the most to offer in terms of its range of outdoor, sporting, and adventure tourism offerings. With five plus months of snow sports in the Eldorado National Forest and around Lake Tahoe, year-around water sports to the south, and more pro sports teams than anywhere in the nation, California is in many ways a sporting paradise. Pockets of California also offer unique opportunities through large markets for life coaching, lifestyle enhancement, dietetics, and personal trainers. For most well-established outdoor sports, California'a relatively mild climate throughout most of the year makes it a favorite year-around training location for sports like tennis, soccer, football, baseball, golf, cycling, water sports, and many more. As a population center, many large high schools boast impressive facilities, and two of the nation's most prestigious college campus systems call the state home. If that's not enough to convince you that California is a great state to move into a sporting field, perhaps some more details below will help. Check out our favorite locations, universities, and degree programs for sports management below!
Planning Your Education

Currently there are 13 universities in the state of California offering online programming in sports management degree fields located throughout the state. while this level of choice and convenience is great, potential students should be counseled to know that there are many potential ways to enter into sports management fields. Many degree types can give students a variety of unique edges on competition, but it's for students to choose which degree type is the best for entering into a sports management field or role of their choice. For an in-depth treatment of this subject, check out our degrees page. Or if you already know what degree types your interested in, check out our directory of sports management degrees in California.
Types of Degrees Surveyed:
Sports Management
Coaching Education
Nutrition
Recreation Management
Kinesiology
Communications and Public Relations
Physical Education
Health and Wellness
Sports Psychology
Business Administration: Sports Management
Degree Levels Surveyed:
Associates
Bachelors
Masters
Doctoral Degrees
Graduate and Undergraduate Certifications
Career Opportunities
Number of Jobs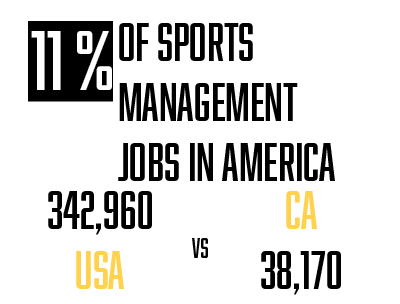 California is potentially the largest single market for sports management jobs in the nation, with over one in ten sports management jobs nationwide located in the state. While some positions are likely to remain filled by those already climbing various sports management-related career ladders, many new opportunities in the field also exist in California. According to Indeed.com, there are currently over 7,000 job openings related to sports management keywords in California. These jobs are located throughout the state, but most prominently in the Bay Area and in Los Angeles, where a large number of the jobs are available through local sports organizations as well as the sports manufacturing, lifestyle, and media brands that call the state home.
Earning Percentiles for Sports Management Professionals in California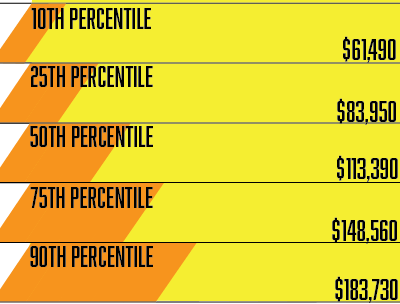 Across all segments of the working population, California yields the third highest average wages in the nation (by state). Accordingly, sports management jobs in California are much the same, commanding great rates even at mid-levels of management. For leadership positions, the mean salary for management positions in spectator sports is $117,000 nationwide, a figure close to the 50th earning percentile for all sports management-related careers in California. This points to either a high number of upper-level sports management positions available in the state, wages that are generally higher than average for most sports management-related fields, or both. Together with the wealth of educational opportunities that can lead students into lucrative and rewarding California-based careers, the state is a great bet for aspiring sports management workers.
Need more inspiration to start pursuing sports management-related opportunities in California today? Check out the range of job openings across the state below!
California Sports Management Jobs from Indeed
jobs by
Top Sports Management Degree Programs: CA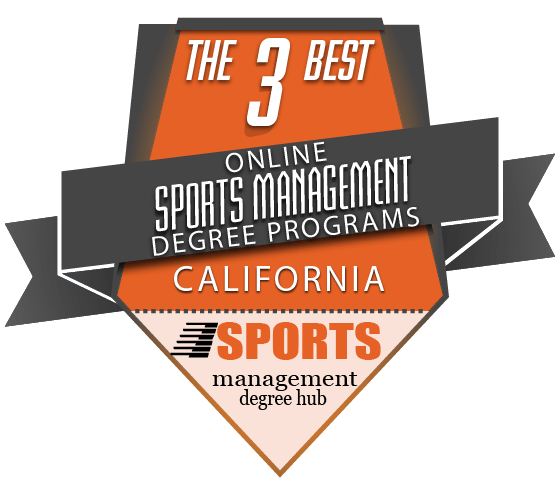 While there are a variety of top schools offering a range of sports management-related degrees online in California, students will first and foremost want to consider the exact degree type they're interested in pursuing. We've chosen out our three "recommended" schools for California below, but aspiring students should keep in mind that not each of these universities will necessarily have a program of study that can lead directly to the particular sports management career of your choice. If you're already set on pursuing sports management-related schooling in the state of California, we advise you to not only consult out ranking of top schools below, but also peruse our database of all sports management-related programs in California below. While there are additional benefits of pursuing an online degree in your own state (in-state tuition, and the ability to take classes or intensives in person), future students should also note that there are many online programs available nationwide, and consult our wide-ranging rankings for the top online sports management schools in the nation.
With that said, there are many top California-based programs available entirely online. We've selected our top three through equally weighting two metrics: the number of sports-management related degrees available online through the institution, and the academic prestige of the given institution.
[tcpaccordion id="765"]
CA Sports Management Degree Database
California Baptist University
Riverside, CA
Online SM Degrees: 7

ADDRESS & CONTACT INFO
(877) 236-1617
8432 Magnolia Ave
Riverside, CA 92504






UNDERGRADUATE DEGREES

Bachelor of Arts in Liberal Studies – Kinesiology
Bachelor of Science in Kinesiology
Bachelor of Art in Sport, Recreation, and Fitness Management
Bachelor of Art in Communication Studies

GRADUATE DEGREES

Master of Science in Kinesiology
Master of Arts in Communication
Master of Arts in Public Relations

Designed for working professionals. A top ranked online provider.
National University
San Diego, CA
Online SM Degrees: 5

ADDRESS & CONTACT INFO
(800) 628-8648
9388 Lightwave Ave
San Diego, CA 92123






UNDERGRADUATE DEGREES

Bachelor of Science in Allied Health
Bachelor of Arts in Integrated Marketing Communications
Bachelor of Arts in Strategic Communications
Bachelor of Arts in Sport Psychology

GRADUATE DEGREES

Master of Science in Health & Life Science Analytics

Prominant sports management provider. Wide range of offerings available nationwide
Azusa Pacific University
Azusa, CA
Online SM Degrees: 4

ADDRESS & CONTACT INFO
(626) 969-3434
901 E Alosta Ave
Azusa, CA 91702






UNDERGRADUATE DEGREES

Associates of Science in Health Science
Bachelors of Science Health Science Bachelors of Science Physical Education

GRADUATE DEGREES

Masters of Science in Sport Management and Integrated Leadership
Master of Science in Physical Education

A Top Christian University 37 Fully Online Degrees
California State University - East Bay
Hayward, CA
Online SM Degrees: 4

ADDRESS & CONTACT INFO
(510) 885-3000
25800 Carlos Bee Blvd
Hayward, CA 94542






UNDERGRADUATE DEGREES

Bachelor of Science in Recreation – Recreation Therapy Option
Bachelor of Science in Recreation
Bachelor of Science in Recreation – Recreation Management Option

GRADUATE DEGREES

Master of Science in Recreation And Tourism

A "Best in the West" University Low in-state tuition
Golden Gate University
San Francisco, CA
Online SM Degrees: 2

ADDRESS & CONTACT INFO
(800) GGU-4YOU
536 Mission St
San Francisco, CA 94105






GRADUATE DEGREES

Master of Science in Integrated Marketing Communications – General Integrated Marketing Communications
Master of Science in Integrated Marketing Communications – Public Relations

Limited size, seminar style classes Wide ranging, practical career-centered offerings
Loma Linda University
Loma Linda, CA
Online SM Degrees: 1

ADDRESS & CONTACT INFO
(909) 558-1000
11139 Anderson St
Loma Linda, CA 92350


Available in most states in the union Mission-Focused Education
Mount St. Mary's University
Los Angeles, CA
Online SM Degrees: 1

ADDRESS & CONTACT INFO
(844) GO4-MSMU
12001 Chalon Rd
Los Angeles, CA 90049


Adult and high school student options. Regionally ranked, not-for-profit university
The Chicago School of Professional Psychiatry
Multiple Locations, CA
Online SM Degrees: 1

ADDRESS & CONTACT INFO
(800) 721-8072
Office of Technology Alliances
4199 Campus Dr
Irvine, CA 92612


Top online psychology school Multiple locations in California
Touro University California
Vallejo, CA
Online SM Degrees: 1

ADDRESS & CONTACT INFO
(707) 638-5270
1310 Club Dr
Vallejo, CA 94592


Military-friendly school Associates through Doctoral Programs Online
University of Southern California
Los Angeles, CA
Online SM Degrees: 1

ADDRESS & CONTACT INFO
(213) 740-2311
University of Southern California
Los Angeles, CA 90089


A top ranked national university World class support and California-based alumni network
San Francisco State University
San Francisco, CA
Online SM Degrees: 1

ADDRESS & CONTACT INFO
(415) 338-1111
1600 Holloway Avenue
San Francisco . CA 94132


A California State University System Campus Low in-state tuition
Concordia University in Irvine
Irvine, CA
Online SM Degrees: 1

ADDRESS & CONTACT INFO
(800) 229-1200
1530 Concordia
Irvine, CA 92612


One of the fastest growing private nonprofits in the nation Wide range of online offerings