Washington, also known as the Evergreen State, is one of the best states in the country for sports and recreation, especially outdoor activities. There are 25 mountain peaks, including across the Olympic and Cascade Ranges, and three massive national parks: Olympic, North Cascades, and Mount Rainier. All of these areas offer excellent opportunities for snow sports, hiking, fishing, backpacking, and more. Rivals University of Washington and Washington State both compete in the Divsion I Pac-12 Conference and field more than a dozen men's and women's teams. Gonzaga, in Spokane, has become one of the premiere NCAA Men's Basketball programs in the country. Three major professional sports teams call Washington home — the Seahawks (NFL), Mariners (MLB), and Sounders (MLS) – and represent some of the most successful, valuable franchises in their respective leagues. All these factors have created a unique sports culture in Washington and helped increase interest in sports-related employment in recent years. Check out our favorite locations, universities, and degree programs for sports management below!
Planning Your Education

Currently there are 6 universities in the state of Washington offering online programming in sports management degree fields located throughout the state. while this level of choice and convenience is great, potential students should be counseled to know that there are many potential ways to enter into sports management fields. Many degree types can give students a variety of unique edges on competition, but it's for students to choose which degree type is the best for entering into a sports management field or role of their choice. For an in-depth treatment of this subject, check out our degrees page. Or if you already know what degree types your interested in, check out our directory of sports management degrees in Washington.
Types of Degrees Surveyed:
Sports Management
Coaching Education
Nutrition
Recreation Management
Kinesiology
Communications and Public Relations
Physical Education
Health and Wellness
Sports Psychology
Business Administration: Sports Management
Degree Levels Surveyed:
Associates
Bachelors
Masters
Doctoral Degrees
Graduate and Undergraduate Certifications
Career Opportunities
Number of Jobs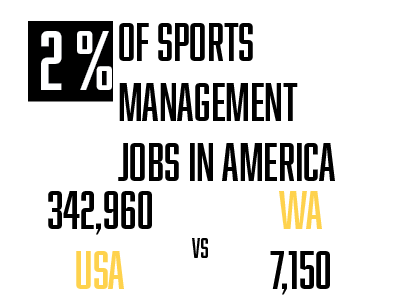 While Washington's total job numbers for sports management remain relatively low, opportunities are growing. Employment has recently risen 30% over a four-year period — six times the national average. The majority of these are full-time roles, though part-time, temp, internship, and contract and commission positions also exist. Seattle is the largest area of employment, according to Indeed.com, which accounts for approximately 40% of all sports management jobs in the state. (Bellevue, Yakima, Tacoma, Vancouver, Gig Harbor, and Spokane are among the other top areas.) Three major professional sports teams — the Mariners, Seahawks, and Sounders — are excellent places to look for a job if you can get it, but there are also over a dozen minor league teams and top Division I NCAA programs hiring at the University of Washington, Washington State, and Gonzaga, among others. Other places to look include gyms and fitness centers, hospitals and healthcare consulting/administration, athletic apparel companies, and even Amazon.
Earning Percentiles for Sports Management Professionals in Washington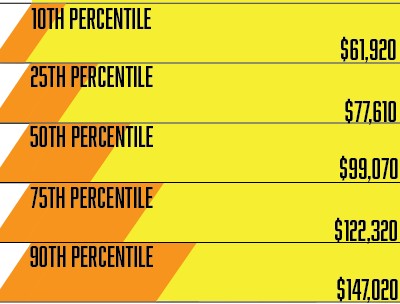 Washington salaries for sports management fields has remained around a $100k mean for the last decade. In other words, not a ton of growth, but stable, predictable salaries nonetheless. Mid- to upper-level employees' salaries reach as high as $150k. (The nationwide mean salary for management positions in spectator sports is $117,000, which would place near the 70th percentile for sports management salaries in Washington.) While there is a large earnings disparity in the field, this trend is typical for the field and lower-paying positions still offer competitive $60k salaries. Indeed.com (which mostly lists entry- to mid-level positions) lists a median salary of about $43,000 for available positions at present; over 120 positions are offering over $80k.
Need more inspiration to pursue sports management-related opportunities in Washington today? Check out the range of job opportunities below!
Washington Sports Management Jobs from Indeed
jobs by
Top Sports Management Degree Programs: WA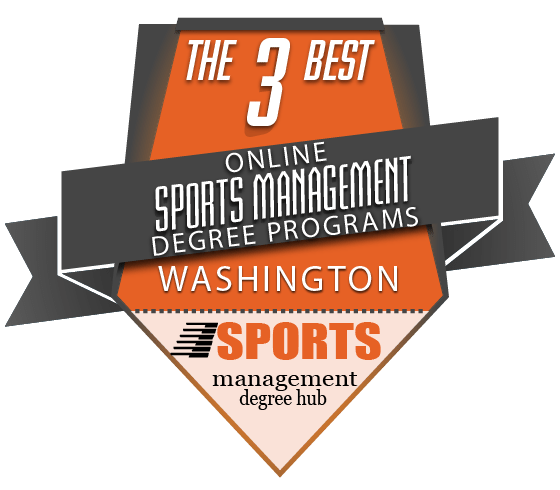 While there are a variety of top schools offering a range of sports management-related degrees online in Washington, students will first and foremost want to consider the exact degree type they're interested in pursuing. We've chosen out our three "recommended" schools for Washington below, but aspiring students should keep in mind that not each of these universities will necessarily have a program of study that can lead directly to the particular sports management career of your choice. If you're already set on pursuing sports management-related schooling in the state of Washington, we advise you to not only consult out ranking of top schools below, but also peruse our database of all sports management-related programs in Washington below. While there are additional benefits of pursuing an online degree in your own state (in-state tuition, and the ability to take classes or intensives in person), future students should also note that there are many online programs available nationwide, and consult our wide-ranging rankings for the top online sports management schools in the nation.
With that said, there are many top Washington-based programs available entirely online. We've selected our top three through equally weighting two metrics: the number of sports-management related degrees available online through the institution, and the academic prestige of the given institution.
[tcpaccordion id="1142"]
WA Sports Management Degree Database
Central Washington University
Ellensburg, WA
Online SM Degrees: 2

ADDRESS & CONTACT INFO (509) 963-1122
400 E. University Way, Ellensburg, WA 98926

Master of Science in Health & Physical Education: Athletic Administration Specialization Master of Science: Health & Physical Education (Hybrid)

Hands-on approachRolling admission
Gonzaga University
Spokane, WA
Online SM Degrees: 2

ADDRESS & CONTACT INFO (509) 328-4220
502 E. Boone Avenue, Spokane, WA 99258

Master of Arts in Communication And Leadership Studies (Coml) Master of Arts in Sports Administration

Student-focused teachingAsynchronous delivery options
University of Washington
Seattle, WA
Online SM Degrees: 1

ADDRESS & CONTACT INFO (206) 543-2100
Seattle, WA 98195

Tailored to full-time professionals and adult learnersTop-ranked research university
Washington State University
Pullman, WA
Online SM Degrees: 1

ADDRESS & CONTACT INFO (509) 335-3564
P.O Box 645910, Pullman, WA 99164
South Puget Sound Community College
Olympia, WA
Online SM Degrees: 1

ADDRESS & CONTACT INFO (360) 754-7711
2011 Mottman Rd SW, Olympia, WA 98512
Big Bend Community College
Moses Lake, WA
Online SM Degrees: 1

ADDRESS & CONTACT INFO (509) 793-2222
7662 Chanute St NE, Moses Lake, WA 98837