Share this infographic on your site!
Sports agent covers a wide range of relationships with an athlete. They can be:
A personal friend
A manager
Family member
Accountant
Lawyer
Teacher
Coach
Or anyone who brokers a contract on a player's behalf.
The Evolution of sports agents:
1933: Charles C. "Cash and Carry" Pyle, negotiated a $3,000-per-game contract for Red Grange to play professional football for the Chicago Bears.
1949-1959: Florida State University offers a course in sports management
1966: Sports management programs offered again, this time at Ohio University
1985: The North American Society for sport management was formed
The Role of the Agent has evolved:
Legal advisor – Legal advice on player agreements.
Negotiator – Negotiating changes in agreements on behalf of players.
Promoter – Linking teams with players and establishing player awareness on a global scale.
All of the above, and confidante. Besides finding jobs and negotiating contracts, they sometimes also provide other services such as mediation, counselling, career planning, PR coordination, personal assistance, and more.
Now: More than 3,000: number of registered professional sports agents
Certification: Needed to represent professional athletes with the four major sports leagues MLB, NBA, NFL and NHL.
How to become a certified agent:
Earn a master's degree in any field you'd like. There is no required major, but the majors that will prove most helpful include sport management, public relations, communications, business and finance.
Though not necessary, you can attend law school. This gives you an edge when trying to build your clientele.
Learn the rules governing the sports league you want to be an agent in, especially the changes in the league's collective-bargaining agreement.
Take the league's sports agent exam. With your application, you will need to provide proof that you have earned a master's degree, and pay a fee to take the exam.
Costs range from $600 to more than $1,200.
Exams are typically held once per year.
Pass the league's sports agent exam, and pay another fee to the league before you begin securing clients. It usually takes two to four months to receive examination results.
Maintain your credentials, and pay your league fees to remain an active agent. After becoming a certified agent, you can seek employment with larger sports-management firms or start your own boutique sports agency.
Show me the Money:
Sports agents can charge for their services in a variety of ways including:
Percentage – Agent takes a percentage of a contract, typically 3-5%.
Time – Agent, typically an attorney, charges an hourly rate, typically $400/hour.
Flat-Fee – Agent may agree to perform services for a flat fee.
Combination – Agent charges by a combination of these methods.
Average Agent commissions:
NFL: If the athletes yearly salary range is $375,000-$20 million. The agent commission is: $11,200-$600,000
Arena Football League: $400 a game-$8,000 for the season. Agent: $240
Canadian Football League: average player salary, $43,000-$500,000; agent range,
$1,290-$15,-000
National Basketball Association: players: $473,000-$28 million; agent: $9,460-$1.1 million
Major League Baseball. Players: $400,000-$32 million; agents: $16,000-$1.3 million
National Hockey League. Players: $525,000-$12 million; agents: $21,000-$480,000
Major League Soccer. Players: $32,604-$6.5 million; agents: $1,304-$260,000
Mixed Martial Arts (MMA). Fighters: $5,000-$1.5 million per fight; agents: $250-$75,000
5 Agents who changed the world (of sports) in chronological order
Frank Scott: baseball's first agent, 1957. Represented: Joe DiMaggio, Mickey Mantle, Yogi Berra, Willie Mays
Mark McComack: founded International Management Group (IMG) in 1960. Represented Arnold Palmer (his first client), Jack Nicklaus, Derek Jeter, Pete Sampras.
FACT: Once named the most powerful man in sports.
David Falk: Once known as the most powerful man in the NBA. Represented: Michael Jordan and professional sports' first $100 million contract for Alonzo Mourning.
Scott Boras: The "most feared man in baseball" has given general managers nightmares. Represented: Alex Rodriguez's 10-year, $252 million contract in 2000.
Drew Rosenhaus: A relentless, ruthless salesman, who will stop at nothing to get his players what he thinks they deserve. Currently represents more than 100 NFL clients, including LeSean McCoy, Terrell Owens, DeSean Jackson.
FACT: Rosenhaus was the inspiration behind the Tom Cruise-portrayed lead character (and title) of the movie Jerry McGuire.
Other Superstar agents:
Casey Close: has been a superstar since 2001, when he negotiated a $189-million, 10-year contract for Derek Jeter.
Leon Rose: NBA agent negotiated $110 million deal for LeBron James
Rob Pelinka: NBA agent for Kobe Bryant. Negotiated a $83.5 million contract for Bryant.
Tom Condon: NFL agent for (among others) the Manning brothers. Peyton ($99.2 million deal) and Eli ($97.5 million)
Fernando Cuza, MLB agent for Miguel Cabrera ($152 million)
Watch out for:
Jay-Z, now licensed as an MLB and NBA agent and his company Roc Nation Sports. Notable client: Robinson Cano, NY Yankee, whose contract is now up.
The Top 5 sports agencies: (ranked by amount of current contracts)
CAA: Creative Artists Agency: $5.3 billion in current contracts. Clients include: Ryan Braun (baseball), Sydney Crosby (hockey), Dwayne Wade (basketball) and Christiano Ronaldo (soccer).
Octagon. $2 billion. Clients include Justin Tuck (football), Rudy Gay (basketball)
Relativity Sports: $1.9 billion. Clients include Larry Fitzgerald (football), Dwight Howard (basketball)
The Boras Corporation: $1.6 billion. Clients: Stephen Strasburg, Prince Fielder (baseball)
Wasserman Media Group. $1.5 billion. Clients: Derrick Rose (basketball) and Andrew Luck (football)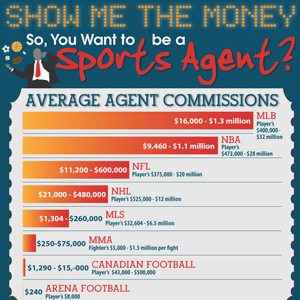 Sources:
http://www.become-a-sports-agent.com
http://www.askmen.com/top_10/sports/top-10-sports-agents.html
http://www.become-a-sports-agent.com/salary.asp
http://www.sportsmanagementworldwide.com/courses/athlete-management-sports-agent/salaries
http://www.become-a-sports-agent.com/faq.asp
http://www.court-side.com/evolution/
http://deadspin.com/5701614/the-12-best-sports-agents-in-the-world
http://www.forbes.com/sites/jasonbelzer/2013/06/24/the-worlds-most-valuable-sports-agencies-2/