Online Sports Management Degrees: New Jersey
New Jersey has a long tradition of sports and recreational opportunities. Both the New York Jets and Giants play in East Rutherford's brand new MetLife Stadium — one of the most expensive ever built — and the MLS Red Bulls and New Jersey Devils also call the Garden State home. (Six minor baseball teams play in the area.) Collegiate sports are a favorite, too. Rutgers, the state's largest university, is a member of the Big Ten Conference and a major contender on the national level, particularly in football. Meanwhile, Princeton and Seton Hall each have men's basketball programs that routinely play Cinderella in March Madness (The former famous pioneered the "Princeton Offense" style of play.) But for sheer numbers, New Jersey high school athletics are worth highlighting: 22,000 schools, 330,000 coaches, and almost 4.5 million athletes participate in the NJSIAA. All this, plus major urban areas' proximity to New York City, has created a unique sports culture in New Jersey and helped increase sports-related employment in recent years. Check out our favorite locations, universities, and degree programs for sports management below!
Planning Your Education
Currently there are 8 universities in the state of New Jersey offering online programming in sports management degree fields located throughout the state. while this level of choice and convenience is great, potential students should be counseled to know that there are many potential ways to enter into sports management fields. Many degree types can give students a variety of unique edges on competition, but it's for students to choose which degree type is the best for entering into a sports management field or role of their choice. For an in-depth treatment of this subject, check out our degrees page. Or if you already know what degree types your interested in, check out our directory of sports management degrees in New Jersey.
Types of Degrees Surveyed:
Sports Management
Coaching Education
Nutrition
Recreation Management
Kinesiology
Communications and Public Relations
Physical Education
Health and Wellness
Sports Psychology
Business Administration: Sports Management
Degree Levels Surveyed:
Associates
Bachelors
Masters
Doctoral Degrees
Graduate and Undergraduate Certifications
Career Opportunities
Number of Jobs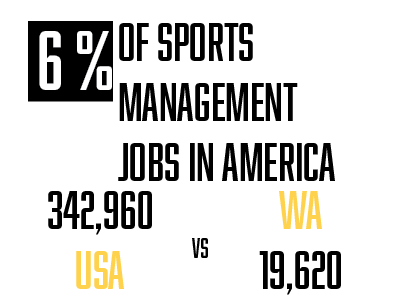 Sports management jobs are on the rise in New Jersey, recently growing by as much as 25%. Today, there are approximately 20,000 positions, which make up about 6% of related jobs nationwide. The majority of these are full-time positions, though part-time, temp, and internship roles also exist. Newark appears to be the largest area of employment, according to Indeed.com, followed by Jersey City, Hoboken, and Princeton. For both quantity and quality, universities like Rutgers and Princeton are good places to start the job search. Rutgers in particular, with a student population of nearly 70,000, is a serious player in the NCAA and member of the Big 10 Conference. (Referred to as "the birtplace of football," it hosted the first intercollegiate football game against Princeton in 1869 and remains a top regional program.) Outside of the collegiate sphere, New Jersey has four professional sports teams located in the state — including the "New York" Jets and Giants — plus a number of gyms and health and fitness clubs.
Earning Percentiles for Sports Management Professionals in New Jersey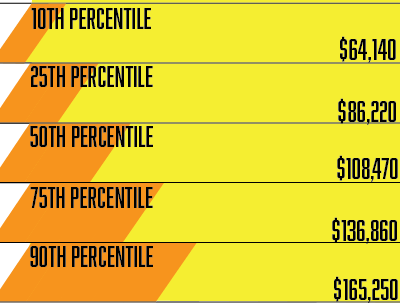 With the growth in New Jersey sports manageement employment has come a salary bump of 16% in recent years. Middle-of-the-pack earners make nearly $110,000 per year, and senior level positions average over $160,000. (To compare: the mean salary for management positions in spectator sports is $117,000 nationwide, which would place near the 60th percentile for sports management salaries in New Jersey.) While there is a large earnings disparity in the field, this trend is typical in New Jersey and lower-paying positions still offer competitive compensation. Indeed.com (which mostly lists entry- to mid-level positions) lists a median salary of about $43,000 for available positions at present.
Need more inspiration to pursue sports management-related opportunities in New Jersey today? Check out the range of job opportunities below!
New Jersey Sports Management Jobs from Indeed
jobs by
Top Sports Management Degree Programs: NJ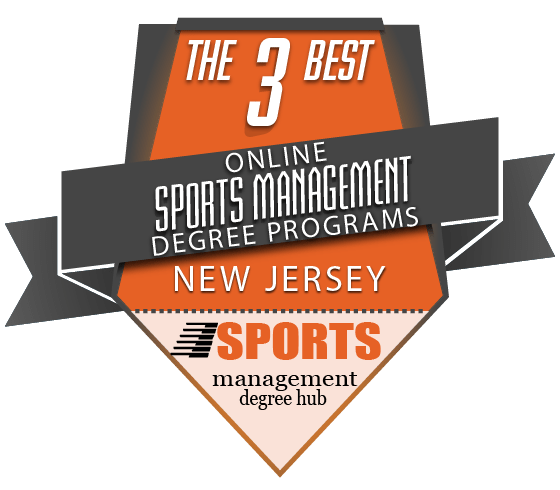 While there are a variety of top schools offering a range of sports management-related degrees online in New Jersey, students will first and foremost want to consider the exact degree type they're interested in pursuing. We've chosen out our three "recommended" schools for New Jersey below, but aspiring students should keep in mind that not each of these universities will necessarily have a program of study that can lead directly to the particular sports management career of your choice. If you're already set on pursuing sports management-related schooling in the state of New Jersey, we advise you to not only consult out ranking of top schools below, but also peruse our database of all sports management-related programs in New Jersey below. While there are additional benefits of pursuing an online degree in your own state (in-state tuition, and the ability to take classes or intensives in person), future students should also note that there are many online programs available nationwide, and consult our wide-ranging rankings for the top online sports management schools in the nation.
With that said, there are many top New Jersey-based programs available entirely online. We've selected our top three through equally weighting two metrics: the number of sports-management related degrees available online through the institution, and the academic prestige of the given institution.
1.) Seton Hall University

CHARACTERISTICS


DEGREES
Master's in Strategic Communication And Leadership

---

Founded in 1856, Seton Hall has a total enrollment of about 9,800, from 50 states and 67 countries. Just 14 miles outside of New York City, it's ranked among the top national universities by US News, Princeton Review, and Bloomberg Businessweek. The school's online MS in Strategic Communication And Leadership may be of interest to aspiring sports management professionals (think positions like Athletic Director, PR Manager, Publicity Manager, and other front office/administrative roles). The school's 13:1 student-to-faculty ratio supports an intimate, collaborative learning environment, and nearly half of all classes consist of less than 20 students. (Just 2% have 49 or more.) For maximum flexibility, online courses deliver in asynchronous and synchronous formats, combining regularly scheduled lectures with self-paced courses.

2.) Georgian Court University

CHARACTERISTICS


DEGREES
Master of Arts in Holistic Health Studies

---

Georgian Court University, founded in 1908 in Lakewood, has a total enrollment of just over 2,000, and is ranked among the best colleges in the North region. Students aspiring to careers in sports management — particularly in the areas of health and wellness, nutrition and diet, etc., — may look at GCU's online MA in Holistic Health Studies. Consisting of 36 credits, courses include Energy Medicine, Advanced Healing Medicine, Holistic Stress Management, Eastern Approach to Nutrition, and Kundalini Yoga, among others. For maximum flexibility, courses deliver in accelerated 7.5 week blocks, allowing students to complete their graduate tracks in as little as one year. Further, the cohort model promotes collaborative, peer-to-peer learning, and GCU's intimate 12:1 student-to-faculty ratio supports individualized instruction. More than three-quarters of classes have less than 20 students, and none have more than 49.

3.) New Jersey Institute of Technology

CHARACTERISTICS


DEGREES
Master of Science in Professional And Technical Communication

---

Founded 1881, New Jersey Institute of Technology has a total enrollment of about 11,300, including 3,000 graduate students. For those interested in pursuing sports management careers, NJIT's online MS in Professional And Technical Communication may find traction in a number of administrative and front office roles, like PR, marketing, publicity, broadcasting, and more. Consisting of 30 credits, the curriculum includes studies in Communication Theory and Research, Elements of Visual Design, Corporate Media and Communication, Collaborative and Interpersonal Communications, Content Management and Information Architecture, and Identity, Technology, and Communication. Most courses deliver asynchronously to allow students the flexibility to complete course work at their own pace, though synchronous, blended, and converged deliveries are also available. Students with previous academic credits may transfer up to 9 credits into the program.
NC Sports Management Degree Database
Seton Hall University
South Orange, NJ
Online SM Degrees:1

ADDRESS & CONTACT INFO(973) 761-9000
400 S. Orange Avenue, South Orange, NJ 07079

Asynchronous and synchronous deliveriesNationally ranked by top publications
Georgian Court University
Lakewood, NJ
Online SM Degrees:1

ADDRESS & CONTACT INFO(800) 458-8422
900 Lakewood Avenue, Lakewood, NJ 08701

Accelerated trackCohort-based
New Jersey Institute of Technology
Newark, NJ
Online SM Degrees:1

ADDRESS & CONTACT INFO(973) 596-3000
University Heights, Newark, NJ 07102

Good for veteransNo GRE requirement
Bergen Community College
Paramus, NJ
Online SM Degrees:2

ADDRESS & CONTACT INFO(201) 447-7100
400 Paramus Rd, Paramus, NJ 07652

UNDERGRADUATE DEGREES

Associate of Arts in Communications Associate of Arts And Science in Health Sciences

Statewide transfer policyThree conveninent campuses
Rowan University
Glassboro, NJ
Online SM Degrees:1

ADDRESS & CONTACT INFO(856) 256-4000
201 Mullica Hill Road, Glassboro, NJ 08028

Online and hybrid deliveries Experiential Learning focus
Berkeley College
Woodland Park, NJ
Online SM Degrees:2

ADDRESS & CONTACT INFO(973) 278-5400
44 Rifle Camp Road, Woodland Park, NJ 07424

Practical, industry-approved curriculaHands-on career services
Fairleigh-Dickinson-University-College-at-Florham
Madison, NJ
Online SM Degrees:1

ADDRESS & CONTACT INFO
285 Madison Avenue, Madison, NJ 07940

Pioneer in online education24/7 tech support
Fairleigh Dickinson University Metropolitan Campus
Teaneck, NJ
Online SM Degrees:1

ADDRESS & CONTACT INFO
1000 River Road, Teaneck, NJ 07666

Accelerated opportunitiesPersonalized instruction