Share this infographic on your blog!
FIFA:A World Cup of Fraud
A look at FIFA's ongoing corruption problem
Everything FIFA sized is big
[#estimated global fans per sport][7]
Soccer — 3.5 billion
Cricket — 2.5 billion
Field Hockey — 2 billion
Tennis — 1 billion
Volleyball — 900 million
Table Tennis — 850 million
Baseball — 500 million
Golf — 450 million
Basketball — 400 million
American Football — 400 million
Unfortunately including corruption. With the current FBI charges against FIFA leveling out as the largest in sports history.
20 Total Indictments
47 Counts
Wire Fraud, Racketeering, and Money Laundering
"Well Over $150,000,000"
How Did the Investigation Begin?
2002 Corruption accusations
2005 Documents seized from FIFA offices
2006 Book alleges rampant corruption
11/29/10 BBC airs special on FIFA corruption
12/2/10 Russia and Qatar controversially win World Cup bids
2/11 FIFA President Sepp Blatter confirms collusion
5/11 FIFA Exec suspended for bribery
6/11 Whistleblower retracts bribery accusations
7/12 FIFA commissions independent investigation
Exec-turned-FBI-informant bugs meetings at London Olympics
11/14 FIFA falsifies independent investigation results
5/27/15 FBI makes arrests
5/29/15 Blatter re-elected president
6/2/15 Blatter resigns
9/25/15 Swiss prosecutors open criminal proceedings against Blatter
What are some major alleged bribes?
?$ for 2018 and 2022 World Cup Bids
?$ for 2011 FIFA Presidential Election
$10M for 2010 South Africa World Cup
$40M for exclusive rights to sportswear of Brazilian national team
$110M for 2016 American Centennial Cup in US
How far back do allegations go?
Since 1991:
Who was indicted?
9 FIFA Execs
5 Associated Business Execs
4 Individual Defendants
2 Corporations
FIFA
Jeffrey Webb ; VP ; US
Eduardo Li ; Exec ; Costa Rica
Julio Rocha ; Exec; Nicaragua
Costas Takkas ; Exec ; Cayman Islands
Jack Warner ; Former VP ; Trinidad and Tobago
Eugenio Figueredo ; VP ; Uruguay
Rafael Esquivel ; Exec ; Venezuela
José Maria Marin ; Exec ; Brazil
Nicolás Leoz ; Exec ; Paraguay
Business Executives
Alejandro Burzaco ; Sports Marketing Principal ; Argentina
Aaron Davidson ; Sports Marketing Principal ; USA
Hugo Jinkis ; Sports Marketing Principal ; Argentina
Mariano Jinkis ; Sports Marketing Principal ; Argentina
José Margulies ; Sports Broadcasting Principal ; Brazil
Corporations
Traffic Sports International ; British Virgin Islands
Traffic Sports USA ; United States
Sidenote:
Fool me once…[8]
January 09, 2016, Jerome Valcke–right hand man of Sepp Blatter– sacked for a second time.
2006: Valcke sacked for lying to world cup sponsors Visa and Mastercard.
2007: Valcke returns one year later as secretary general of FIFA.
2015: Valcke provisionally released from duties due to alleged role in inflating 2014 World Cup ticket prices with the intent to pocket extra money.
Who was not indicted?
Sepp Blatter ; FIFA President 1998-2015 ; Switzerland
#70 – Forbes's World's Most Powerful People
$20,000,000 – Net Worth
$500,000,000 – FIFA Brand Value
What's Next?
Russia 2018
Controversies:
Overt and widespread racism
Legalized LGBT discrimination
Ongoing Ukrainian War
Malaysia Airlines Flight 17
Corrupt World Cup Bidding Process
Qatar 2022
Controversies:
Inadequate infrastructure
125 degree summer heat forces winter tournament
$220B cost – 60X 2010 World Cup
Criminalized LGBT activity
World Cup Worker Deaths:
4,000 total projected deaths
That's 62 deaths for every world cup match
Or 3 workers for every 5 minutes that world cup teams play.
Is it worth it?
World Cup Workers Work in Slave-Like labor scenerios, often making 45 cents an hour in wages.
So far, both Russia '18 and Qatar '22 are still scheduled as planned – and no wonder.
The 2014 World Cup netted FIFA $2.6 billion.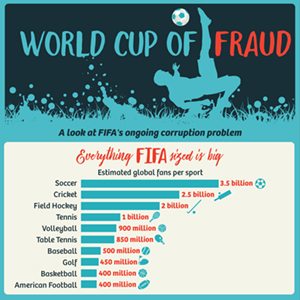 Citations: