Online Sports Management Degrees: Florida
The "Sunshine State" has to be one of the best in the country for recreation: golf, tennis, baseball, football, soccer, cycling, beach and water sports, even hockey. You name it, they've got it in Florida. Better yet, they've got it all year: with winter temps in the 70s and summer temps just slightly warmer, only SoCal rivals Florida for year-round sports and recreation opportunities. The headquarters of the PGA of America, PGA Tour, and WPGA are all located here, and about half of MLB teams have their spring training in Florida. With 2,000 miles of sea coast, thousands of lakes and rivers, and extensive wood and marshlands, Florida is one of the region's premier destinations for outdoorsmen looking to hunt, fish, camp, and kayak; its Parks Service is a three-time Gold Medal winner, featuring 174 state parks, including Everglades National Park, and 800,000 acres of trails. Further, as the home to some of the country's largest universities, Florida schools' athletic programs are among the most competitive in the NCAA. Several have top-notch sports degrees, as well. Check out our favorite locations, universities, and degree programs for sports management below!
Planning Your Education
Currently there are 20 universities in the state of Florida offering online programming in sports management degree fields located throughout the state. while this level of choice and convenience is great, potential students should be counseled to know that there are many potential ways to enter into sports management fields. Many degree types can give students a variety of unique edges on competition, but it's for students to choose which degree type is the best for entering into a sports management field or role of their choice. For an in-depth treatment of this subject, check out our degrees page. Or if you already know what degree types your interested in, check out our directory of sports management degrees in Florida.
Types of Degrees Surveyed:
Sports Management
Coaching Education
Nutrition
Recreation Management
Kinesiology
Communications and Public Relations
Physical Education
Health and Wellness
Sports Psychology
Business Administration: Sports Management
Degree Levels Surveyed:
Associates
Bachelors
Masters
Doctoral Degrees
Graduate and Undergraduate Certifications
Career Opportunities
Number of Jobs
About 4% of the country's sports management professionals work in Florida. While many mid- and senior-level positions are likely to remain filled, the state offers excellent opportunities at the entry-level across a wide range of fields, most of which are full-time positions. According to Indeed.com, Orlando, Tampa, Miami, Jacksonville, and Tallahassee currently have the most available openings — each of which have major professional organizations and university athletic programs — but jobs are available throughout the state. Some other areas to look might include sports academies (particularly golf, tennis, and baseball in Florida), country clubs, hospitals, hotels, health and fitness clubs, and sports agencies, to name a few.
Earning Percentiles for Sports Management Professionals in Florida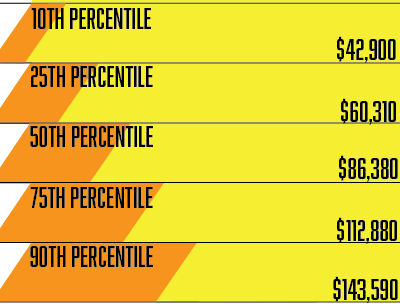 While the number of sports management jobs has slightly declined in the last few years, mean salary has actually risen 11% since 2006. Mid-level paying positions offer just under $90k per year, while upper-tier salaries pay well into the six-figures, comparing favorably against nationwide numbers for leadership positions in spectator sports (just below $120k). Further, we should consider that Florida ranks 37th in the country for median household income — in other words, low — which makes the state's relatively high sports management salaries even more impressive, and suggests that those positions are less subject to the wage depressions that might affect other professions in the state.
Need more inspiration to pursue sports management-related opportunities in Florida today? Check out the range of job opportunities below!
Florida Sports Management Jobs from Indeed
jobs by
Top Sports Management Degree Programs: FL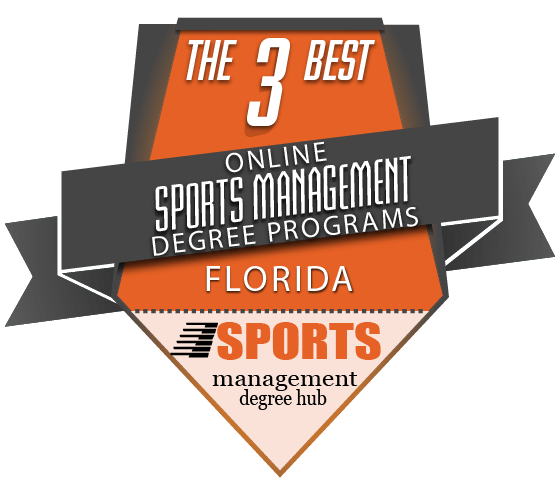 While there are a variety of top schools offering a range of sports management-related degrees online in Florida, students will first and foremost want to consider the exact degree type they're interested in pursuing. We've chosen out our three "recommended" schools for Florida below, but aspiring students should keep in mind that not each of these universities will necessarily have a program of study that can lead directly to the particular sports management career of your choice. If you're already set on pursuing sports management-related schooling in the state of Florida, we advise you to not only consult out ranking of top schools below, but also peruse our database of all sports management-related programs in Florida below. While there are additional benefits of pursuing an online degree in your own state (in-state tuition, and the ability to take classes or intensives in person), future students should also note that there are many online programs available nationwide, and consult our wide-ranging rankings for the top online sports management schools in the nation.
With that said, there are many top Florida-based programs available entirely online. We've selected our top three through equally weighting two metrics: the number of sports-management related degrees available online through the institution, and the academic prestige of the given institution.
1.) University of South Florida

CHARACTERISTICS




DEGREES
Bachelor of Science in Applied Sciences - Public Health
M.A. in Physical Education Medical Sciences - Concentration in Athletic Training
MPH in Public Health Practice
M.P.H. in Health, Safety & Environment
M.P.H. in Public Health Administration
M.P.H. in Public Health Practice
Master of Public Administration(MPA)
M.B.A. in Sport Business

---

Founded in 1956, The University of South Florida, in Tampa, has a total enrollment of about 42,000, three-quarters of which is undergraduate. Ranked among the top public schools in the nation, the USF System has an annual budget of $1.6 billion and is ranked 43rd in for research expenditures among all universities. It is one of only four public universities in the state classified as a top tier research instituition by the Carnegie Foundation. USF also offers a wide range of online degrees at the undergraduate and graduates level, including 8 sports management related tracks: a BS in Public Health, MA in Physical Education Medical Sciences, MBA in Sport Business, and several Master of Public Health specializations. With additional campuses in Sarasota and St. Petersburg, USF gives students throughout Florida the opportunity to attend some on-campus classes if they prefer a hybrid or traditional delivery method.

2.) University of Florida

CHARACTERISTICS




DEGREES
Bachelor of Science in Sport Management
Bachelor of Science in Health Education And Behavior
Master of Arts in Mass Communication - Web Design And Online Communication
Master of Science in Sport Management
Master Arts in Mass Communication - Social Media
Master of Arts in Mass Communication - Global Strategic Communications

---

Ranked in the top 15 public schools in the nation, The University of Florida, in Gainesville, has an enrollment of over 50,000 students, about 60% of which is undergraduate. Founded in 1853, it's the state's oldest university, and among the oldest in the country. Six sports management related degrees are offered online, including a Bachelor of Science in Sport Management, Bachelor of Science in Health Education And Behavior, and Master of Science in Sport Management. Of course, the school also has the prestige athletic programs to match, which have produced 35 national championships, including 17 since 2006. With a 21:1 student-to-faculty ratio, courses combine a collaborative learning approach with individualized, tailored instruction; nearly half of classes consist of less than 20 students — impressive for a school of Florida's size. Financial aid opportunities are available, as well.

3.) Gulf Coast State College

CHARACTERISTICS




DEGREES
Associate in Arts of Recreation - Leisure Services Management Emphasis
Associate in Arts of Recreation - Therapeutic Emphasis
A.A Nutrition, Food, and Exercise Science Option
A.A Health Education Option

---

Gulf Coast State College, previously Gulf Coast Community College, was founded in 1957 and today enrolls about 7,000 students. With over 150 programs available at four campuses and via online delivery, GCSC offers 4 online associate degrees that current or aspiring sports management professionals may be interested in: two in Recreation, with emphases in Leisure Services Management and Therapy; plus associates in Health Education and Nutrition, Food, and Exercise Science. For maximum flexibility, Gulf Coast State also offers some blended classes, allowing students to combine the convenience of online education with the traditional in-class experience. Additional benefits include enrollment and registration assistance, advising, testing services, library services, and the Canvas learning platform, which provides access to course materials and streamlines communication.
University of South Florida
Tampa, FL
Online SM Degrees: 8

(813) 974-2011
4202 E Fowler Ave, Tampa, FL 33620

UNDERGRADUATE DEGREES

Bachelor of Science in Applied Sciences - Public Health

GRADUATE DEGREES

M.A. in Physical Education Medical Sciences - Concentration in Athletic Training MPH in Public Health Practice M.P.H. in Health, Safety & Environment M.P.H. in Public Health Administration M.P.H. in Public Health Practice Master ofPublic Administration(MPA) M.B.A. in Sport Business

A Top Public University25,000 students on financial aid
University of Florida
Gainesville, FL
Online SM Degrees: 6

(352) 392-3261
University of Florida, Gainesville, FL 32611

UNDERGRADUATE DEGREES

Bachelor of Science in Sport Management Bachelor of Science in Health Education And Behavior

GRADUATE DEGREES

Master of Arts in Mass Communication - Web Design And Online Communication Master of Science in Sport Management Master Arts in Mass Communication - Social Media Master of Arts in Mass Communication - Global Strategic Communications

A Top 15 Public UniversityCareer services access
Gulf Coast State College
Panama City, FL
Online SM Degrees: 4

(850) 769-1551
5230 West US Hwy 98, Panama City, FL 32401

UNDERGRADUATE DEGREES

Associate in Arts of Recreation - Leisure Services Management Emphasis Associate in Arts of Recreation - Therapeutic Emphasis A.A Nutrition, Food, and Exercise Science Option A.A Health Education Option

GRADUATE DEGREES

Blended and online deliveryTutoring services
Lynn University
Boca Raton, FL
Online SM Degrees: 3

(561) 237-7000
3601 N Military Trail, Boca Raton, FL 33431

UNDERGRADUATE DEGREES

BA Communication and Media

GRADUATE DEGREES

MBA Sports and Athletics Administration MBA Mass Communication and Media Management

International student bodyInnovative University
Hodges University
Naples, FL
Online SM Degrees: 3

(800) 466-8017
2655 Northbrooke Dr, Naples, FL 34119

UNDERGRADUATE DEGREES

Associate of Science in Health Services Administration (Hsa)Bachelor of Science in Health Services Administration (Hsa)

GRADUATE DEGREES

Master of Science in Health Services Administration

Military-friendly universitySelf-paced and competency-based education
Saint Leo University
St. Leo, FL
Online SM Degrees: 2

(352) 588-8200
33701 State Road 52, St Leo, FL 33574

A Top Ranked Online ProviderQuality Catholic Education
Florida Gulf Coast University
Fort Myers, FL
Online SM Degrees: 2

(239) 590-1000
10501 FGCU Blvd S, Fort Myers, FL 33965

UNDERGRADUATE DEGREES

Bachelor of Science in Health Sciences

GRADUATE DEGREES

Master of Science in Health Science

Affordable in-state tuitionProgramming available in most states
Florida International University
Miami, FL
Online SM Degrees: 2

(305) 348-2000
11200 SW 8th St, Miami, FL 33199

UNDERGRADUATE DEGREES

Bachelor of Science in Recreation And Sports Management - Recreational Therapy Track Bachelor of Arts in Communication Arts - Organizational Communications Track

GRADUATE DEGREES

Wide range of online offeringsBuilt for adult learners
Seminole State College of Florida
Sanford, FL
Online SM Degrees: 2

(407) 708-4722
100 Weldon Blvd, Sanford, FL 32773

UNDERGRADUATE DEGREES

Associate in Arts Major in Health Services Administration Arts Major in Human Communication

GRADUATE DEGREES

Over 40 Online DegreesAffordable in-state tuition
University of Central Florida
Orlando, FL
Online SM Degrees: 1

(407) 823-2000
4000 Central Florida Blvd, Orlando, FL 32816

Low student loan debt university
Embry-Riddle Aeronautical University
Daytona Beach, FL
Online SM Degrees: 1

(386) 226-6100
600 S Clyde Morris Blvd, Daytona Beach, FL 32114

Many innovative aeronautical offeringsDegree programs for adult learners
University of North Florida
Jacksonville, FL
Online SM Degrees: 1

(904) 620-1000
1 UNF Dr, Jacksonville, FL 32224

Top Ranked Online ProviderAffordable in-state tuition
Florida Atlantic University
Boca Raton, FL
Online SM Degrees: 1

(561) 297-3000
777 Glades Rd, Boca Raton, FL 33431

Synchronous and Asynchronous offeringsWide range of online support services
Florida A&M University
Tallahassee, FL
Online SM Degrees: 1

(850) 599-3000
1601 S Martin Luther King Jr Blvd, Tallahassee, FL 32301

Top Ranked Online ProviderAffordable in-state tuition