Maryland may be one of the smallest states in the union, but it has a large appetite for sports and recreation. The Baltimore Ravens and Orioles rank with the most storied and successful franchises in the NFL and MLB history; and both teams boast passionate fan bases in Maryland and across the country. (The Washington Redskins technically play in Landover, Maryland, but let's not kid ourselves….) Basketball, lacrosse, and soccer have professional and semi-professional teams, as well. At the collegiate level, Loyola, Towson, the United States Naval Academy, and the University of Maryland are top annual competitors in D-1, especially in basketball, football, and lacrosse, the official team sport of the state. (Johns Hopkins has won 44 national titles.) Horse racing is another signature Maryland sport; the Preakness is the second tournament of the Triple Crown. Given the state's deep-rooted sports culture, it's no surprise that many Marylanders have made it their profession, and several universities offer relevant degrees. Check out our favorite locations, universities, and degree programs for sports management below!
Planning Your Education

Currently there are 3 universities in the state of Maryland offering online programming in sports management degree fields located throughout the state. While this level of choice and convenience is great, potential students should be counseled to know that there are many potential ways to enter into sports management fields. Many degree types can give students a variety of unique edges on competition, but it's for students to choose which degree type is the best for entering into a sports management field or role of their choice. For an in-depth treatment of this subject, check out our degrees page. Or if you already know what degree types your interested in, check out our directory of sports management degrees in Maryland.
Types of Degrees Surveyed:
Sports Management
Coaching Education
Nutrition
Recreation Management
Kinesiology
Communications and Public Relations
Physical Education
Health and Wellness
Sports Psychology
Business Administration: Sports Management
Degree Levels Surveyed:
Associates
Bachelors
Masters
Doctoral Degrees
Graduate and Undergraduate Certifications
Career Opportunities
Number of Jobs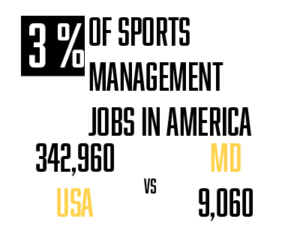 There are over 9,000 sports management professionals in Maryland, which makes up 3% of the sector's national workforce. That represents a major growth, up 17% in recent years compared to a national average of 5%. 2009-10 alone saw a 13% increase in sports management professionals. The majority of these are full-time positions, though part-time, temp, commission, contract, and internship roles also exist. Predictably, Baltimore appears to be the largest current employer, according to Indeed.com, followed by Anne Arundel County, Foggy Bottom, Bethesda, Columbia, and Annapolis. The discerning eye may notice a trend here: nearly all of these locations house major professional or collegiate teams, which are reliable job producers. Still, aspiring sports workers shouldn't limit themselves to the obvious spots. The Y of Central Maryland is a large employer, with 13 health & wellness centers in the state, as are other private sports clubs, athletic apparel companies, state parks, and others.
Earning Percentiles for Sports Management Professionals in Maryland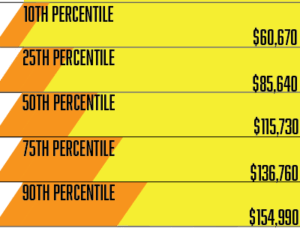 In part because of its proximity to Washington D.C., Maryland has the highest median income in the nation, and sports management professionals are following suit: coupled with a growth in overall employment is a sector-wide salary raise of 8%. Even at mid-level positions salaries can easily exceed six-figures, and at the top of the bracket earners are pulling in nearly $200,000. (To compare: the mean salary for management positions in spectator sports is $117,000 nationwide.) While there's a large compensation disparity between upper- and entry-level positions, that's the case for most states we've reviewed. Furthermore, Maryland's bottom earners still double the salaries of comparable roles in other states.
Need more inspiration to pursue sports management-related opportunities in Maryland today? Check out the range of job opportunities below!
Maryland Sports Management Jobs from Indeed
jobs by
Top Sports Management Degree Programs: MD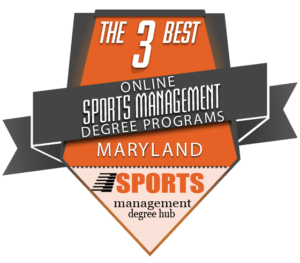 While there are a variety of top schools offering a range of sports management-related degrees online in Maryland, students will first and foremost want to consider the exact degree type they're interested in pursuing. We've chosen out our three "recommended" schools for Maryland below, but aspiring students should keep in mind that not each of these universities will necessarily have a program of study that can lead directly to the particular sports management career of your choice. If you're already set on pursuing sports management-related schooling in the state of Maryland, we advise you to not only consult out ranking of top schools below, but also peruse our database of all sports management-related programs in Maryland below. While there are additional benefits of pursuing an online degree in your own state (in-state tuition, and the ability to take classes or intensives in person), future students should also note that there are many online programs available nationwide, and consult our wide-ranging rankings for the top online sports management schools in the nation.
With that said, there are many top Maryland-based programs available entirely online. We've selected our top three through equally weighting two metrics: the number of sports-management related degrees available online through the institution, and the academic prestige of the given institution.
[tcpaccordion id="1456"]
MD Sports Management Degree Database
Maryland University of Integrative Health
Laurel, MD
Online SM Degrees: 7

ADDRESS & CONTACT INFO (410) 888-9048
7750 Montpelier Rd, Laurel, MD 20723





GRADUATE DEGREES

Master of Arts in Health And Wellness Coaching - Herbal Studies Master of Arts in Health And Wellness Coaching - Medical Herbalism Master of Arts in Health And Wellness Coaching - Nutrition Master of Science in Health Promotion - Health Coaching
Master of Science in Nutrition And Integrative Health Master of Science in Health Promotion - Health Education

Leading integrative healthcare research center
Stevenson University
Stevenson, MD
Online SM Degrees: 1

ADDRESS & CONTACT INFO (877) 468-6852
1525 Greenspring Valley Rd, Stevenson, MD 21153

Online program designed for adult learnersGreat work placement percentage
College of Southern Maryland
La Plata, MD
Online SM Degrees: 1

ADDRESS & CONTACT INFO (301) 934-2251
8730 Mitchell Rd, La Plata, MD 20646

Flexibile learningGenerous
transfer policy