Share this infographic on your site!
Calling Foul
Fighting against racism and intolerance in sports
Breakthroughs in sports history:
1902 – Charles Follis became the first black professional football player

– Played for the Ohio League's team, the Shelby Blues until 1906
August 1936 – Adolf Hitler hosted the 1926 Olympics, using the event to highlight his growing power and the Nazi Party.

– An American athlete and black man named Jesse Owens and won four gold medals, effectively crushing Hitler's claim of Aryan supremacy.

– Gold medal in 100-meter, the 200-meter, the long jump and as part of the relay team
April 15, 1947 – Jackie Robinson broke baseball's color barrier

– Jackie Robinson, a star in the Negro League, joined the Los Angeles Dodgers and became the first black man to play professional baseball in the U.S.

– Robinson would pave the way to an end to racial segregation in baseball and dissolve the Negro League
1961 – The Washington football team signs a handful of black players, becoming the last football team in America to integrate

– Team owner George Preston Marshall did this after the Interior Secretary of the United States threatened to take away their federally owned stadium
1976 – First openly gay professional athlete, Glenn Burke, played baseball for the LA Dodgers and the Oakland A's between 1976-1979

– Burke was openly gay with his friends and teammates

– When he would comment on his sexuality to sports writers, they would tell him that they couldn't write about it

– In his autobiography, Burke wrote that the Dodgers tried to pay him $75,000 to fake a heterosexual marriage
2014 – Michael Sam is drafted into the NFL by the St. Louis Rams, becoming the first openly gay football player to be drafted and the first openly gay football player to actively play in the league
Recent controversies:
Volleyball:
Who: WNBA player Brittney Griner
What: Revealed in her autobiography that her alma mater, Baylor, had forced her to hide her sexuality from the public

– While Griner stressed that her teammates and coaches were supportive, she revealed that the Baptist school's policies prohibited her from being openly gay on social media

Reactions: Griner's announcement was very low-key

– She casually mentioned coming out in the past tense

– There was very little reaction to her revelation, even as she was gearing up for the WNBA draft as the No. 1 pick
Soccer:
Who: Brazilian soccer player Dani Alves
What: An anonymous Villarreal CF soccer fan threw a banana peel at Alves
Reactions: Alves responded by eating the banana

– Global anti-racism campaign using the hashtag #weareallmonkeys

– The fan who threw the banana was given a lifetime ban from Villarreal matches
Football:
Who: Michael Sam
What: Reacting to being drafted by the St. Louis Rams in the seventh round of the draft, Sam kissed his boyfriend on live television
Reactions: Many fans were outraged at the show

– A Huffington Post/YouGov poll showed that while 60% of Americans support the drafting of an openly gay player, 47% feel that it was inappropriate to show the kiss on television

– Only 36% of those polled said that airing the kiss was "appropriate"
Basketball:
Who: Donald Sterling Owner of the LA Clippers
What: Caught on tape making racist remarks
Reactions: Public outcry

– Clippers players wore their warm-up jerseys inside-out to hide the Clippers logo, showing that they were playing for each other and not the team's owner

– Donald Sterling has now been given a lifetime ban from the NBA

– The NBA commissioner will attempt to force Sterling to sell the team with a supermajority vote from other owners</LI
How do we fight back?
Both big actions and small gestures are ways of fighting back against racism
Take to social media #activism
Boycott when necessary
Show support for tolerance
Don't be afraid to speak out
Basically, just don't be a jerk
How Will You Fight Back?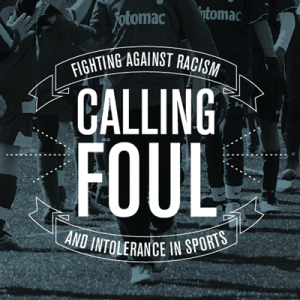 Sources: