Online Sports Management Degrees: Indiana
The 38th largest state in the country, the "Hoosier State" is called that for a reason: basketball reigns supreme here — from Bobby Knight to Reggie Miller — and will continue that way, barring some cultural tectonic shift. That said, Indianans don't limit themselves to basketball alone. There's Notre Dame football, Indianapolis Colts football, the Indianapolis 500, Nascar and Formula One racing, and much, much more. The NCAA headquarters is here, and high school athletics are an annual public draw. For the outdoors enthusiast, consider this: 28 state parks, 15 state forests, and 15 state wildlife areas; plus Hoosier National Forest, George Rogers Clark National Historical Park, and Muscatatuck National Wildlife Refuge, among others. So whether you're bunkered in for a cold winter or enjoying warm summer afternoons, Indiana sports remain a year-round affair, making it a great spot for anyone interested in sports-related careers. For a review of some of the top sports management degrees available in-state, check out our favorite locations, universities, and degree programs below!
Planning Your Education
Currently there are 8 universities in the state of Indiana offering online programming in sports management degree fields located throughout the state. While this level of choice and convenience is great, potential students should be counseled to know that there are many potential ways to enter into sports management fields. Many degree types can give students a variety of unique edges on competition, but it's for students to choose which degree type is the best for entering into a sports management field or role of their choice. For an in-depth treatment of this subject, check out our degrees page. Or if you already know what degree types your interested in, check out our directory of sports management degrees in Indiana.
Types of Degrees Surveyed:
Sports Management
Coaching Education
Nutrition
Recreation Management
Kinesiology
Communications and Public Relations
Physical Education
Health and Wellness
Sports Psychology
Business Administration: Sports Management
Degree Levels Surveyed:
Associates
Bachelors
Masters
Doctoral Degrees
Graduate and Undergraduate Certifications
Career Opportunities
Number of Jobs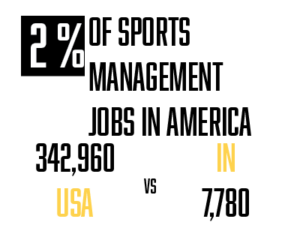 With about 7,800 sports management professionals, Indiana makes up 2% of the sector's national workforce. Most available positions are full-time, but part-time, commission, contract, temp, and internship roles are also available for those interested. Predictably, Indianapolis is the main employer, followed by Fort Wayne, Carmel, Evansville, Avon, Lafayette, Terre Haute, and South Bend, according to Indeed.com. The Colts (NFL) and Pacers (NBA) are Indiana's major professional franchises, but more than a dozen other minor league organizations are based in the state, plus a significant auto racing presence, buoyed by the famous Indy 500 Race. Still, Indiana remains best known for its storied collegiate programs, particularly at Notre Dame and Indiana University — each of which have inspired two of the most famous sports films of all time, "Rudy" and "Hoosiers." What's more, Indianapolis is home to the NCAA headquarters, which oversees 450,000 student-athletes per year.
Earning Percentiles for Sports Management Professionals in Indiana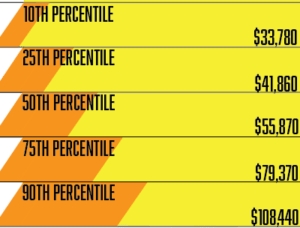 Indiana ranks 35th in the country for median household income, and sports management salaries seem to fall in that trend, generally lower than many other states' scales. For comparison, the mean salary for spectator sports nationwide is $117,000; even Indiana's 90th percentile for sports management only earns about $108k per year; it's 50th percentile earns about $58k. That said, there are several reasons for optimism. First, salaries have risen as much as 8% in recent years. Second, sports management workers are still making, on average, $20k more than other professions offer, and Indiana is much more affordable compared to major sports states like New York, California, and Illinois. Considering the wealth of top-tier higher ed centers in the area, offering a variety of undergraduate and graduate degrees in the field, plus a range of potential employers, Indiana represents a solid opportunity for aspiring sports management professionals.
Need more inspiration to pursue sports management-related opportunities in Indiana today? Check out the range of job opportunities below!
Indiana Sports Management Jobs from Indeed
jobs by
Top Sports Management Degree Programs: IN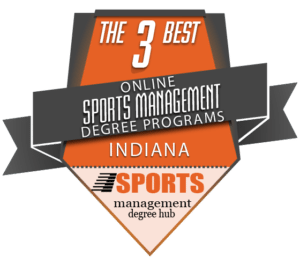 While there are a variety of top schools offering a range of sports management-related degrees online in Indiana, students will first and foremost want to consider the exact degree type they're interested in pursuing. We've chosen out our three "recommended" schools for Indiana below, but aspiring students should keep in mind that not each of these universities will necessarily have a program of study that can lead directly to the particular sports management career of your choice. If you're already set on pursuing sports management-related schooling in the state of Indiana, we advise you to not only consult out ranking of top schools below, but also peruse our database of all sports management-related programs in Indiana below. While there are additional benefits of pursuing an online degree in your own state (in-state tuition, and the ability to take classes or intensives in person), future students should also note that there are many online programs available nationwide, and consult our wide-ranging rankings for the top online sports management schools in the nation.
With that said, there are many top Indiana-based programs available entirely online. We've selected our top three through equally weighting two metrics: the number of sports-management related degrees available online through the institution, and the academic prestige of the given institution.
1) Indiana University - Bloomington

CHARACTERISTICS


DEGREES
Bachelor of Arts in Communication Studies
Bachelor of Science in Health Sciences
BS in Applied Health Sciences
Masters of Science in Recreation
MS in Park And Public Lands Management
Masters of Science in Health Sciences
MS in Recreational Therapy

---

Founded in 1820, Indiana has a total enrollment of about 33,000 and is ranked among the top public universities in the country by Forbes, Washington Monthly, and US News, among others; Kiplinger's Finance ranks IU in the top national 50 for overall value. For students interested in sports management-related degrees, Bloomington offers bachelor's - in Communication Studie, Health Science, and Applied Health Science - as well as master's in Health Science, Park And Public Lands Management, Recreation, and Recreational Therapy. All courses are designed for maximum flexibility to accomodate working professionals' and adult learners' schedules, and some programs offer hybrid delivery options. The school's 17:1 student-to-faculty ratio helps promote a simulatenously intimate and collaborative learning environment, and 35% of classes have fewer than 20 students. Student services include tech support, library assistance, the Canvas learning platform, and unlimited cloud storage space.

2) Indiana University-Purdue University-Indianapolis

CHARACTERISTICS


DEGREES
Communication Studies, B.A., B.S.
Health Sciences B.S.
Recreational Therapy, M.S.R.
Health Sciences, M.S.

---

Founded in 1964, Indiana University-Purdue University-Indianapolis, commonly called IUPUI, has a total enrollment of about 30,000, including students from 48 states and 147 foreign countries. Listed among US News' Tier 1 schools, the publication also ranks IUPUI 5th among "Up and Coming" colleges. Students interested in sports management-related degrees can choose between 5 tracks: bachelor's in Communication Studies, Health Sciences, and Applied Health Sciences; and master's in Recreational Therapy and Health Sciences. With a student-to-faculty ratio of 19:1, IUPUI balances a tight-knit educational setting with a vibrant, collaborative pedagogical approach. Nearly 40% of classes consist of fewer than 20 students, and just 11% have 50 or more. For those interested, IUPUI has financial aid opportunities, as well: 65% of full-time undergrads receive some form of aid, and the average need met is around 65%.

CHARACTERISTICS


DEGREES
Master's Degree in Athletic Coaching Education

---

Founded in 1918, Ball State University has a total enrollment of about 22,000, with 16,600 undergraduates. Ranked among the top public schools in the country, BSU emphasizes student-centered instruction and high-quality, practical curricula that develop real-world skills. For current or aspiring sports management professionals, Ball State offers an online master's in Coaching Education, with the opportunity to license in physical education with a coaching specialization. Taught by a faculty who have coached Olympians and NCAA champion athletes, the program is nationally recognized and follows the National Association for Sport and Physical Education (NASPE) National Standards for Sports Coaches; topics include organization and administration, sport safety and injury prevention, and teaching and motivation. Cohorts begin twice a year, and courses are interdiscplinary, collaborative, and immersive. Further, Ball State's 14:1 student-to-faculty ratio allows for small, intimate classes; over half of classes have less than 20 students.
IN Sports Management Degree Database
Indiana University Purdue University Indianapolis
Indianapolis, IN
Online SM Degrees:5

ADDRESS & CONTACT INFO (317) 274-5555
420 University Blvd, Indianapolis, IN 46202





UNDERGRADUATE DEGREES

Communication Studies, B.A., B.S. Health Sciences, B.S.

GRADUATE DEGREES

Recreational Therapy, M.S.R. Health Sciences, M.S.

5th-ranked "Up and Coming" schoolFocus on service learning an d civiv engagement
Indiana University Bloomington
Bloomington, IN
Online SM Degrees:4

ADDRESS & CONTACT INFO (812) 855-4848
107 S Indiana Ave, Bloomington, IN 47405





UNDERGRADUATE DEGREES

Bachelor of Arts in Communication Studies Bachelor of Science in Health Sciences BS in Applied Health Sciences

GRADUATE DEGREES

Masters of Science in Recreation, MS in Park And Public Lands Management Masters of Science in Health Sciences MS in Recreational Therapy

Top-ranked online schoolUnlimited
cloud storage
Indiana State University
Terre Haute, IN
Online SM Degrees:2

ADDRESS & CONTACT INFO (812) 237-6311
200 N 7th St, Terre Haute, IN 47809





UNDERGRADUATE DEGREES

Bachelor of Applied Science in Health Services

GRADUATE DEGREES

Masters of Sport Management

Academics highlighted for value and qualityTop-3 in the US for community service
Ball State University
Muncie, IN
Online SM Degrees:1

ADDRESS & CONTACT INFO (765) 289-1241
2000 W University Ave, Muncie, IN 47306

Student-focusedWorld-class
faculty
Ottawa University Jeffersonville
Jeffersonville, IN
Online SM Degrees:1

ADDRESS & CONTACT INFO (812) 280-7269
287 Quartermaster Ct, Jeffersonville, IN 47130

Highly flexible24/7
tech support
Indiana Institute of Technology
Fort Wayne, IN
Online SM Degrees:1

ADDRESS & CONTACT INFO (260) 422-5561
1600 E Washington Blvd, Fort Wayne, IN 46803

Career-focused degreesSustainability
Council
Indiana University East
Richmond, IN
Online SM Degrees:1

ADDRESS & CONTACT INFO (765) 973-8200
2325 Chester Blvd, Richmond, IN 47374

Rolling admissionSmall
class sizes
University of Southern Indiana
Evansville, IN
Online SM Degrees:1

ADDRESS & CONTACT INFO (812) 464-8600
8600 University Blvd, Evansville, IN 47712

Alumni base of 40,000140+
student clubs and organizations