Online Sports Management Degrees: New York
The Empire State is home to some of the nation's greatest national landmarks, service industries, and people. Upstate New York boasts thousand-year-old mountains and countless outdoor sporting opportunities. Downstate New York plays host to some of the world's best-known sports teams, sporting events, and fitness hubs in New York City. The State of New York also houses the greatest number of in-state learning opportunities on the East Coast, maintaining two university systems that contain an institution of higher learning within 30 miles of every resident. One of the best parts of living in the twenty-first century is that residents from almost anywhere can choose to attend college almost anywhere, so that someone in Upstate can attend a university in Downstate, and vice versa, all from the privacy of their own home. To be sure, there are a growing number of reasons why a growing number of U.S. citizens want to move to New York— and why New York residents might want to stay right where they are—to get everything they need from a degree in sports management online.
Planning Your Education
There are currently 13 universities in the State of New York offering online programs of study in sports management. While this level of choice and convenience is great, potential students should be counseled to know that there are many potential ways to enter into sports management fields. Many degree types can give students a variety of unique edges on competition, but it's for students to choose which degree type is the best for entering into a sports management field or role of their choice. For an in-depth treatment of this subject, check out our degrees page. Or if you already know what degree types you're interested in, check out our directory of sports management degrees in New York.
Types of Degrees Surveyed:
Sports Management
Coaching Education
Nutrition
Recreation Management
Kinesiology
Communications and Public Relations
Physical Education
Health and Wellness
Sports Psychology
Business Administration: Sports Management
Degree Levels Surveyed:
Associates
Bachelors
Masters
Doctoral Degrees
Graduate and Undergraduate Certifications
Career Opportunities
Number of Jobs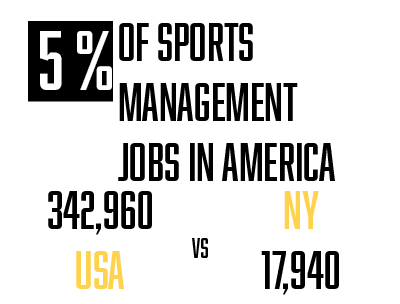 New York is one of the larger markets for sports management jobs in the nation, acting as homebase for approximately 5% of all sports management professionals in the United States. Although some positions will be filled by people who are already climbing the sports management career ladder, new job opportunities have risen consistently over the last decade, having grown 16% between 2006 and 2010, which is 11 points faster than the national average during that same time frame for the State of New York. According to Indeed.com, there are over 2,000 job openings related to the search terms "sports management" in New York. These jobs tend to congregate around the New York City metro area, although many are also located upstate. The vast majority of these jobs openings are listed under the classification of Full-Time, affording sports professionals a wealth of opportunity to further their careers in the State of New York.
Earning Percentiles for Sports Management Professionals in New York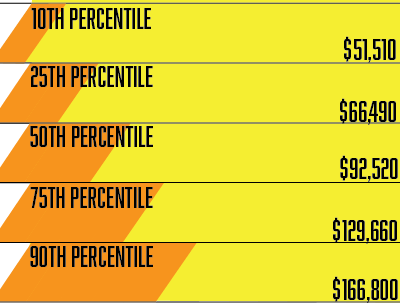 Across all segments of the working population, New York yields the sixteenth highest average wages in the nation by state. Sports management jobs in New York tend to offer salaries that are above average, with all but 10% of sports management professionals earning above the New York average income of $55,246. For leadership positions in spectator sports, the mean salary for management positions is $117,000 nationwide, a figure the top 25% of sports management professionals in New York supersede by more than $10,000. This income distribution means that at least one in every four sports management professionals in New York is in a leadership position and taking home substantially more than sports management professionals in similar positions and other states.
Need more inspiration to pursue sports management-related opportunities in New York today? Check out the range of job opportunities below!
Penn Sports Management Jobs from Indeed
jobs by
Top Sports Management Degree Programs: NY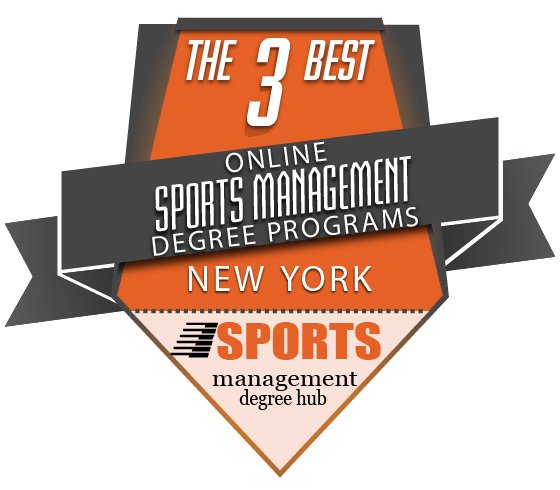 While there are a variety of top schools offering a range of sports management-related degrees online in New York, students will first and foremost want to consider the exact degree type they're interested in pursuing. We've chosen out our three "recommended" schools for Texas below, but aspiring students should keep in mind that not each of these universities will necessarily have a program of study that can lead directly to the particular sports management career of your choice. If you're already set on pursuing sports management-related schooling in the state of New York, we advise you to not only consult out ranking of top schools below, but also peruse our database of all sports management-related programs in New York below. While there are additional benefits of pursuing an online degree in your own state (in-state tuition, and the ability to take classes or intensives in person), future students should also note that there are many online programs available nationwide, and consult our wide-ranging rankings for the top online sports management schools in the nation.
With that said, there are many top New York-based programs available entirely online. We've selected our top three through equally weighting two metrics: the number of sports-management related degrees available online through the institution, and the academic prestige of the given institution.
CHARACTERISTICS




DEGREES
Master in Physical Education
Master of Sport Administration (Msa)

---

Adelphi University is a private research university located on Long Island. It is the oldest institution of higher learning on Long Island, and it offers satellite locations in Manhattan, Hudson Valley, and Suffolk County. Adelphi University's Levermore Global Scholars program is recognized the world over for its interdisciplinary approach to international education, which has earned it a place of prominence as an academic program of distinction. Many of Adelphi's fully online programs are graduate programs in education and the sciences, making it an excellent choice for sports management professionals who want to pursue either of its two esteemed graduate programs in Sports Management: the Master of Physical Education and Master of Sports Management. Graduates from Adelphi University's sports-intensive online programs are provided with an excellent local network that has placed sports management alumni with nearly every major professional team in the New York metropolitan area.

2.) New York Medical College

CHARACTERISTICS




DEGREES
Master of Public Health in
Health Policy And Management
Master in Public Health Behavioral
Sciences And Health Promotion
Master of Public Health in
Environmental Health Science

---

New York Medical College is a private biomedical health science university located in Valhalla, New York. It is the only biomedical health science university located between New York City and the state capital of Albany. Part of the Touro College University System, New York Med shares its location with the Westchester Medical Center and Children's Hospital. It also maintains affiliations with greater than 20 hospitals in the Northeast, permitting students at New York Med a wide variety of clinical training options. All three of New York Med's fully online degrees in sports management are offered as graduate programs. These are the Master of Public Health in Health Policy and Management, the Master in Public Health, Behavioral Sciences, and Health Promotion, and the Master of Public Health in Environmental Health Sciences. All of these graduate programs make New York Med an excellent choice for sports management professionals who want to pursue careers in public health and the medical industry, New York State's largest industry.

CHARACTERISTICS




DEGREES
Master in Community And
School Health
Master of Sport Administration (Msa)

---

Canisius College is a private Jesuit college based in Buffalo, New York. Canisius is known for being one of the only 28 Jesuit colleges in the United States, and as one of the largest and best such institutions. Canisius is recognized as one of the most military-friendly universities in the United States. The college's two online programs in sports management are both graduate programs: the Master in Community and School Health, and the Master of Sport Administration. Graduating from either programs ensures connections to an extensive alumni network throughout the state, so that graduates from Canisius will be well-prepared to enter the workforce in either sports and entertainment or healthcare, two of the largest industries in New York's largest metro areas, and especially that of surrounding Buffalo.
New York Medical College
Valhalla, NY
Online SM Degrees: 3

ADDRESS & CONTACT INFO(914) 594-4000
40 Sunshine Cottage Rd, Valhalla, NY 10595

UNDERGRADUATE DEGREES

GRADUATE DEGREES

Master of Public Health in Health Policy And Management, Master in Public Health Behavioral Sciences And Health Promotion, Master of Public Health in Environmental Health Science

Clinical Opportunities in Five StatesOffers Advanced Graduate Certificates
Adelphi University
Garden City, NY
Online SM Degrees: 2

ADDRESS & CONTACT INFO(800) 233-5744
1 South Ave, Garden City, NY 11530

UNDERGRADUATE DEGREES

GRADUATE DEGREES

Master in Physical EducationMaster of Sport Administration (Msa)

Excellent Job Placement RecordTop Online Provider
Canisius College
Buffalo, NY
Online SM Degrees: 2

ADDRESS & CONTACT INFO(716) 883-7000
2001 Main St, Buffalo, NY 14208

UNDERGRADUATE DEGREES

GRADUATE DEGREES

Master in Community And School Health, Master of Sport Administration (Msa)

Top Military SchoolTop Chrisitian College
Hofstra University
Hempstead, NY
Online SM Degrees: 1

ADDRESS & CONTACT INFO(800) 463-7872
1000 Fulton Ave, Hempstead, NY 11549

GMAT Waiver for 3.2 GPA or HigherGenerous Internal Program Transfer Policy
SUNY at Albany
Albany, NY
Online SM Degrees: 1

ADDRESS & CONTACT INFO(518) 442-3300
1400 Washington Ave., Albany, NY 12222

Top SUNY SchoolStandardized Test Waiver for Graduate-Degree Holders
Pace University
New York, NY
Online SM Degrees: 1

ADDRESS & CONTACT INFO(866) 722-3338
1 Pace Plaza, New York, NY 10038

Accelerated Option AvailableGenerous Transfer Policy
Farmingdale State College SUNY
Farmingdale, NY
Online SM Degrees: 1

ADDRESS & CONTACT INFO(631) 420-2000
2350 Broadhollow Rd, Farmingdale, NY 11735

Excellent Alumni NetworkFlexible Specialization Options
New York Institute of Technology
New York, NY
Online SM Degrees: 1

ADDRESS & CONTACT INFO(212) 261-1500
1855 Broadway, New York, NY 10023

$40 Million in Scholarships Offered Each YearExcellent Clinical Resources
SUNY Cortland
Cortland, NY
Online SM Degrees: 1

ADDRESS & CONTACT INFO(607) 753-2011
22 Graham Ave, Cortland, NY 13045

International FocusSports Management One of Most Popular Programs
New York Chiropractic College
Seneca Falls, NY
Online SM Degrees: 1

ADDRESS & CONTACT INFO(800) 234-6922
2360 New York 89, Seneca Falls, NY 13148

Convenient Program FormatPreparation for National Certification
Touro College
New York, NY
Online SM Degrees: 1

ADDRESS & CONTACT INFO(212) 463-0400
27, 33 W 23rd St, New York, NY 10010

Multiple Satellite LocationsGenerous Tuition Policy
Mercy College
Dobbs Ferry, NY
Online SM Degrees: 1

ADDRESS & CONTACT INFO(877) 637-2946
555 Broadway, Dobbs Ferry, NY 10522

UNDERGRADUATE DEGREES

Bachelor of Science in Business Administration: Sport Management

GRADUATE DEGREES

Generous Transfer PolicyMultiple Enrollment Options
Finger Lakes Community College
Canandaigua, NY
Online SM Degrees: 1

ADDRESS & CONTACT INFO(585) 394-3522
3325 Marvin Sands Dr, Canandaigua, NY 14424

Only Online Associates in Sports Studies in the StateCredits Articulable Toward Enrollment at University of Massachussetts