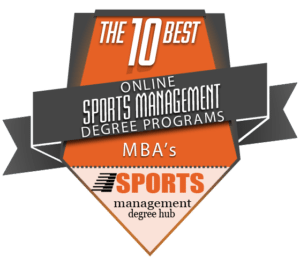 The sports industry is a multibillion dollar worldwide sector that has shown steady growth over decades, in the midst of a broadly fluctuating global economy. Obviously, when we imagine a career in sports, it's at the professional level. But there is a thriving level of sports management careers in the realms of youth, amateur, club, scholastic, and collegiate sports. Not to mention a lot of crossover into the booming health and fitness sectors. It's an extremely diverse field in which people work in merchandise and retail, sales, fitness, marketing, media, events, facilities, entrepreneurship, administration, law, finance and much more. However, in order to achieve a leadership position in the sports industry, you might consider a graduate education in sports management.
If you've been working in the sports industry, or dream of doing so, and have a business background, an MBA in sports management can enhance your career options and earning potential. These programs build business skills that can be applied to any industry, while giving students a focused look at what they can do in sports. Many of these programs offer access to sports professionals and organizations so students can sturdily bridge the gap from graduation to desirable entrenched positions in the field. The following programs were ranked on their affordability, flexibility, academic prestige (as defined by national ranking organizations) and special options they offer students.
1) Grand Canyon University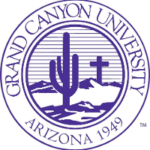 GCU is a liberal arts school that was founded in 1949. It's based out of Phoenix, Arizona. GCU was purchased by Grand Canyon Education Inc. in 2004, and became a for-profit, Christian research university, making it the first for-profit Christian college in the country. Currently, GCU serves over 75,000 students online with undergraduate, graduate, and doctoral degree programs in education, liberal arts, business, science, engineering, math, Christian theology, and health care. It has a 19:1 student-to-faculty ratio. GCU has had a powerful impact on Arizona's economy. An economic impact study conducted in 2015 estimated GCU puts $1 billion into the state's economy annually.
GCU offers a Master of Business Administration with an Emphasis in Sports Business. It combines core MBA coursework in revenue generating, leadership, operations and analytics with courses focused on sports business, including using social media to make money, emerging trends, internal reporting and accounting, leadership, entrepreneurism, analytics, and much more. This program is delivered in an accelerated format in which most classes are completed in 8 week sessions. This program requires 54 credits, up to 12 of which can be transferred in. The cost is $560 per credit. It was included in part due to its accelerated format, allowing students to earn their degree quickly, in a format that fits their lives.
2) Ashland University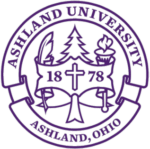 Ashland is a private, non-profit university that was founded in 1878 in Ashland, Ohio. It's affiliated with the Brethren Church. It offers 70 undergraduate majors and nine pre-professional programs through colleges of Arts and Sciences, Education, Business and Economics, and Nursing and Health Sciences, in addition to its Graduate school which offers Master's and Doctoral degrees. Currently, Ashland serves over 6,500 people, and has a 16:1 student-to-faculty ratio. It's been called a top-five online school for entrepreneurs by Fortune magazine.
Ashland offers an MBA with a Sport Management specialization that can be completed in a year (a major factor in its ranking). It costs $700 per credit. The specialization consists of four classes: Sport Management, Social and Ethical Issues in Sport, Sport Marketing and Promotions, and Legal Issues in Sport Organizations. Each course requires 3 credit hours. This program works with students to tailor their learning experience towards working with a sport organization of their choice. Ashland also stresses that this program will prepare students to work in many other fields separate from sports if graduates eventually switch to another business sector.
3) Bryan College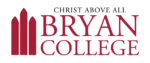 Bryan is a Christian liberal arts college based out of Dayton, Tennessee. It was founded in 1930. Bryan was founded in part in response to the 1925 Scopes Trial, and is named after anti-evolutionary activist and politician William Jennings Bryan. There are currently nearly 1,500 students at Bryan, which has a 14:1 student-to-faculty ratio. Bryan has been ranked 22nd and 4th respectively in U.S. News & World Report's Regional Colleges in the South and Up and Coming institutions categories. The school offers Associate's degrees, a Bachelor's degree in 20 majors and 60 distinct options, and three Master's (Business Administration, Christian Studies and Education).
Bryan offers an MBA in Sports Management, which is a distinction from how comparable programs are presented (MBA's that have a specialization in Sports Management). This program cam be completed in as little as 18 months entirely online, and has been accredited by the International Assembly for Collegiate Business Education (IACBE). This accelerated completion time is part of its ranking. Classes are offered in 9-week sessions, and tuition is $545 per credit hour. Topics covered through the program include sports facility and event management, sports marketing, finance, organizational leadership and efficiency.
4) Shorter University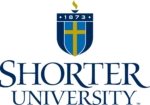 Shorter is a private, coed liberal arts school established in 1873 in Rome, Georgia. It's a Christian university that's historically affiliated with the Georgia Baptist Convention. Shorter is known for its high quality professional studies programs, and offers associate's degrees, bachelor's degrees in 30 fields of study, along with a smattering of master's degrees as well. It also offers adult education and graduate programs from distance learning facilities in North Atlanta and Rome. Currently, over 1,500 students attend Shorter, which has a 14:1 student-to-faculty ratio. The majority of the students are from Georgia, although approximately 9% come from out-of-state and international destinations. Shorter has a wide array of athletics programs, and offers 21 varsity sports. It competes in the NCAA Division II.
Shorter offers an online MBA with a concentration in Sports Management that can be finished in a year. Its curriculum includes standard MBA courses and is aimed at building sports-specific skills in marketing, finance, human resources and more. Sample courses include Sport Operations & Event Management, Sport Marketing, Risk Management in Sport, Managerial Economics and more. It costs $500 per credit, making it the second most affordable school on this list. This program also prizes research methods. Another benefit of attending Shorter is its proximity to Atlanta, a top 10 market in America for sports. Graduates will be prepared for leadership careers in sports tourism, coaching, community relations and much more.
5) Midway University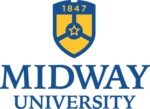 Midway University is an independent, liberal arts university that operates from Midway, Kentucky. It has almost 1,200 students (14 to 1 student-to-faculty ratio) and was founded in 1847. It's affiliated with the Christian Church (Disciples of Christ), and offers two and four-year degrees. Midway was the only women's college in Kentucky until 2016, when it began accepting men. It's known for its programming in business, marketing, equine studies, sports management, english, mathematics, biology, nursing, psychology, criminal justice and teacher education. Midway's Athletics teams are called The Eagles, and are members of the National Association of Intercollegiate Athletics (NAIA). Midway does its best to award credit for prior learning, and its classes are conveyed in 4, 6 or 8 week sessions.
Midway offers an MBA with a concentration in Sport Management. It can be completed in 15-18 months. All courses are conveyed 100% online. It costs $560 per credit. Concentration courses include Sports Law, Sports Organization Finance, Sport Marketing, Organizational Behavior in Sports, which all culminated in a Capstone in Sport Management. Midway prides itself on its high level of service to its students, including its competitive tuition and different payment options. This program's accelerated class structure was part of its inclusion on this list.
6) Southern New Hampshire University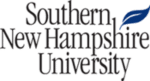 SNHU is a private, nonprofit New Hampshire university. It was founded in 1932 as a small, regional university but has since grown exponentially. Currently, over 73,100 students (30:1 student-to-faculty ratio) attend SNHU, the vast majority in distance education. SNHU is known for its online programming, and how successful its been at growing in the digital era. It was listed by Fast Company as the 12th most innovative organization in the world, ranking alongside companies like Apple, Google, and HBO, and above NFL, Starbucks, and LinkedIn. SNHU's accelerated classes give students superb flexibility to complete their degrees. It competes in NCAA Division II, and is a member of the Eastern College Athletic Conference and the Northeast-10 Conference.
SNHU offers an MBA in Sport Management. It covers everything from business development to branding to events and much more. This program can be completed in just over a year. It costs $627 per credit hour. Sample courses include Sport and Society, Internationalization of Sport Business, and Management of Sport Organizations. Students without academic business backgrounds might need to take extra courses to be qualified for this program. This program also allows for students to add another graduate certificate, often with minimal extra courses. Graduates of this program will be qualified to work for professional sports teams, sports agencies, equipment manufacturing, and much more.
7) Southeast Missouri State University

Southeast Missouri State University is a public, accredited school operating from Cape Girardeau, Missouri. Also known as SEMO, it's known in part for its excellent education degrees. SEMO was founded in 1873. It offers 200 different zones of study, featuring undergraduate degrees, master's degrees and a Ed.D. program offered in concert through its partnership with the University of Missouri. The school competes in the Ohio Valley Conference of NCAA Division 1. It was ranked 103rd in the Regional Universities Midwest category and 29th among top Midwestern Public Schools category in the 2017 USNR rankings.
SEMO offers a MBA in Sports Management. It costs $334 per credit hour, making it the most affordable school on the list. The program can be completed in only 33 hours of coursework. Students will have access to the latest technology, and interact with international customers, employees and suppliers. Coursework will cover global opportunities, universal competition and regulations. It boasts internships and career opportunities with Chevron, Boy Scouts of America, Solutia and IG. The program is extremely flexible and convenient for people working full time, and features the same coursework as its on campus rendition. It's accredited by the Association to Advance Collegiate School or Business (AACSB), and the Network of International Business Schools (NIBS) + (COSCA).
8) Tiffin University

Tiffin is a private university in Tiffin, Ohio. It was founded in 1888. Currently Tiffin serves 3,350 students, and offers a 14:1 student-to-faculty ratio. It offers undergraduate and graduate degrees from several campuses in Ohio, and online through three schools (Arts & Sciences, Business and Criminal Justice & Social Sciences). Its MBA program comes in concentrations that include Finance, General Management, Healthcare Administration, Human Resource Management, International Business, Leadership, Marketing, Non-Profit Management, and Sports Management. Tiffin made this list in part due to its accelerated course delivery.
Tiffin's MBA in Sports Management offers students access to sport professionals around the country, and includes a 200 hour mentorship program with successful graduates. Students gain real world experience with sport franchises, athletic departments, organizations, agencies and facilities that are connected to Tiffin. The next start date is January 15th, but classes start six times per year. Faculty has included the President of the United States Olympian's Association, President of the Sierra Leone (Africa) Olympian's Association, a Martial Arts specialist in Paris with ties to organizing the World Karate Championships, a former executive with the Boston Celtics and Atlanta Braves, and many more extremely successful professionals in the industry. This program costs $700 per credit hour.
9) Florida Atlantic University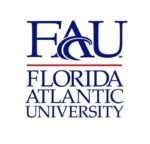 FAU is a public university operating from Boca Raton, Florida, and five ancillary campuses in the state. It was founded in 1961, and is part of the State University system of Florida. Over 30,500 students attend FAU, which has a 24:1 student-to-faculty ratio. It offers over 180 undergraduate and graduate degree programs through ten colleges in arts and humanities, the sciences, medicine, nursing, accounting, business, education, public administration, social work, architecture, engineering, and computer science. The Carnegie Foundation has recognized FAU for its high research activity. In 2014, USNR ranked FAU the 27th most diverse university in the country.
Florida Atlantic University's MBA in Sport Management offers 7 classes that pertain directly to sports, including Management and Administration of Intercollegiate Athletics, Management of Sport, Entertainment and Convention Venues, Sport Business Analytics, Sport Marketing, Sport Law and more. The program's goal is to produce world class managers and executives in the sports industry. It's AACSB-accredited, and started operating in 2000. Most of its graduates are employed in permanent/full-tim sport or entertainment industry jobs. The program costs $900 per credit hour. It requires its employed students work in the sports industry while they attend the program.
10) Saint Leo University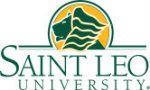 Saint Leo is a private, non-profit university based in St. Leo, Florida. It was founded in 1889. Saint Leo is affiliated with the Holy Name Monastery, a Benedictine convent, and Saint Leo Abbey, a Benedictine monastery. In 2017, the school was named a Best Regional University–South and Best Value University–South by U.S. News & World Report. It also ranked on U.S. News & World Report's list of 2017 Best Online Bachelor's Programs and Best Online Bachelor's Programs for Veterans. It serves over 14,600 students, and has a 16:1 student-to-faculty ratio. Saint Leo was one of the first American universities to offer distance learning, which it began by offering its programs to military service members in 1973.
San Leo's MBA comes in a Sport Business concentration, which can be completed in as little as a year, or extended over five years depending on student needs. Students typically take up to two courses per eight-week term (there are six each year). The program requires 36 credits. Sample courses include Organizational Behavior, Managerial Economics, Facility Planning and Management in Sport, Risk Management and Legal Concepts in Sport, among many others. Students will build business communication skills while understanding the foundations of management and how to make ethical, financially responsible decisions. It's been accredited by IACBE. Tuition is $720 per credit hour.