Share this infographic on your site!
How Olympic Athletes Make a Living
We all know that famous professional athletes can make a great deal of money – sometimes more, even if they're retired. For example, Michael Jordan, over ten years retired, made $90M in 2013 — possibly more than all of the athletes in the Sochi 2014 Winter Olympics combined — and more than every other active professional athlete individually. Everyone, that is, except for boxer and former Olympian Floyd Mayweather — who earned at least an estimated $80M, possibly more, in just one fight (against Saul "Canelo" Alvarez) alone in 2013. He also fought Robert "The Ghost" Guerrero in 2013, earning at least $32M (guaranteed) for that fight, excluding pay-per-view fees.
However, Olympic athletes are typically nowhere nearly as fortunate. In fact, the IOC (International Olympic Committee) does not pay athletes a cent for their appearance in the Olympics. Athletes have to fund their way either from their own pockets or through other means. Here's a look at how some of them have done just that, as well as what former Olympians are up to in their careers.
The Goal of Gold
How do Olympians fund their Olympic dreams? One way is out of their own pockets. According to bankrate.com, the 5 richest American Olympians at Sochi 2014, excluding professional athletes such as the NHL hockey players, are as follows:
Snowboarder Shaun White, $20M, from various endorsements and his majority share the Air & Style competitive snowboarding event.
Alpine skier Bode Miller, $8M, from endorsement deals.
Alpine skier Ted Ligety, $2M, from endorsement deals, prize money in competitions, founding ownership in Shred Optics (ski goggles, sunglass, helmets).
Snowboarder Hannah Teter, $1M, from sponsors and founding ownership in underwear line Sweet Cheeks.
Snowboarder Lindsay Jacobellis, $1M, from endorsement deals and sponsorships.
Looks like quite a trend there (snowboarding, alpine skiing), though keep in mind that Sochi 2014 was for Winter Olympics. Also note, this does not mean these athletes paid their own way to the Olympics.
How Other Olympic-Hopeful Athletes Make a Living
What about all the other Olympians who are not as entrepreneurial as the ones above and do not have endorsement deals? First, a quick bit of history on the lifting of the amateur status for Olympic events.
In 1971, the IOC (International Olympic Committee) removed the requirement of being an amateur. That is, athletes could receive compensation, sponsorship from national and sports organizations as well as private businesses.
American athletes had the disadvantage of competing against athletes from certain countries who were sponsored by their governments.
That's because American Olympic athletes had to be amateurs (no payment) until 1978, whereupon the Ted Stevens Olympic and Amateur Sports Act was adopted. U.S. Olympic athletes could then get various funding sources such as financial awards, sponsorship or payment.
In 1986, professional athletes could compete in every Olympic sport.
In 1998, the Ted Stevens Act expanded to include the Paralympics.
Since then, athletes sometimes have corporate sponsors — which is different than an endorsement deal.
U.S. corporations might spend millions each year sponsoring an entire team instead of one athlete. As a result, team members wear logos on clothing, accessories and gear.
For example, American Olymipan swimmer Ryan Lochte was estimated getting $2.3M from multiple sponsors for 2012, dependent on medal performance in London 2012 (he received 2 gold medals, 2 silver, 1 bronze).
There is also some money from the USOC and other sources:
The USOC made over $625M annually between 2005-8 from just U.S.-only broadcast rights.
An additional $120M annually came from U.S. corporate sponsors.
Out of that money the USOC pays athletes medal bonuses: $25K for gold, $15K for silver, $10K for bronze — rates that have stayed the same for over a decade, and thus have declined in value due to inflation.
Special funds such as at livingthedreammedalfund.com, set up for Olympic wrestlers. Prizes are $250K for a gold medal, $50K for silver, and $25K for bronze.
USA Swimming pulls in about $100M per year from registration fees from about 300K members. Members who are on the National Team that rank 16th or higher get a $3K per month stipend. In 2011, USA Swimming paid out $7M to National Team swimmers. (They also pay stipends college athletes.)
Given there are a limited number of medals at any Olympics (Winter or Summer), and many thousands more athletes, not everyone will be fortunate enough to get sponsorships, endorsements, and medal bonuses, and thus not necessarily have the funds to be entrepreneurial. In some countries Olympic hopefuls are sponsored by their government or special programs. In the U.S., things are different.
Get funded by friends and family.
Get sponsored by local businesses.
Get funded by community "bake sales."
Some larger American companies partner with the USOC (U.S. Olympic Committee) and participate in the long-time OJOP (Olympic Job Opportunities Program). They pay full-time salaries and benefits to athletes but allow them to work part-time. However, some companies have dropped out of the program. Athletes also have to have a certain ranking in a given sport to be accepted.
As well, the USOC provides funds to national governing bodies for each sport, typically to cover the costs of technology, shipping equipment overseas, etc.
There are also various foundations backed by corporations that give out grants to athletes, albeit not just to Olympic hopefuls. The Ross Powers Foundation has given out over 266 grants valued at $437K to 129 recipients since 2002. Of these, at least 12 recipients have competed in the Olympics.
There are also opportunities in other world sporting competitions that have prize money, though that involves being in the top ten in a given sport. For example, Jack Wickens, USA Track and Field Foundation Board directory, evaluated the income of track and field athletes and found the following:
Income depends on event; sprints and marathons competitions pay the most.
About 20% of top 10 American T&F athletes make over $50K annually.
Less than $15K annually is what about 50% of T&F (Track and Field) athletes who rank in the top 10 in the U.S. This is from all sources: sponsorships, grants, prize money, etc.). Anyone below top 10 ranking in the USA likely has little to no income or funding from their sporting activity.
The top 10 runners in the world in this sport can earn $100K annually, while the top 2 can do far better.
Runners in the 11-25th positions range from $10K to $60K annually, either doing moderately well in a given year or poorly.
All other runners below these rankings tend to have other jobs.
Top triathletes can make $50-100K annually. Some make over $1M annually (e.g., Chrissie Wellington and Chris McCormack.) The rest might top out at $20K.
Those who do not get sponsored or get hired under OJOP or compete in other athletic events typically hold down regular jobs that give them some flexibility to train, including but not limited to being "typical" work having a physical component: coaches, fitness instructors, golf club staff. Though some end up doing odd jobs at seasonal events. For example, snowboarder Tyler Jewell sold sausages at a state fair in New Mexico, amongst other gigs. As he pointed out, it's difficult to have a full-time job when training sessions run 5 hours (or more) per day.
Here's a small selection of what some American athletes who have either made the Olympics or are hoping to do so in the near future do for a living.
Accountant – Gwen Jorgensen (triathlon) works at Ernst & Young.
Actor – Jamie Nieto (jumper).
Army specialist – Dennis Bowsher (pentathlon) is a specialist in the U.S. Army.
Coach – Jared Frayer (wrestler) is a coach and teacher.
Construction worker – Lance Brooks (discus thrower).
DJ – E.g., Race Imboden (fencing), who was also an intern for a record label.
Dog walker – Jazmine Fenlator (bobsled driver), who also worked odd jobs in food service and has received financial aid from her community, as well as sponsorship from Liberty Mutual Insurance.
Health researcher – Natalie Dell (rower).
Life adviser – Troy Dumais (diver) works at University of Texas.
Model – Kerron Clement (hurdler), who is also an actor. Zsuzsanna Francia (rower) is a fitness model and writer.
Motion graphics designer – Chas Betts (wrestler).
Motivational speaker – Dotsie Bausch (cyclist).
Plumber – Jonathan Cheever (snowboarder).
Recruiter – Nicole Joraanstad (curler) is a full-time HR recruiter in Wisconsin, but claims it costs up to $150K for a single season to qualify for the Olympics.
Teacher – Emil Milev (shooter) is a phys ed teacher in Florida.
Waiter – Taylor Fletcher (Nordic combined skier), who says that it costs about $20K per year to compete at the top of his sport.
In other countries, recent Olympians collectively hold full-time jobs as chef, firemen, farmer, janitor, landscaper, lawyer, nurse, physiotherapist, police officer, research analyst, software developer, trash collector, travel agent, writer.
Still others have part-time jobs and/or live with parents or other family to cut down on costs. Some athletes have university scholarships, but these do not cover the cost of making it to the Olympics. Unfortunately, the cost of being an athlete aspiring to be in the Olympics includes coaches, trainers, medical expenses, equipment, travel — not to mention the typical costs of living.
In the past, athletes have subsisted on food stamps and sharing rent with roommates. E.g., Steve Prefontaine (runner), before the 1972 Olympics — before the rules for Olympic athletes accepting endorsements changed. Others hold fundraisers or auction themselves as celebrity dates or sometimes for sponsorships. Other athletes are more extreme: Tongan luger, Fuahea Semi, changed his name to Bruno Banani, which is also the name of the German underwear and swimsuit company that sponsors him.
The Lucky Ones: How Former Olympic Athletes Make a Living
Here is a non-comprehensive list of former Olympians and how they've made a living or otherwise attracted attention to their post-Olympic careers.
Get endorsement deals. This is the dream, of course. Michael Johnson (sprinter) once was labelled the "fastest man alive", has been a television commentator, newspaper column writer, owner of a training facility for young athletes, owner of sports management company Ultimate Performance, reality show contestant on The Celebrity Apprentice, documentary filmmaker, 2012 London Olympics torch bearer for the Stonehenge to Salisbury segment. ).
Become a coach. Nadia Comaneci (gymnast) defected from Romania in 1989. While she initially arrived in the U.S., she settled for a time in Montreal, Canada, promoted a line of gymnastics wear and aerobic equipment, modeled, appeared in TV commercials (wedding dresses, Jockey underwear),  married an American athlete (Bart Conner) and eventually became a naturalized American citizen.
Become a professional athlete. Floyd Mayweather (boxing), as mentioned early, is making a fortune as a professional boxer and taking a cut of Pay-Per-View fees by representing himself.
Become an actor. There are several athletes in this category, past and present, including Johnny Weismuller (swimming), Jason Statham (diving team), and Ryan Lochte (swimmer). Esther Williams (swimmer) was to be in the 1940 Olympics and probably 1944 Olympics, both of which were cancelled due to World War II. She was a commentator for the 1984 Summer Olympics in Los Angeles.
Do voiceover work on animated TV shows and film. Michelle Kwan (figure skating) has done voice work on The Simpsons, Family Guy and Mulan II. She is also an actress, appearing in the TV show "Sabrina, the Teenage Witch" and the film "Ice Princess."
Become a reality TV star. Bruce Jenner (track and field) is a former Wheaties cereal box poster boy, actor, NBA Draft pick, and a reality TV star, as the step-dad of the Kardashian clan  (of the reality show Keeping Up the With Kardashians).
Become a professional wrestler. Kurt Angle is the only wrestler to both win a gold medal in the Olympics as well as championships in WWF/ WWE professional wrestling.
Become a sportscaster / commentator. Mark Spitz (swimmer) has been an ABC sports commentator, film narrator, and done TV commercials for Milk, Schick razors, Sprint, GoDaddy and others.
Become a celebrity spouse. To be fair, Wladimir Klitschko (boxer) is now a professional heavyweight boxer (who might compete in the 2016 Summer Olympics in), but not originally being American, he's included here because he is engaged to American actress Hayden Panettiere ("Heroes", "Nashville") — which would make him at least a permanent resident if he is not already.
Work for Disney. Kerri Strug (gymnast) was in the Ice Capades and Disney's World On Ice, then later a school teacher, held various positions with the U.S. government, and was a Yahoo! correspondent at the 2004 Summer Olympics.
Become a call girl. Suzy Favor Hamilton, a three-time Olympian runner, claims depression pushed her into prostitution.
Those who are entrepreneurially-savvy also start businesses, invest in real estate and bars, restaurants chains and more.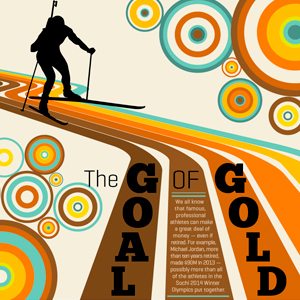 References
Information for this article was collected from the following pages and web sites: