Share this infographic on your site!
It's a high stakes game of life and death. Terrorists have vowed to disrupt the winter Olympic games; while Russia has more than 200,000 military, police and secret service agents at the ready to safeguard the athletes and visitors. If you're planning to attend, here's what you should know:
The Threats:
Doku Umarov: Russia's most wanted terrorist, urged his followers to strike the games.
The Black Widows: suspected female suicide bombers on the loose: Three women have been trained "to perpetrate acts of terrorism".
• 22-year-old Ruzanna Ibragimova – the widow of a suicide bomber – was reported to be at large in Sochi
• Zaira Aliyeva, 26
• Dzhannet Tsakhayeva, 34.
1,500: number of violent events in the Caucasus region since January 2010; many are within 500 miles of the Olympic Games in:
• Dagestan,
• Ingushetia,
• Kabardino-Balkaria
• Chechnya.
Oct. 2013: 30 people killed in train station bomb in Volograd, 600 miles north of Sochi.
ONE DAY LATER: a black widow suicide bomber attacks a bus in Volgograd, 10 people killed, dozens wounded.
Prior Olympics related attacks
1972 Munich: 9 Israeli athletes killed by Black September terrorists
1996 Atlanta: 1 killed, more than 100 wounded by a pipe bomb. Domestic terrorism.
2008 Beijing, China: 16 policeman killed in Kashgar
Will it happen again?
Feb. 7-23, 2014: Date of the Winter Olympics, the first time that the Russian Federation will have hosted the Winter Games.
About Sochi
400,000: population
3rd: Sochi is located in the third largest region in Russia – Krasnodar.
Sunshine: Sochi is Russia's Miami, on the Black Sea
No Snow: Does it snow in Miami? Well, it doesn't in Sochi, the city, either.
500: number of snow guns needed just in case…for the mountain races
710,000 cubic meters of snow: amount kept in storage from last winter for the games.
6,500 feet: The average height of the Caucasus mountains around Sochi.
Sochi mascots: the polar bear, hare and snow leopard.
Space is the Place: The Sochi 2014 Olympic torch was sent to the International Space Station in November.
Sochi Olympics: By the numbers
7
Winter sports represented (biathlon, bobsleigh, curling, ice hockey, luge, skating and skiing)
11
Venues to be used in the Games
18
Days for Sochi Games from start to finish
48
Distance (in kilometers) between Sochi's 'Coastal' and 'Mountain' clusters
85
Nations participating
98
Sets of bronze, silver and gold medals
6,000
Athletes competing in games
25,000
Volunteers working at games
$50 billion
Estimated cost of Sochi Olympics
The Sochi Olympics will be divided into two "clusters."
• A coastal cluster in swampy lowlands south of the old city will host indoor hockey, figure skating and the opening and closing ceremonies.
• A mountain cluster, half an hour away by train in Krasnaya Polyana, will host things like downhill skiing
Security:
75,000: number of visitors that can be accommodated at Olympic Park, daily
You will be watched:
• All Internet traffic by Sochi residents, visitors, and journalists will be monitored by SORM, a surveillance system used to track telephone and Internet communications.
• Drones, reconnaissance robots, sonar systems and high-speed patrol boats" will monitor activity in Sochi 24 hours-a-day.
You will be policed:
• 100,000 security personnel overseen by the FSB will be assigned to Sochi
• 40,000 (allegedly tri-lingual) police officers (twice the number used in the 2012 Olympics) will work the Games
• 30,000 armed forces troops will be deployed throughout the Sochi area
• 10,000 additional troops will secure the Olympic Mountain cluster, supervised by a Russian military team called "Operations Group Sochi
• The 58th Army will secure the Russia-Georgia border, to the south
You will show ID (often) in:
• Restricted security zones
• Controlled zones
• Restricted areas:
• Olympic Park
• Olympic Villages,
• Olympic Mountain Cluster
• Olympic Coastal Cluster, national park, airport, seaport, and railroad terminal
• The internal border of Karachay-Cherkessia, 200 miles east of Sochi,
• Visitors moving through the "controlled zones" — areas around the Olympic Park as well as all checkpoints along the Sochi and Adler coast — will also have to submit to police inspections.
Armed and Ready:
• Soldiers carry new variants of the Kalashnikov AK-12 assault rifle
• ADS guns, underwater machine guns
• 47: types of different guns in Russian arsenal
• Tor-M air defense systems missiles
• 3 S-400 surface to air missiles
So… after all this…
Why leave home?
1,539: number of coverage hours on NBC, MSNBC, NBC Sports Network, CNBC.
That equals 64 days of coverage.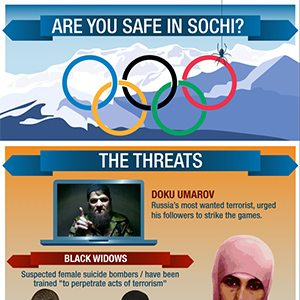 Sources:
http://abcnews.go.com/blogs/politics/2014/01/russia-calls-on-u-s-military-tech-to-counter-roadside-bombs-at-winter-olympics/
http://blog.foreignpolicy.com/posts/2013/12/30/sochi_watch_russia_massive_olympic_security
http://www.militaryfactory.com/smallarms/modern-russian-guns.asp
http://www.stratfor.com/analysis/sochi-2014-security-challenge
http://www.start.umd.edu/start/publications/br/TerrorismAndOlympics.pdf
http://abcnews.go.com/blogs/politics/2014/01/russia-calls-on-u-s-military-tech-to-counter-roadside-bombs-at-winter-olympics/
http://www.militaryfactory.com/smallarms/modern-russian-guns.asp