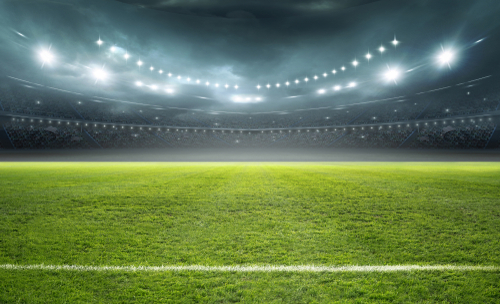 From soccer to sumo wrestling, baseball to bobsleigh, sport is one of the great unifiers in contemporary society – with the occasional great divide thrown in for good measure. Few activities elicit such a fervent response from people, and the passion exhibited by those playing is often at least matched by the excitement of fans and spectators. It's perhaps no surprise, then, that the worldwide sporting industry has been estimated to be worth as much as a staggering $620 billion by management consultancy A.T. Kearney. With that kind of money circulating, the arenas in which sporting dramas play out at the highest level are bound to be impressive structures. Still, in terms of architecture at least, some are even more remarkable than others. Here we take a look at 30 of the best.
30. Century Lotus Stadium, Foshan, China
The Century Lotus Stadium, which is located in Foshan in China's Guangdong province, opened in 2006 and was designed by German architectural practice von Gerkan, Marg and Partners (GMP). The circular building, built at a cost of around $155 million, features an innovative spoke-wheel construction, partially covered by a folded white membrane roof, which measures in at 1,148 feet in diameter. Against the green backdrop of the sports park in which it is located, the stadium resembles a lotus flower, helping it to nestle unobtrusively in its surroundings. The 36,686-capacity stadium is used primarily for soccer matches, and hosted the first-round game between Myanmar and China during qualifying for the 2010 FIFA World Cup.
29. PGE Arena, Gdansk, Poland
Gdansk, Poland's PGE Arena, which opened its doors in August 2011, was built as one of the host venues for the 2012 UEFA European Championship, with construction costing approximately $253 million. The soccer-specific venue has an all-seating capacity of 42,000. Reflecting its location close to the Baltic Sea, the stadium's facade is comprised of 18,000 polycarbonate plates that give it the appearance of amber, a mineral extracted at the nearby coast for many years. The arena's design, by European architecture firm
Rhode Kellermann Wawrowsky, won an IPC/IAKS distinction and a Bronze IOC/IAKS Award in 2013. The former acknowledges constructions that make sport more accessible, while the latter celebrates those that combine "sensible sustainability and legacy considerations, strong functional planning and exceptional architectural design."
28. Rungnado May Day Stadium, Pyongyang, North Korea
North Korea's Rungnado May Day Stadium ranks among the largest in the world, with a seating capacity of 150,000 and a total floor space of over 2.2 million square feet. The stadium is named after the Rungnado islet of the Taedong River near which it stands, and features a scalloped roof of 16 arches, designed to evoke the image of a magnolia blossom. The multi-purpose facility in Pyongyang opened in May 1989, and though it has held a number of soccer and athletics events, it is perhaps best known as the site of the Arirang festival (or "Mass Games"), a huge gymnastics and artistic performance that can involve more than 100,000 participants – twice the number of its spectators.
27. Aviva Stadium, Dublin, Ireland
The Irish national rugby union team and the Republic of Ireland soccer team call the gleaming Aviva Stadium in Dublin, Ireland home. The stadium's design takes into account its close proximity to local residences by featuring a pronounced sweeping curve at its north end, as well as an unusual transparent polycarbonate facade and roof designed to allow as much natural light as possible through to the neighboring houses. The $562 million, 51,700-seat facility, which occupies the former site of the Landsdowne Road stadium, opened in May 2010 and was designed by international firm Populous and British and Irish architects Scott Tallon Walker. In 2011, it triumphed in the international category of the British Construction Industry Awards.
26. Donbass Arena, Donetsk, Ukraine
Ground was broken on the Donbass Arena in June 2006, with the 52,667-capacity stadium opening just over three years later in August 2009. Beyoncé performed at its opening ceremony, which was awarded "Event of the Year" at 2010's Stadium Business Awards in Dublin. The $416.5 million venue in Donetsk, Ukraine later hosted several matches during the 2012 UEFA European Championship, including the semi-final between Portugal and Spain, and is home to soccer team FC Shakhtar Donetsk. The arena was designed by the sports division of global professional services firm Arup and features a distinctive roof and glazed facade that give it an extraterrestrial air, particularly when illuminated at night.
25. AT&T Stadium, Arlington, Texas
AT&T Stadium in Arlington, Texas, the home stadium of the NFL's Dallas Cowboys, currently holds the title of the largest domed structure in the world. The stadium, which opened in May 2009, has a capacity of 105,000, including 80,000 seats. And with a construction cost of $1.3 billion, it also ranks prominently among the most expensive stadiums ever built. In order to assist with the staggering build cost, Arlington residents voted in favor of a number of tax increases, with the City of Arlington also providing more than $325 million of bonds in funding. The structure is also notable for its huge, high-definition video display, which is the fourth largest in the world – it's so big that it's been hit twice by punts during football games. The AT&T Stadium was designed by global architectural firm HKS.
24. Shanghai Stadium, Shanghai, China
It may have been built as the primary venue for the National Games of the People's Republic of China in 1997, but the Shanghai Stadium has since gone on to host a number of sporting events, including several 2008 Summer Olympics soccer matches and the 2007 Special Olympics World Summer Games opening ceremony. The 80,000-capacity stadium was designed by the Shanghai Institute of Architectural Design & Research and features an asymmetric, saddle-shaped roof, including a molded fiberglass membrane. It has attracted a number of design awards, including a Top Ten Shanghai Classical Architecture's Gold honor in 1999.
23. Municipal Stadium, Wrocław, Poland
The Municipal Stadium in Wrocław is Poland's third largest of its kind, with an all-seating capacity of 42,711. It opened in September 2011 and was constructed for the 2012 UEFA European Championship at a cost of around $240 million. The stadium, which plays host to top-tier Polish league soccer side Śląsk Wrocław, was designed by Polish firm JSK Architekci to reflect the dynamic nature of the city of Wrocław. A Teflon-coated fiberglass mesh surrounds the building, anchored by a series of steel rings, and an advanced lighting system allows the external walls' color to be changed to enhance the stadium's impact.
22. Stadium at Queen Elizabeth Olympic Park, London, England
The Stadium at Queen Elizabeth Olympic Park – more commonly known as the Olympic Stadium – was built as the host venue for the London 2012 Summer Olympics and Paralympics. Ground was broken on the project in mid-2007 and work was completed in 2011. The first public event took place in March 2012. International sports-specialist architecture firm Populous also designed the $809 million, 80,000-capacity stadium. However, on completion, it received a mixed reception from the media, with opinions ranging from "magnificent" to "tragically underwhelming." Nonetheless, it was nominated for the prestigious RIBA Stirling Prize for architecture in 2012 and is set to host several matches during the 2015 Rugby World Cup, as well as the IAAF World Athletics Championships two years after that.
21. AAMI Park, Melbourne, Australia
Given the spectacular silhouette of its geodesic domed roof, it's perhaps no surprise that Melbourne's AAMI Park was crowned the world's most iconic stadium at the Stadium World Congress Awards in 2012. The unique 'bioframe' covering required 50 percent less steel than an equivalent structure of the same size, and affords unobstructed views from each of the 30,050 seats inside the stadium. AAMI Park opened in May 2010, at a construction cost of around $240 million, and was designed by Australian firm Cox Architecture. The impressive stadium is home to several Australian sports teams, including rugby team Melbourne Storm and soccer team Melbourne Victory FC. The stadium also hosted Foo Fighters during the band's 2011 Wasting Light World Tour.
20. Scotiabank Saddledome, Calgary, Canada
The Scotiabank Saddledome in Calgary, Canada, opened its doors in October 1983 after a 27-month, $89.1 million construction project. The 19,289-capacity Saddledome cuts a striking silhouette on the downtown Calgary skyline, and plays home to NHL side the Calgary Flames, as well as junior ice hockey team the Calgary Hitmen and box lacrosse team the Calgary Roughnecks. The saddle-shaped roof was designed by Calgary and Edmonton-based firm Graham McCourt Architects (now known as GEC Architecture) to facilitate an unobstructed view from all seats inside the stadium, and it is believed to have the longest span of any hyperbolic paraboloid-shaped concrete shell anywhere in the world. Impressively, it can also move up to nearly three inches in any direction to cope with the city's erratic climate.
19. Ericsson Globe, Stockholm, Sweden
The Ericsson Globe in Stockholm can boast that it's the world's largest hemispherical building, with a volume of 21,188,800 cubic feet. It is Sweden's national indoor arena, and has hosted everything from the Ice Hockey World Championships and UFC events to concerts by Britney Spears and Depeche Mode. Work began on the 16,000-capacity arena in September 1986 and was completed just less than two and a half years later. The Ericsson Globe, which was designed by architects Lars Vretblad and Svante Berg, also represents the sun in the Sweden Solar System, the world's biggest permanent scale model of our planetary system.
18. Sapporo Dome, Sapporo, Japan
Despite perhaps bearing more of a resemblance to a giant horseshoe crab than a sports stadium, the Sapporo Dome in Sapporo, Japan is the home venue for the Consadole Sapporo soccer team and surreally named baseball team the Hokkaido Nippon-Ham Fighters. The 53,796-capacity stadium was designed by Japanese architect Hiroshi Hara, and opened in June 2001. It features an innovative retractable grass pitch – a "hovering soccer field" – that can be moved in and out of the dome by a pneumatic mechanism, covering the artificial baseball turf. The entire process takes just a few hours and makes the Sapporo Dome a truly multi-purpose stadium. It is also one of the planned soccer venues for the Tokyo Olympics in 2020.
17. Emirates Stadium, London, England
Ground was broken on the Emirates Stadium in July 2003. Three years and $650 million later, the 60,338-seat stadium opened its doors. The ground in London, England, which was designed by international architecture firm Populous, is home to English Premier League soccer side Arsenal and also operates as a live music venue and conference center. Highly regarded among European stadiums, the Emirates Stadium marked something of a departure from the traditional style of English soccer grounds, with a greater focus placed on spectator experience and increased corporate facilities. Since its completion, the stadium has won a number of awards, including "Best Major Project" at the 2007 Building Construction Industry Awards. It has also helped Arsenal increase match-day revenue from $62.4 million at its previous ground to more than $150 million.
16. NSC Olimpiyskiy, Kiev, Ukraine
Kiev's NSC Olimpiyskiy, or Olympic Stadium, is the largest sports venue in the Ukraine – and the second-largest throughout Eastern Europe. It has a long and complex history, dating back to August 1923, when the Trotsky Red Stadium, which then occupied the site, hosted its first sporting event. In 1980, several soccer games were played at the stadium as part of the Moscow Olympics. Following a lengthy series of renovations and reconstructions, the current stadium, as it stands today, was finished in October 2011, complete with a roof that completely covers the seating area. The Olympic Stadium, which has a capacity of 70,500 for soccer matches, hosted the final of the 2012 UEFA European Championship, and it's the home ground of the country's national soccer team.
15. MetLife Stadium, East Rutherford, New Jersey
The MetLife Stadium is home to both the New York Jets and the New York Giants, and holds the honor of being the most expensive stadium ever constructed, at a cost of around $1.6 billion. It has the largest permanent seating capacity in the NFL, with room for 82,566 fans, and it's also the only structure of its kind to accommodate two NFL teams. To accommodate both teams, the exterior lighting around the stadium can change colors to bathe the facade of glass and aluminum louvers in either Giants blue or Jets green. The MetLife Stadium may be twice as big as the old Giants stadium but its carbon footprint is surprisingly small, as it uses 30 percent less energy than its predecessor. The MetLife Stadium opened in April 2010, and was designed by a consortium that included American firms 360 Architecture and EwingCole. In February 2014 the stadium hosted Super Bowl XLVIII.
14. Universiade Sports Center, Shenzhen, China
Universiade Sports Center in Shenzhen, China was designed by German firm GMP Architekten and opened in 2011 at a construction cost of $530 million. The 60,000-seat stadium was one of the venues for the 2011 Summer Universiade, a global multi-discipline event for university athletes organized by the International University Sports Federation, which is the world's second-largest multi-sport celebration (in terms of number of participants) after the Summer Olympics. The spectacular crystalline outer structure is made from triangular panes of laminated safety glass and slabs of polycarbonate, and is illuminated at night to impressive effect.
13. Estádio do Maracanã, Rio de Janeiro, Brazil
Estádio do Maracanã in Rio de Janeiro was once the largest capacity stadium in the world. It was built for the FIFA World Cup in 1950, and hosted the competition's final that year in front of nearly 200,000 spectators – even though it wasn't completed in full until 1965. The stadium now has a greatly reduced capacity of 73,531, but is still the largest structure of its kind in South America. Seven Brazilian architects originally conceived the design of the original stadium. However, the Maracanã has since undergone several programs of renovation, most recently to ready the arena for its role in the 2014 FIFA World Cup, where it will host seven matches, including its second FIFA World Cup final. Only one other stadium has received this double honor, Mexico's Estadio Azteca.
12. Fisht Olympic Stadium, Sochi, Russia
The Fisht Olympic Stadium in Sochi, Russia graced millions of TV screens around the world as the venue for the 2014 Winter Olympics opening ceremony. It is another prominent design by international architecture firm Populous, who worked in conjunction with global design consultancy Buro Happold. The $779 million, 40,000-capacity stadium was named after Mount Fisht, and is designed to resemble a snowy mountain peak, ensuring a harmonious integration with the backdrop of the Caucasus Mountains and Imeretinskaya Valley. The stadium, which was opened in 2013, was featured on a commemorative 100-ruble banknote issued by Russia's Central Bank 100 days before the Winter Olympics began.
11. Qizhong Forest Sports City Arena, Shanghai, China
Qizhong Forest Sports City Arena is a 15,000-seat tennis venue built to host the ATP World Tour Finals between 2005 and 2008. The stadium, which is located in southwest Shanghai, China, features a remarkable segmented steel roof that opens and closes to accommodate indoor or outdoor events. The petal-shaped sections retract in just eight minutes and were designed to represent a blooming magnolia, the city flower of Shanghai. The arena was designed by Japanese architect Mitsuru Senda of Environment Design Institute, and opened in October 2005 after a construction process that cost $200 million. In 2009, it was recognized with the IOC/IAKS Silver Award for exemplary sports and leisure facilities.
10. Cape Town Stadium, Cape Town, South Africa
Designed by Hamburg-based architects Gerkan, Marg and Partners in tandem with local companies Louis Karol and Point Architects and Urban Designers, the Cape Town Stadium – situated in Green Point, at the base of Signal Hill – was completed in 2009 at a cost of around $600 million. The then 68,000-seat (now 55,000-capacity) stadium hosted a number of games during the 2010 FIFA World Cup, including the semi-final played between Uruguay and the Netherlands. Since then, it has been in use as multi-purpose venue, hosting club soccer games as well as live music events. Nicknamed "the Diva of Cape Town," the stadium features a Teflon-coated woven fiberglass exterior shell that responds to the city's shifting weather patterns, giving off reddish, gray or blue hues under different light conditions. Yet the use of materials elsewhere was also exceptional: judges at the 2010 Steel Awards said that their overall winner featured "some of the best steelwork they had ever seen."
9. Olympiastadion, Munich, Germany
Constructed as the principal location for the 1972 Summer Olympics, the Olympiastadion in Munich, Germany has subsequently held various other important sporting events, not least the 1974 FIFA World Cup final. Featuring a membrane of sweeping acrylic glass canopies – a groundbreaking design element at the time – the 69,250-capacity stadium was intended to be a sign of a more open and democratic Germany and to serve as a thematic counterpoint to the 1936 Summer Olympics, which were staged in Berlin under the Nazi regime. German architects Günter Behnisch and Frei Otto (also a structural engineer) conceived the design, whose construction was completed in 1972. Interestingly, the development process was aided by the fact that the stadium was built in a pit that had been excavated by bombing carried out during World War Two.
8. Wembley Stadium, London, England
Designed by international U.K.-based architectural firm Foster + Partners and worldwide specialist sports facilities architects Populous, London's Wembley Stadium is the second biggest stadium in Europe and, at a cost of $1.3 billion, among the most expensive structures of its kind ever built. Home to the English national soccer team, the 90,000-seat venue was completed in 2007 and has hosted a number of major British and European club soccer fixtures as well as rugby and American football games. Wembley's iconic arch stands above the stadium at a height of 436 feet, and its 1,033-foot span makes it the world's longest single-span roof configuration. The stadium has attracted a number of honors, including a RIBA National Award and the Vodafone Live Music Award for Best Live Venue. It also boasts more than 2,600 toilets, should the excitement ever get too much.
7. Beijing National Aquatics Center, Beijing, China
The Water Cube, as it's known for obvious reasons – in spite of the fact that it isn't close to being an actual cube – was one of the flagship venues for the 2008 Beijing Olympics, with its capacity then totaling 17,000. Built to host many of the aquatic events at the summer games, the Cube features an intricate bubble pattern exterior made up of 4,000 ETFE "pillow" segments (EFTE being a see-through polymer that transmits more light than glass). With a surface area of over 1.07 million square feet, the National Aquatics Center is the word's biggest ETFE-shelled building, and the construction material also helps to cut energy costs by as much as 30 percent compared to glass. Completed in 2008 at a cost of $140 million, the Cube witnessed over two-dozen swimming world records broken during the Beijing Olympics. What's more, it has won various awards for the consortium – including Australian-headquartered PTW Architects, China's CCDI and multinational engineering group Arup – behind the design.
6. National Stadium, Warsaw, Poland
Providing home turf for the Polish national soccer team, the National Stadium in Warsaw was completed in 2011 at a cost of $685 million. A consortium of Hamburg-based architects Gerkan, Marg and Partners, Polish firm JSK Architekci, and German-headquartered international structural engineers schlaich bergermann and partner designed the 58,145-seater stadium. Moreover, in 2012 it beat out significant competition to pick up the World Stadium Award for best multifunctional stadium design. Painted in silver and red, the wire mesh facade nods to Poland's national colors, while overhead the structure features a retractable roof that fans out from a central spire. The impressive venue hosted several games during the 2012 UEFA European Championship, including the semi-final played between Italy and Germany.
5. Olympic Stadium, Montreal, Canada
Canada's biggest stadium in terms of seating space – up to 66,308 for football games – Montreal's Olympic Stadium has been described as a "masterpiece of organic modern architecture." French architect Roger Taillibert conceived of the design to feature organic elements reminiscent of vertebrae, tentacles and sinews while at the same time adhering to the simplified forms of architectural modernism. Dubbed the "Big O" thanks to its donut-shaped roof, the stadium was developed as the principal site for the 1976 Summer Olympics. However, the project was beset by delays and strikes, and while the unfinished venue opened in 1976, construction wasn't completed until 1987. It was originally forecast that the stadium would cost $122 million, but the entire outlay by the time it was at last paid off in 2006 was estimated at an astonishing $1.47 billion. This placed it as one of the most expensive stadiums in history, with many switching its nickname to the "Big Owe."
4. FNB Stadium, Johannesburg, South Africa
Sometimes referred to as Soccer City, Johannesburg's FNB Stadium played host to the 2010 FIFA World Cup final; however, it will also be remembered as the place where Nelson Mandela performed his final key public appearance, during the competition's closing ceremony. Originally opened in 1989, the stadium was redeveloped ahead of the World Cup, with the design work carried out by South architects Boogertman + Partners and international firm Populous (then HOK Sport). The $440 million, 95,000-capacity stadium is now the biggest in Africa. Its spectacular exterior features earthen hues and a circle of illumination at the base, as it is meant to resemble an African pot – or "calabash" – on an open fire. The structure's stands, meanwhile, are intersected by ten vertical lines, nine of which are oriented towards the other 2010 World Cup stadiums, while the tenth points to Berlin's Olympiastadion, the venue for the 2006 FIFA World Cup final. The FNB Stadium was the overall winner at the 2010 LEAF Awards, with the judges calling it "a wonderful, exuberant design that seems almost uncannily to represent the continent in which it is constructed."
3. Kaohsiung National Stadium, Zuoying District, Taiwan
Completed in 2009, the National Stadium in the Zuoying District of Taiwan's Kaohsiung City is remarkable for several reasons – not least because it wouldn't look out of place being hurled around the surrounding cityscape by an irate Godzilla in a 1960s kaiju film. Pritzker Prize-winning architect Toyo Ito designed the 55,000-capacity stadium, which harnesses solar energy for practically all of its power requirements. Of the 6,482 scale-like aluminum-framed plates that form the roof, 4,482 house solar panels, and the structure yields 1.1 million kilowatt-hours of energy annually. The impressive green credentials don't stop there, either: the stadium is the first in Taiwan to have been certified for "gold-level green building," attaining the relevant standards in nine areas, among them biodiversity, soil water content and CO2 reduction.
2. Allianz Arena, Munich, Germany
Germany's most popular sporting venue, according to a survey by politics and culture magazine Cicero, the 57,343-seat Allianz Arena in Munich is home to both of the city's main soccer teams, Bayern Munich and TSV 1860 München. Based on the designs of chief Swiss architects Herzog & de Meuron, construction commenced in 2002 and was completed in under three years at a cost of $466 million. The stunning facade consists of 2,760 inflated ETFE foil panels, each of which can be separately illuminated red, blue or white: red for the home colors of Bayern, blue for when TSV 1860 plays, and white for the German national side's games there. Interestingly, although multicolor configurations are feasible, German police firmly press for single-color schemes, with previous traffic collisions on the neighboring A9 autobahn believed to have been caused by the shifting display.
1. Beijing National Stadium, Beijing, China
Another design by Swiss architects Herzog & de Meuron, this time in collaboration with prominent Chinese artist Ai Weiwei and CAG lead architect Li Xinggang, the Beijing National Stadium is an undeniably impressive work of architecture. Drawing inspiration from Chinese ceramics, the "Bird's Nest," as it's often known, comprises two separate structures: an 80,000-permanent seat central concrete bowl, and the striking outer shell – a curvilinear mass of "random-looking additional steel," as it was described. Interestingly, plans for a retractable roof – a requirement that gave rise to the nest-style design – were abandoned following the collapse of a vaulted roof at Charles de Gaulle Airport in Paris, France. Fortunately, though, the concept for the exterior frame was retained. Completed in 2008 at a cost of $480 million, the stadium played host to the opening and closing ceremonies of the 2008 Summer Olympics and Paralympics and has been the venue for various other sports and entertainment events. It was awarded the prestigious RIBA Lubetkin Prize in 2009.