Online Sports Management Degrees: Wisconsin
Wisconsin may be known for its wealth of dairy products, but look beyond the grazing cattle and you'll discover one of the country's hidden gems for outdoor recreation: over 2,700 miles of hiking trails, 15,000 inland lakes, 43,000 miles of river, and two Great Lakes. Only Alaska, Michigan, and Florida have more water. In the summer, outdoors enthusiasts enjoy whitewater rafting, camping, cycling, and fishing; in winter, the fishing turns to ice fishing, and the slopes are open for skiers. Deer hunting is also immensely popular, but Lambeau Field is where the real game is: catching a Packers game on the "frozen tundra" at Lambeau Field (or a neighborhood bar) is a rite of passage here. Beyond the Packers, Wisconsin is home to the Milwaukee Brewers (MLB) and Bucks (NBA), plus a number of minor league hockey and baseball teams. The University of Wisconsin is a highly competitive D-1 school with several NCAA championships, and Marquette is a regular challenger in college basketball. In sum, Wisconsin is a great place for current and aspiring sports management professionals, with a range of opportunities and activities. To review some of the top sports management degrees available in-state, check out our favorite locations, universities, and degree programs below!
Planning Your Education
Currently there are 6 universities in the state of Wisconsin offering online programming in sports management degree fields located throughout the state. While this level of choice and convenience is great, potential students should be counseled to know that there are many potential ways to enter into sports management fields. Many degree types can give students a variety of unique edges on competition, but it's for students to choose which degree type is the best for entering into a sports management field or role of their choice. For an in-depth treatment of this subject, check out our degrees page. Or if you already know what degree types your interested in, check out our directory of sports management degrees in Wisconsin.
Types of Degrees Surveyed:
Sports Management
Coaching Education
Nutrition
Recreation Management
Kinesiology
Communications and Public Relations
Physical Education
Health and Wellness
Sports Psychology
Business Administration: Sports Management
Degree Levels Surveyed:
Associates
Bachelors
Masters
Doctoral Degrees
Graduate and Undergraduate Certifications
Career Opportunities
Number of Jobs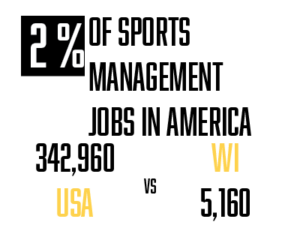 With just under 5,200 sports management professionals, Wisconsin accounts for 2% of the sector's workforce nationwide. According to Indeed.com, most available positions are full-time entry-level, but part-time, commission, contract, temp, and internship roles are also available. (A third are mid-level.) As with the rest of the state, Milwaukee is the largest magnet for sports management jobs — home to two professional sports organizations – followed by Green Bay, Madison, Germantown, and La Crosse. The Milwaukee Brewers (MLB) and Bucks (NBA) boast established fanbases, having been in town since the late 60s, and The Packers (NFL) are among the most storied and successful franchises in American sports. Jobs with the big three professional organizations are tough to find, but worth pursuing nonetheless. Current students and recent graduates should keep track of internship and part-time roles which may have room to grow. From there, Wisconsin's range of colleges and universities are another great place to look for job opportunities, especially at the 26-campus University of Wisconsin System (which offers a number of relevant online degrees through the UW Extension program).
Earning Percentiles for Sports Management Professionals in Wisconsin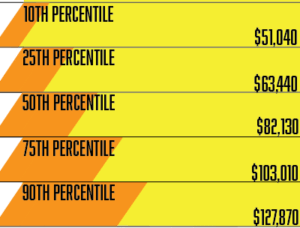 Wisconsin ranks 21st in the country for median household income, and sports management salaries seem to follow that trend, landing middle-of-the-road compared to other states. For comparison, the mean salary for management positions in spectator sports nationwide is $117,000, which lands between the 75th and 90th percentile in Wisconsin. Still, there's reason for optimism: salaries have necessarily increased in recent years with the recent downturn in overall employment. In other words, if you're fortunate enough to secure a job you're going to be compensated appropriately – indeed, twice as much as the mean income for other professions – and Wisconsin's low cost-of-living means your dollar goes a long way. Considering the number of top-tier higher colleges offering sports-relevant tracks, Wisconsin remains a quality state for sports management professionals.
Need more inspiration to pursue sports management-related opportunities in Wisconsin today? Check out the range of job opportunities below!
Wisconsin Sports Management Jobs from Indeed
jobs by
Top Sports Management Degree Programs: WI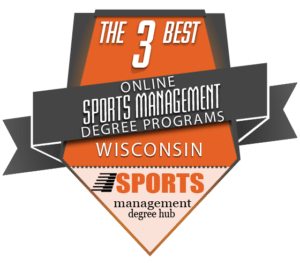 While there are a variety of top schools offering a range of sports management-related degrees online in Wisconsin, students will first and foremost want to consider the exact degree type they're interested in pursuing. We've chosen out our three "recommended" schools for Wisconsin below, but aspiring students should keep in mind that not each of these universities will necessarily have a program of study that can lead directly to the particular sports management career of your choice. If you're already set on pursuing sports management-related schooling in the state of Wisconsin, we advise you to not only consult out ranking of top schools below, but also peruse our database of all sports management-related programs in Wisconsin below. While there are additional benefits of pursuing an online degree in your own state (in-state tuition, and the ability to take classes or intensives in person), future students should also note that there are many online programs available nationwide, and consult our wide-ranging rankings for the top online sports management schools in the nation.
With that said, there are many top Wisconsin-based programs available entirely online. We've selected our top three through equally weighting two metrics: the number of sports-management related degrees available online through the institution, and the academic prestige of the given institution.
1.) University of Wisconsin - Superior

CHARACTERISTICS



DEGREES
Bachelor's in Communicating Arts Bachelor's in Exercise Science Bachelor's in Communication Arts Bachelor's in Health And Wellness Management

---

Founded in 1893, the University of Wisconsin - Superior is ranked 2nd in the region among public schools by US News and has a total enrollment of about 2,500 (600 online). For those interested in a sports management career, Superior has several online bachelor's tracks (BA and BS) that may be of interest, in Communication Arts, Exercise Science, Health and Wellness Management, and Community Health Promotion. (Some of these require completing a minor, like Health, Coaching, or Sports Management, and internships, practical experiences, and accreditation with the American College of Sports Medicine or National Strength and Conditioning Association are encouraged.) With a 14:1 student-to-faculty ratio, courses are kept intimate and allow for one-on-one instruction in addition to collaborative learning. Nearly 60% of classes have fewer than 20 students, and just 2% have 50 or more. For those interested in financial assistance, 64% of full-time undergrads at UW Superior received some form of aid and the average need met is 75%

2.) University of Wisconsin - Stout

CHARACTERISTICS



DEGREES
Human Development and Family Studies BS B.S. in Golf Enterprise Management B.S. in Professional Communication and Emerging Media (Applied Communication Concentration)M.S. in Technical and Professional Communication

---

University of Wisconsin - Stout, founded in 1891, is ranked 15th among regional public schools and in the top 40 for veterans. Enrollment is 9,500. For aspiring sports management-related professionals, UW Stout has online bachelor's in Human Development and Family Studies, Golf Enterprise Management, and Professional Communication and Emerging Media (Applied Communication Concentration), particularly relevant for careers in broadcast journalism, marketing and advertising, and sports administration. All courses are 100% online for maximum flexibility, and may be completed in as little as two years in some cases. With a 18:1 student-to-faculty ratio, classes combine individualized instruction with collaborative learning to support a modern, dynamic educational environment. A third of all classes have less than 20 students, and less than 2% have over 50. Student services include library access, transfer credits, career services, orientation, and more.

3.) University of Wisconsin - Stevens Point

CHARACTERISTICS



DEGREES
Health and Wellness Management (HWM)ealth and Wellness Management (HWM)

---

Founded in 1894, US News ranks University of Wisconsin - Stevens Point 9th in the region among public schools and 49th among all colleges in the Midwest. Students with an interest in the health side of sports management can choose Stevens Point's BS or MS in Health and Wellness Management. The 63-credit bachelor's covers Physical Activity and Nutrition, Marketing and Communication, Research and Statistics, Population Health, Leadership and Change Management in Health, and Health Coaching, among other areas. The 36-credit master's includes studies in Biopsychosocial Aspects of Health, Best Practices and Emerging Issues, Health Systems and Policy, and a capstone experience. (Note that the MS is a collaborative program with instructors from UW-Green Bay, UW-Parkside, UW-River Falls, UW-Stevens Point, and UW-Superior.) All courses are designed for maximum flexibility, with multimedia lectures and e-learning tools. For those interested, an online Health and Wellness Coaching Graduate Certificate is also offered.
WI Sports Management Degree Database
University of Wisconsin-Superior
Superior, WI
Online SM Degrees: 4

ADDRESS & CONTACT INFO (715) 394-8101
1605 Catlin Ave, Superior, WI 54880





UNDERGRADUATE DEGREES

Bachelor's in Communicating Arts Bachelor's in Exercise Science Bachelor's in Communication Arts Bachelor's in Health And Wellness Management

Military friendlyFinancial
aid opportunities
University of Wisconsin Stout
Menomonie, WI
Online SM Degrees: 4

ADDRESS & CONTACT INFO (715) 232-1122
712 Broadway St S, Menomonie, WI 54751





UNDERGRADUATE DEGREES

Human Development and Family Studies BS B.S. in Golf Enterprise Management B.S. in Professional Communication and Emerging Media (Applied Communication Concentration)

GRADUATE DEGREES

M.S. in Technical and Professional Communication

Excellent job placement rateEmphasis
on practical learning
University of Wisconsin-Stevens Point
Stevens Point, WI
Online SM Degrees: 2

ADDRESS & CONTACT INFO 715) 346-0123
2100 Main St, Stevens Point, WI 54481





UNDERGRADUATE DEGREES

Health and Wellness Management (HWM)

GRADUATE DEGREES

Health and Wellness Management (HWM)

Comprehensive career servicesOnline
tutoring
University of Wisconsin Extension
Lancaster, WI
Online SM Degrees: 2

ADDRESS & CONTACT INFO (608) 723-7321
916 E Elm St, Lancaster, WI 53813





UNDERGRADUATE DEGREES

Bachelor of Science in Health and Wellness Management

GRADUATE DEGREES

Master of Science in Health and Wellness Management

A nationally ranked consortiumExpert
faculty
Ottawa University-Milwaukee
Brookfield, WI
Online SM Degrees: 1

ADDRESS & CONTACT INFO (855) 392-0002
245 S Executive Dr #110, Brookfield, WI 53005

150 years of experience Christian-centered
community
Fox Valley Technical College
Appleton, WI
Online SM Degrees: 1

ADDRESS & CONTACT INFO (920) 735-5600
1825 N Bluemound Dr, Appleton, WI 54912

94% of grads are employed within 6 monthsGenerous transfer policy