With one of the fastest-growing states in the country, Colorado continues to be the destination par excellence for outdoors enthusiasts. Its geography is among the most diverse and stunning in the country: from Alpine peaks that reach 14,000 feet, to desert sand dunes and canyons, granite rock formations, and some of the most beautiful rivers and lakes in the continental US. Of course, all this lends itself to a range of sports activities. Colorado is generally considered one of the top ski and snow-sports locales in the country, but late spring, summer, and fall are prime times for camping, cycling, and fly fishing, which attracts locals and tourists from around the world. At the professional level, Colorado has five major professional sports leagues, all based in Denver: Broncos, Nuggets, Rockies, Avalanche, and Rapids. Considering the wealth of sports and recreation opportunities in the state, it's no surprise that a large number of sports management professionals call Colorado home — and that Colorado universities are offering more related degree tracks than ever. Check out our favorite locations, universities, and degree programs for sports management below!
Planning Your Education

Currently there are 6 universities in the state of Colorado offering online programming in sports management degree fields located throughout the state. While this level of choice and convenience is great, potential students should be counseled to know that there are many potential ways to enter into sports management fields. Many degree types can give students a variety of unique edges on competition, but it's for students to choose which degree type is the best for entering into a sports management field or role of their choice. For an in-depth treatment of this subject, check out our degrees page. Or if you already know what degree types your interested in, check out our directory of sports management degrees in Colorado.
Types of Degrees Surveyed:
Sports Management
Coaching Education
Nutrition
Recreation Management
Kinesiology
Communications and Public Relations
Physical Education
Health and Wellness
Sports Psychology
Business Administration: Sports Management
Degree Levels Surveyed:
Associates
Bachelors
Masters
Doctoral Degrees
Graduate and Undergraduate Certifications
Career Opportunities
Number of Jobs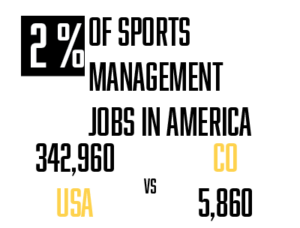 There are almost 6,000 sports management professionals in Colorado, which makes up about 2% of the sector's national workforce. Unfortunately, that number has declined in recent years, with the trade-off being a large portion of quality, top-paying positions. Most are full-time spots, but part-time, contract, temp, commission, and internship opportunities are also available for those interested. According to Indeed.com, Denver is the biggest employer — as it is across all industries — followed by Colorado Springs, Aurora, Littleton, Boulder, Durango, and Fort Collins. Denver hosts teams from all five major sports leagues – NFL, NBA, MLB, NHL, and MLS — and there are a number of semi-pro and minor league teams scattered across the state, as well. Outside of professional organizations, high school and collegiate athletics are another place to look for career opportunities, particularly for less experienced workers. Beyond that, Colorado's mountain resorts remain a popular employment choice, offering both seasonal and year-round work.
Earning Percentiles for Sports Management Professionals in Colorado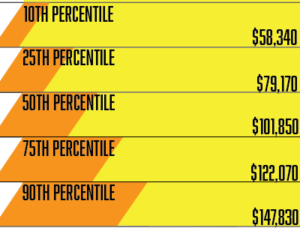 While the employment pool has shrunk, sports management salaries have grown 5% in recent years and are among the best in the country. To compare at the national level, the mean salary for management positions in spectator sports is $117,000 nationwide; that puts it around the 60th percentile in Colorado, and well below the highest earning bracket, which can pull over $150k per year. The real story is at the bottom tier, though, where entry-level jobs can command $60k, or almost twice as much as the average entry-level job for college graduates. Together with the Colorado's wealth of quality sports-related degrees, its competitive salaries make the state a top location for sports management professionals.
Need more inspiration to pursue sports management-related opportunities in Colorado today? Check out the range of job opportunities below!
Colorado Sports Management Jobs from Indeed
jobs by
Top Sports Management Degree Programs: CO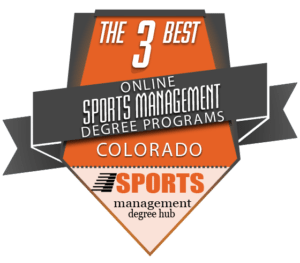 While there are a variety of top schools offering a range of sports management-related degrees online in Colorado, students will first and foremost want to consider the exact degree type they're interested in pursuing. We've chosen out our three "recommended" schools for Colorado below, but aspiring students should keep in mind that not each of these universities will necessarily have a program of study that can lead directly to the particular sports management career of your choice. If you're already set on pursuing sports management-related schooling in the state of Colorado, we advise you to not only consult out ranking of top schools below, but also peruse our database of all sports management-related programs in Colorado below. While there are additional benefits of pursuing an online degree in your own state (in-state tuition, and the ability to take classes or intensives in person), future students should also note that there are many online programs available nationwide, and consult our wide-ranging rankings for the top online sports management schools in the nation.
With that said, there are many top Colorado-based programs available entirely online. We've selected our top three through equally weighting two metrics: the number of sports-management related degrees available online through the institution, and the academic prestige of the given institution.
[tcpaccordion id="1429"]
CO Sports Management Degree Database
University of Denver
Denver, CO
Online SM Degrees: 3

ADDRESS & CONTACT INFO(303) 871-2000
2199 S University Blvd, Denver, CO 80208

UNDERGRADUATE DEGREES

Bachelor of Arts in Communication

GRADUATE DEGREES

Masters in Marketing Communication Masters in Organizational Communication

Great for veteransLarge study abroad program
Regis University
Denver, CO
Online SM Degrees: 2

ADDRESS & CONTACT INFO(303) 458-4126
3333 Regis Blvd, Denver, CO 80221

Accelerated options7 academic honor societies
University of Colorado Denver
Denver, CO
Online SM Degrees: 1

ADDRESS & CONTACT INFO(303) 315-5969
1201 Larimer St, Denver, CO 80204

Diverse student bodyEasy transfer services
Colorado Mesa University
Junction, CO
Online SM Degrees: 1

ADDRESS & CONTACT INFO(970) 248-1020
1100 North Ave, Grand Junction, CO 81501

Small, intimate classes13 Fulbright faculty scholars
Colorado State University Global Campus
Greenwood Village, CO
Online SM Degrees: 1

ADDRESS & CONTACT INFO(800) 920-6723
7800 E Orchard Rd #200, Greenwood Village, CO 80111

Flexible and customizable courseworkAffordable tuition
Front Range Community College
Westinminster, CO
Online SM Degrees: 1

ADDRESS & CONTACT INFO(303) 404-5000
3645 W 112th Ave, Westminster, CO 80031

Top-rated community collegeHands-on career services