The fifth most populous state in the country is full of sports and recreation opportunities. Pennsylvania's 121 state parks offer cycling, mountain biking, hiking, rock climbing, water sports, and more; come winter, be prepared to put on your skis. Perhaps less known is the state's excellent hunting reputation. There are nearly a million licensed hunters, and Pennsylvania is considered one of the country's premiere wild turkey destination. More famous are the state's professional sports organizations, including two teams each in the NFL, MLB, and NHL, and MLS and NBA teams. (Altogether, Pennsylvania professional sports have won twenty-four championships.) Collegiate athletics are prominent here, too, with major basketball and football programs at some of the country's largest and most prestigious universities. All the above makes Pennsylvania a great spot for a variety of sports related jobs. Check out our favorite locations, universities, and degree programs for sports management below!
Planning Your Education

Currently there are 11 universities in the state of Pennsylvania offering online programming in sports management degree fields located throughout the state. while this level of choice and convenience is great, potential students should be counseled to know that there are many potential ways to enter into sports management fields. Many degree types can give students a variety of unique edges on competition, but it's for students to choose which degree type is the best for entering into a sports management field or role of their choice. For an in-depth treatment of this subject, check out our degrees page. Or if you already know what degree types your interested in, check out our directory of sports management degrees in Pennsylvania .
Types of Degrees Surveyed:
Sports Management
Coaching Education
Nutrition
Recreation Management
Kinesiology
Communications and Public Relations
Physical Education
Health and Wellness
Sports Psychology
Business Administration: Sports Management
Degree Levels Surveyed:
Associates
Bachelors
Masters
Doctoral Degrees
Graduate and Undergraduate Certifications
Career Opportunities
Number of Jobs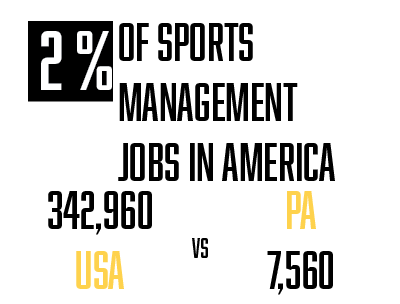 After suffering a sharp decline in sports management jobs in 2006, employment has rebounded over the last few years in Pennsylvania. According to Indeed.com, Philadelphia, York, Pittsburgh, Mount Gretna, and Harrisburg are the main hubs, but jobs can be found across the state, particularly in college towns like University Park, Villanova, Lewisburg, and Bethlehem, where you can currently find openings ranging from Director of Athletic Operations, to Recreation Coordinator, to Sports Marketing Brand Ambassador. Mid- and senior-level positions are harder to find at the professional level, but entry-level roles are often available; and don't forget about the more than two-dozen minor league teams in Pennsylvania. Fitness clubs, health and wellness centers, and sports apparel brands hire, as well.
Earning Percentiles for Sports Management Professionals in Pennsylvania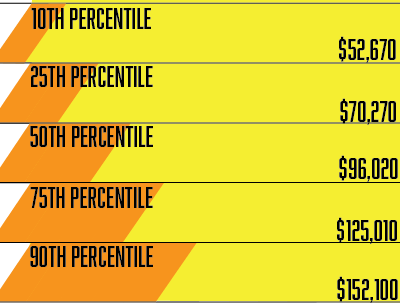 For leadership positions nationwide, the mean salary for management positions in spectator sports is $117,000, which would place near the 70th percentile for sports management salaries in Pennsylvania. Considering that the state ranks 23rd in the country for median income, sports management salaries are relatively high and less prone to potential wage depressions. The data also suggests a large amount of entry- and mid-level jobs. Most important, overall salaries have steadily increased 25 percent in recent years. Add the wealth of affordable, prestigious educational centers in the state, and Pennsylvania makes for a great launching zone for aspiring sports management workers.
Need more inspiration to start pursuing sports management-related opportunities in Pennsylvania today? Check out the range of job openings across the state below!
Penn Sports Management Jobs from Indeed
jobs by
Top Sports Management Degree Programs: PA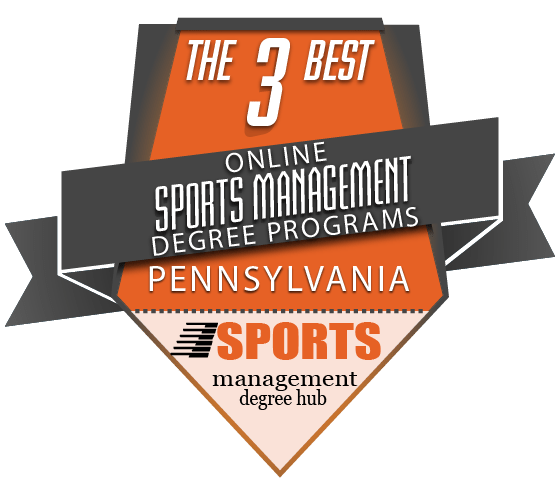 While there are a variety of top schools offering a range of sports management-related degrees online in Pennsylvania, students will first and foremost want to consider the exact degree type they're interested in pursuing. We've chosen out our three "recommended" schools for Pennsylvania below, but aspiring students should keep in mind that not each of these universities will necessarily have a program of study that can lead directly to the particular sports management career of your choice. If you're already set on pursuing sports management-related schooling in the state of Pennsylvania, we advise you to not only consult out ranking of top schools below, but also peruse our database of all sports management-related programs in Pennsylvania below. While there are additional benefits of pursuing an online degree in your own state (in-state tuition, and the ability to take classes or intensives in person), future students should also note that there are many online programs available nationwide, and consult our wide-ranging rankings for the top online sports management schools in the nation.
With that said, there are many top Pennsylvania-based programs available entirely online. We've selected our top three through equally weighting two metrics: the number of sports-management related degrees available online through the institution, and the academic prestige of the given institution.
[tcpaccordion id="891"]
PA Sports Management Degree Database
California University of Pennsylvania
California, PA
Online SM Degrees: 23

ADDRESS & CONTACT INFO (724) 938-4000
250 University Ave, California, PA 15419

Wellness and Fitness (Bachelors of Science)

GRADUATE DEGREES

MS in Intercollegiate Athletic Administration (WN, SM2)
MS in Sport Management (WN, SM2)
MS in Strategic Sport Analysis
MS in Performance Enhancement & Injury Prevention (WN, SM2)
MS in Rehabilitation Sciences (WN, SM2)
MS in Sport Psychology (WN, SM2)
MS in Wellness and Fitness (WN, SM2)
MS in Wellness Coaching (WN, SM2)
MS in Perf Enh and Inj Prev AND Rehab Science (WN,SM2)
MS in Perf Enh and Inj Prev AND Sport Psychology (WN,SM2)
MS in Perf Enh and Inj Prev AND Wellness Coaching (WN,SM2)
MS in Rehab Science AND Sport Psychology (WN,SM2)
MS in Rehab Science AND Wellness Coaching (WN,SM2)
MS in Sport Psychology AND Wellness Coaching (WN,SM2)
MS in Wellness and Fitness AND Rehab Science (WN,SM2)
MS in Wellness and Fitness AND Sport Psychology (WN,SM2)
MS in Wellness and Fitness AND Wellness Coaching
MS in Intercollegiate Athletic Administration (WN, SM2)
MS in Sport Management (WN, SM2)
MS in Strategic Sport Analysis (WN, SM2)
MS in Athletic Training
Doctorate in Health Science and Exercise LeadershipWellness and Fitness (Bachelors of Science) MS in Intercollegiate Athletic Administration (WN, SM2)
MS in Sport Management (WN, SM2)
MS in Strategic Sport Analysis
MS in Performance Enhancement & Injury Prevention (WN, SM2)
MS in Rehabilitation Sciences (WN, SM2)
MS in Sport Psychology (WN, SM2)
MS in Wellness and Fitness (WN, SM2)
MS in Wellness Coaching (WN, SM2)
MS in Perf Enh and Inj Prev AND Rehab Science (WN,SM2)
MS in Perf Enh and Inj Prev AND Sport Psychology (WN,SM2)
MS in Perf Enh and Inj Prev AND Wellness Coaching (WN,SM2)
MS in Rehab Science AND Sport Psychology (WN,SM2)
MS in Rehab Science AND Wellness Coaching (WN,SM2)
MS in Sport Psychology AND Wellness Coaching (WN,SM2)
MS in Wellness and Fitness AND Rehab Science (WN,SM2)
MS in Wellness and Fitness AND Sport Psychology (WN,SM2)
MS in Wellness and Fitness AND Wellness Coaching
MS in Intercollegiate Athletic Administration (WN, SM2)
MS in Sport Management (WN, SM2)
MS in Strategic Sport Analysis (WN, SM2)
MS in Athletic Training
Doctorate in Health Science and Exercise Leadership

Generous transfer policyGood for veterans
Clarion University of Pennsylvania
Clarion, PA
Online SM Degrees: 9

ADDRESS & CONTACT INFO (814) 393-2000
840 Wood St, Clarion, PA 16214

Associate of Science in Allied HealthBachelors of Science in Liberal Studies - Communication Bachelors of Science in Allied Health Leadership

GRADUATE DEGREES

Master of science in mass media arts and journalism public relations
Master of science: exercise science and health promotion: performance enhancement and injury prevention
Master of science: exercise science and health promotion rehabilitation sciences
Master of science: exercise science and health promotion: sport psychology
Master of science: exercise science and health promotion: wellness and fitness
Master of science: exercise science and health promotion : wellness coaching

Top military universityMany online SM degrees
Drexel University
Philadelphia, PA
Online SM Degrees: 5

ADDRESS & CONTACT INFO (215) 895-2000
3141 Chestnut St Philadelphia, PA 19104

BS in Communication BS Health Services Administration

GRADUATE DEGREES

MS in Communication MS in Sport Coaching Leadership MS in Sport Management

Great valueHands-on learning approach
Duquesne University
Pittsburgh, PA
Online SM Degrees: 4

ADDRESS & CONTACT INFO (412) 396-6000
Administration Bldg 600 Forbes Ave Pittsburgh, PA 15282

Bachelor of Arts in Professional Communication BS in Professional Leadership

GRADUATE DEGREES

Master of Arts in Corporate Communication Master of Science in Sport Leadership

Online and Hybrid delivery availableAsynchronous opportunities
Lock Haven University
Lock Haven, PA
Online SM Degrees: 3

ADDRESS & CONTACT INFO (570) 484-2011
401 N Fairview St, Lock Haven, PA 17745

GRADUATE DEGREES

Master of Science - Sports Science Master of Health Science - Health Promotion/Education Master of Health Science - Healthcare Management

Affordable in-state tuitionNumber of SM programs
Saint Francis University
Loretto, PA
Online SM Degrees: 2

ADDRESS & CONTACT INFO (814) 472-3000
117 Evergreen Dr Loretto, PA 15940

Bachelors of Science in Health Studies

GRADUATE DEGREES

Master of Health Science (Mhsc)

Quality Franciscian educationService learning as part of mission
Pennsylvania State University-World Campus
University Park, PA
Online SM Degrees: 1

ADDRESS & CONTACT INFO (814) 865-5403
128 Outreach Building University Park, PA 16802

Bachelors of Arts in Advertising/Public Relations - Strategic Communications

GRADUATE DEGREES

Top ranked online providerGreat support services
Robert Morris University
Moon Township, PA
Online SM Degrees: 1

ADDRESS & CONTACT INFO (800) 762-0097
6001 University Boulevard Moon Township, PA 15108-1189

Top Military UniversityMany top ranked online programs
King's College
Wilkes-Barre, PA
Online SM Degrees: 1

ADDRESS & CONTACT INFO (570) 208-5900
133 N River St, Wilkes-Barre, PA 18711

Focus on professional preperation99 percent employment after graduation
Philadelphia University
Philadelphia, PA
Online SM Degrees: 1

ADDRESS & CONTACT INFO (215) 951-2700
4201 Henry Avenue Philadelphia, PA 19144-5497

Bachelor's of Science in Professional Communications and Emerging Media

GRADUATE DEGREES

Liberal arts coreProfessional Focus
Elizabethtown College
Elizabethtown, PA
Online SM Degrees: 1

ADDRESS & CONTACT INFO (717) 361-1000
1 Alpha Dr, Elizabethtown, PA 17022

Associate of Arts in Corporate CommunicationsBachelors of Arts in Corporate Communications

GRADUATE DEGREES

Veteran-friendly CollegeGood value