Online Sports Management Degrees: Alabama
Alabama has a unique relationship with sports, perhaps more than any other state. There are no major professional teams here, but it would almost be inappropriate if there were: Alabamians' love of sports is too pure for the prospect of cash-driven corruption. What matters are sports for the sake of sports, amateur playing on every level — youth and adult recreation leagues, high school sports, and above all collegiate athletics. Most notably, Auburn versus Alabama, a rivalry which takes no vacations, sick days, or summers off. Its annual culmination is the Iron Bowl, but football is just one aspect of the heated rivalry. Outside of the state's organized sports, there are a wealth of opportunities for outdoors enthusiasts: from world-class fishing and hunting grounds, to miles of hiking and cycling trails, water sports, golf, and more. There are also a number of semi-pro and minor league teams in Alabama, including minor league baseball in Birmingham, Mobile, and Montgomery, and the Talladega Superspeedway, which hosts NASCAR and IndyCar series. Given the state's passion for sports, many Alabamians have chosen to make their living off it, and several schools have ramped up their sports-related degree offerings. Check out our favorite locations, universities, and degree programs for sports management below!
Planning Your Education

Currently there are 7 universities in the state of Alabama offering online programming in sports management degree fields located throughout the state. While this level of choice and convenience is great, potential students should be counseled to know that there are many potential ways to enter into sports management fields. Many degree types can give students a variety of unique edges on competition, but it's for students to choose which degree type is the best for entering into a sports management field or role of their choice. For an in-depth treatment of this subject, check out our degrees page. Or if you already know what degree types your interested in, check out our directory of sports management degrees in Alabama.
Types of Degrees Surveyed:
Sports Management
Coaching Education
Nutrition
Recreation Management
Kinesiology
Communications and Public Relations
Physical Education
Health and Wellness
Sports Psychology
Business Administration: Sports Management
Degree Levels Surveyed:
Associates
Bachelors
Masters
Doctoral Degrees
Graduate and Undergraduate Certifications
Career Opportunities
There are about 2,000 sports management professionals in Alabama, which has seen a decline in overall employment in recent years. Still, there a still range of quality positions available, including full- and part-time, internships, temp roles, and commission and contract jobs, most of which are offered at the entry level, according to Indeed.com. Following general state economic trends, Birmingham is the largest employment center for sports management careers, followed by Vance, Tuscaloosa, Auburn, Dothan, Montgomery, Mobile, and Huntsville, among others. The most desired jobs are typically at the major universities — Alabama and Auburn – but several other D-1 schools have highly competitive athletic programs, including University of Alabama – Birmingham and University of South Alabama. High school sports are another major employer, as well as private clubs, health and fitness centers, and sporting goods retailers.
Earning Percentiles for Sports Management Professionals in Alabama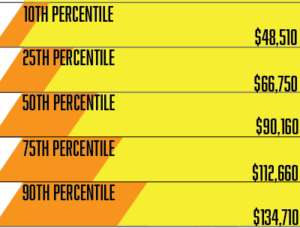 While overall employment has dropped, wages for sports management professionals have risen 10%, and salaries in the field generally outperforms the statewide median salary. In fact, salaries compare favorably on a national level, as well: the mean salary for management positions in spectator sports is $117,000 nationwide, which places it near the 75th percentile in Alabama. Top earners can take in more than $130k, and even the bottom 10th percentile – which typically represents entry-level positions – makes $48k a year, which is the median salary of all college-educated workers in the country. While there's a large compensation disparity between upper- and entry-level positions, that's the case for most states we've reviewed; and Alabama's lowest-tier earners still out-earn comparable roles elsewhere by a factor of two.
Need more inspiration to pursue sports management-related opportunities in Alabama today? Check out the range of job opportunities below!
Alabama Sports Management Jobs from Indeed
jobs by
Top Sports Management Degree Programs: AL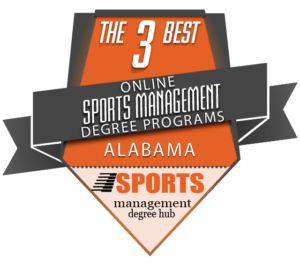 While there are a variety of top schools offering a range of sports management-related degrees online in Alabama, students will first and foremost want to consider the exact degree type they're interested in pursuing. We've chosen out our three "recommended" schools for Alabama below, but aspiring students should keep in mind that not each of these universities will necessarily have a program of study that can lead directly to the particular sports management career of your choice. If you're already set on pursuing sports management-related schooling in the state of Alabama, we advise you to not only consult out ranking of top schools below, but also peruse our database of all sports management-related programs in Alabama below. While there are additional benefits of pursuing an online degree in your own state (in-state tuition, and the ability to take classes or intensives in person), future students should also note that there are many online programs available nationwide, and consult our wide-ranging rankings for the top online sports management schools in the nation.
With that said, there are many top Alabama-based programs available entirely online. We've selected our top three through equally weighting two metrics: the number of sports-management related degrees available online through the institution, and the academic prestige of the given institution.
1.) University of Alabama Birmingham

CHARACTERISTICS



DEGREES
Educational Specialist in Kinesiology
Master of Arts in Education in Kinesiology
Masters in Health Education, Community Health

---

Founded in 1969, University of Alabama Birmingham is a public Tier 1 university with a total enrollment of 18,300. Current sports management professionals, especially those in the area of health and fitness, may be interested in three graduate tracks UAB offers online: an EDs Kinesiology, MA in Education in Kinesiology, and master's in Health Education, Community Health. Online coursework is designed for maximum flexibility and delivered through the Canvas's dynamic learning platform, which offers group discussion boards, live chat rooms, video conferencing, tech support, and more. With an 18:1 student-to-faculty ratio, UAB is able to combine the same small and intimate classes you'd find at a liberal arts school with the vibrant learning environment of large public university. About 40% of classes have fewer than 20 students, and less than 20% have over 50.

CHARACTERISTICS



DEGREES
Bachelor of Science in Hospitality, Sport And Tourism ManagementMaster of Science in Sport And Fitness Management Master of Science in Strategic Communication

---

Troy University, founded in 1887, is ranked among the top 25 public schools in the region and has a total enrollment of about 18,500. Aspiring and current professionals in sports management will find several interesting online degrees. First, a BS in Hospitality and concentration in Sport And Tourism Management, with classes like Current Issues in Sport Management, Governing Agencies, Sport Finance, Facility Management, and Sport Communications. At the graduate level, Troy offers master's in Sport And Fitness Management and Strategic Communication, the latter of which may be useful for sports marketing or media professionals. The school's 14:1 student-to-faculty ratio supports small classes with one-on-one instruction and collaborative learning. Nearly 60% of classes have fewer than 20 students, and just 5% have over 49. Financial aid opportunities are also available, and over 60% of undergrads receive some form of aid.

3.) University of Alabama

CHARACTERISTICS



DEGREES
Master of Arts in Health Studies

---

Founded in 1831, University of Alabama is a Tier 1 public university with a total enrollment of 37,000. For sports management professionals, Alabama offers two master's degrees of interest - an MS in Communication Studies (Organizational Management concentration) and an MA in Health Studies — which are applicable both to sports organizations/administration roles and health and fitness workers. With a 24:1 student-to-faculty ratio - a good number for a school of Alabama's size - the university supports modestly sized classes that balance individual instruction with peer-to-peer learning opportunities. 40% of classes have fewer than 20 students, and less than one-fifth have over 49. All course work is designed for maximum flexibility to accommodate adult learners and working professionals, and Alabama offers credits for prior learning or work-related projects.
AL Sports Management Degree Database
University of Alabama Bimingham
Birmingham, AL
Online SM Degrees: 3

ADDRESS & CONTACT INFO (205) 934-4011
1720 2nd Ave S, Birmingham, AL 35294

GRADUATE DEGREES

Educational Specialist in Kinesiology (Formerly Physical Education) Master of Arts in Education in Kinesiology (Formerly Physical Education) Masters in Health Education, Community Health

Flexible courseworkLarge alumni base
Troy University
Troy, AL
Online SM Degrees: 3

ADDRESS & CONTACT INFO (800) 551-9716
600 University Ave, Troy, AL 36082

Bachelor of Science in Hospitality, Sport And Tourism Management

GRADUATE DEGREES

Master of Science in Sport And Fitness Management Master of Science in Strategic Communication

20 years of online education experienceTop 25 regional ranking
United States Sports Academy
Daphne, AL
Online SM Degrees: 3

ADDRESS & CONTACT INFO (251) 626-3303
1 Academy Dr, Daphne, AL 36526

Bachelor of Sport Science

GRADUATE DEGREES

Master of Sport ScienceDoctor of Education in Sports Management

Military friendlyOnly school of its kind in the country
University of Alabama
Tuscaloosa, AL
Online SM Degrees: 1

ADDRESS & CONTACT INFO (205) 348-6010
Tuscaloosa, AL 35487

Student centeredGood for veterans
Jacksonville State University
Jacksonville, AL
Online SM Degrees: 1

ADDRESS & CONTACT INFO (256) 782-5781
700 Pelham Rd N, Jacksonville, AL 36265

GRADUATE DEGREES

Master of Science in Sport Management - Teacher Certification And Non-Teacher Certification

Top producer of Fulbright ScholarsDiverse student body
Alabama State University
Montgomery, AL
Online SM Degrees: 1

ADDRESS & CONTACT INFO (334) 229-4100
915 S Jackson St, Montgomery, AL 36104

Dynamic education technologiesVibrant learning community
Auburn University at Montgomery
Montgomery, AL
Online SM Degrees: 1

ADDRESS & CONTACT INFO (334) 244-3000
7400 East Dr, Montgomery, AL 36117

Individualized instructionRange of student services