Share this infographic on your site!
The Business of the Olympics
As athletes shift into the final phases of their training and fans prepare to don their colors, Rio de Janeiro has, of course, also been readying itself for the 2016 Summer Olympics. The total projected cost of the games currently stands at $11.2 billion. (1) (2) It's a big investment, but at least 60% of the profits generated by the Olympics will be reinvested in Brazil. (3) That said, there remains a nagging question: Are the Olympics worth hosting? Below, we examine Brazil's spending and anticipated return on investment, as well as how much previous hosts have won and lost, to understand if the games are too big of a gamble.
The 2016 Summer Olympics
The Rio 2016 Organizing Committee handles the planning and operation of the games — not any building work, which is paid for with public investment and managed by federal, state and city governments in Brazil. (3)
Rio 2016 Organizing Committee budget (3)
Committee funds are drawn from private resources.
Total expenses: $2.1 billion (3) (2)
26%: Administration and commercial
19%: Technology
13%: Infrastructure projects
10%: Sports and ceremonies
10%: Accommodation
8%: Games services
6%: Marketing rights and contingencies
4%: Transport
4%: Engagement
Total revenue: $2.1 billion
40%: Local sponsors
25%: International Olympic Committee contribution
16%: Ticket sales
12%: International sponsors
7%: Licensing and other revenues
Rio 2016 Organizing Committee accumulated surplus/deficit (3) (2)
2013: -$14.7 million
2014: $19.1 million
2015: $24 million
Rio 2016 Organizing Committee profit-sharing (3)
60% for reinvestment in Brazil
20% for the Brazilian Olympic Committee
20% for the International Olympic Committee
Public investment (3) (2)
Total investments: $8.8 billion
Capital investments (venues & infrastructure): $8.4 billion
Operations investments (security, transportation, medical, etc.): $400 million
Historic Return on Investment
While the indirect economic benefits and costs to sectors like tourism remain unclear, the International Olympic Committee does report its profits and losses from each game.
Year Host Cost including public investment Profit or loss
2012 (summer) London $13 billion (4) (2) None (5)
2010 (winter) Vancouver $1.3 billion (6) (2) -$712 million (6) (2)
2008 (summer) Beijing $44 billion (7) +$146 million (8)
2006 (winter) Torino $1.6 billion (9) -$3.2 million (9)
2004 (summer) Athens $15 billion (10) -$14 billion (9)
2002 (winter) Salt Lake City $2 billion (11) +$101 million (11)
Personal Gain
The Olympic gold medal itself, which is 6 grams gold and 525 grams silver, is worth $548. (12)
While the International Olympic Committee does not pay athletes for participating in the games, other groups do. (13)
U.S. Olympic Committee pay per medal
Gold: $25,000
Silver: $15,000
Bronze: $10,000
Fewer than 5% of athletes who compete at the games have a direct sponsor. (14)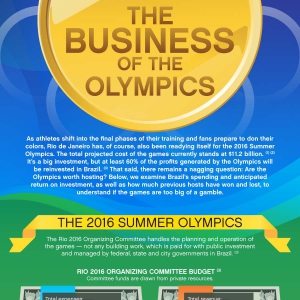 Sources:
1. http://www.voanews.com
2. https://finance.yahoo.com
3. https://www.rio2016.com
4. https://www.theguardian.com
5. http://www.olympic.org
6. http://www.cbc.ca
7. http://www.pravdareport.com
8. http://www.chinadaily.com.cn
9. http://www.cnbc.com
10. http://www.csmonitor.com
11. http://www.nytimes.com
12. http://ftw.usatoday.com
13. http://www.businessinsider.com
14. http://knowledge.wharton.upenn.edu