Share this infographic on your site!
New Event: The Olympic Boondoggle
Things aren't looking great for Sochi, the Russian host city of this year's Winter Olympics. Russia's anti-gay laws have been attacked from various corners, and the bill for the games is said to be the highest in history.
What They're Spending
These games have proved to be the most expensive in history, surpassing 2008's summer games in Beijing.
Total price tag by host city and year of games:
Seoul 1988 $7,960,000,000
Vancouver 2010 $8,330,000,000
London 2012 $13,980,000,000
Barcelona 1992 $15,400,000,000
Nagano 1998 $17,590,000,000
Athens 2004 $18,220,000,000
Beijing 2008 $45,580,000,000
Sochi 2014 $49,960,000,000
It's Not About Sports
Back in 2007, when Sochi was chosen, Vladimir Putin said the games would cost his country only $12 billion; how did that turn into $50 billion? According to many observers, corruption is to blame.
$30 billion
Amount of embezzlement determined in one study, about 60% of the stated final cost thanks to a system rife with kickbacks
In June 2012, charges were filed against contractors at two venues alleging builders inflated costs.
Alleged losses
Fisht Olympic Stadium $170 million
Bobsledding venue $75 million
25 Workers killed at Olympic construction sites
Bang for the Buck?
The money being spent in Sochi not only is much more than what was spent in Beijing, but it's also being spent on fewer events. In other words, the Chinese did more with less. Summer games have about three times the events of winter games.
Spending per event
Beijing 2008 $132 million
Sochi 2014 $520 million
What the money could have paid for:
3,000 high-quality roads
Housing for 800,000 people
Down the Toilet?
Corruption or not, it's hard to deny preparations for the Sochi games haven't gone well.
The men's restroom at the biathlon building was missing a key element — a wall between the toilets in a stall.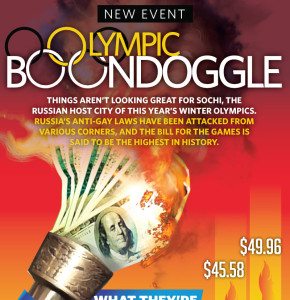 SOURCES:
http://www.themoscowtimes.com
http://edition.cnn.com
http://www.interpretermag.com
http://www.businessweek.com
http://www.businessinsider.com