Share this Graphic on Your Blog or Website:

The Sports Economy: From the Bottom to the Top
Behind every great quarterback is a great offensive line. (Well, in front of every great quarterback, if you want to be precise.) We acknowledge that even the most valuable of MVPs can't succeed without their teammates, but what about the support they receive off the field? A championship-winning team is backed by a legion of coaching staff, front and back office workers, as well as stadium operators. Below, we pay tribute to these often unacknowledged yet utterly indispensable sportsmen and women through a look at their roles, responsibilities and rewards.
Group ticket sales representative: $20,000 annually (plus commission)
Most entry-level jobs in pro sports are in sales – that is, in getting paying customers to the game. An hourly wage of only $10 supplemented by commission means competition is fierce, but opportunities for advancement abound.
Director of community relations: $35,000 annually
Combining great teams with good causes, the director of community relations stands at quite the happy crossroad. The job involves getting athletes out of the stadium and into their neighborhoods to promote public service. Let's go team!
Ticket operations manager: $55,000 annually
Tickets are the lifeblood of a live sporting event, and a ticket operations manager ensures that blood keeps pumping. Not only does this involve working out seating charts, but it also involves bartering tickets for the necessities of the front office staff, like rental cars.
Promotions director: $72,500 annually
In some senses, a promotions director is like a specialized marketing director (see below), plugging the team through select avenues, like special events, contests and public appearances. The goals are two-fold: improve the team's brand while bringing in more moolah. Creativity is a must.
Traveling secretary: $92,500 annually
As Seinfeld's George Costanza surely knows, the traveling secretary is more than just a jet-setting receptionist. Duties include arranging and ensuring the smooth travel and accommodations of the team. While the job requires being on call 24/7 whenever the players are on the road, it is quite a way to see the country.
Management consultant: $99,290 annually
Also known as management analysts, management consultants help teams and leagues with traditional business challenges, such as marketing and pricing. Consultants typically work for outside firms and take on sports clients.
Business manager: $100,000 annually
Working directly with the general manager (see below), the business manager is responsible for the team's finances and organizational administration. Requires an advanced degree in sports administration, business or a related field, and can be a stepping stone to general manager.
Sports economist: $100,270 annually
If you've got a master's or doctorate in economics and a love of the game, you may be part of a rare lot, but you're also well equipped to be a sports economist. Consider putting your degree to work by helping your team work through questions of long-term financing – like how to get that new stadium built.
Sports agent: $102,240 annually
Show me the money! As anyone who's ever seen "Jerry Maguire" knows, sports agents represent the business interests of professional athletes, which involves everything from negotiating contracts to arranging public appearances. A strong understanding of sports economics is a necessity.
Actuaries: $103,000 annually
Investing millions of dollars in a star wide receiver who's liable to get tackled during every play is risky business. Actuaries help assess those risks and mitigate them as much as possible, using insurance plans, for example. In fact, most actuaries work for insurance companies, but some may specialize in athletics specifically.
Director of minor league operations: $105,000 annually
Every major leaguer's gotta start somewhere, and for most this is where. Major league teams have minor league affiliations that allow them to scout for and nurture talent for the big time. The director of minor league operations ensures that these minor league teams are in sync with their major league partners.
Marketing director: $142,000 annually
Sell, sell, sell – that's the motto of a marketing director. Not only do marketing directors sell their teams through promotions, advertising and public relations, they sell their teams' names, images and players as well.
General manager: $1,500,000 annually
As general manager, your task is a simple yet difficult one: win. General managers oversee every part of the team's operations, fine-tuning it all to ensure the players on the field have the best possible chance of knocking it out of the park. Typically requires a master's in sports administration or sports management.
Team president: $10,500,000 annually
The top of the ladder. The team president is the CEO of a sports franchise, responsible for ensuring the team makes money. Beyond increasing attendance, this means maximizing the opportunities presented by concessions, corporate accounts, souvenirs, broadcast rights, licensing fees and more. It's quite the load, but the view from the office can't be beat.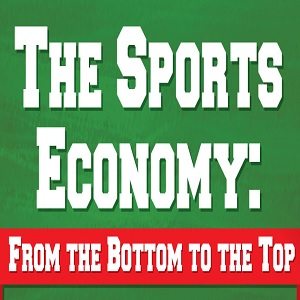 Sources: