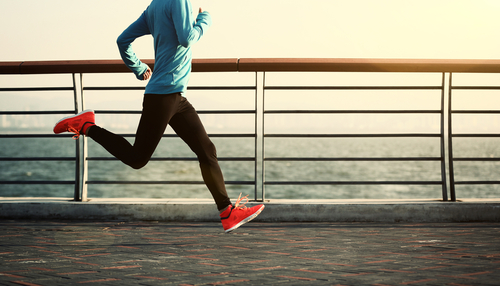 When you think of somewhere fit where is the first place you picture? Is it Malibu, Honolulu, or maybe Miami? Somewhere with beaches and a number of six-pack laden bodies to fill them? If that's what you're picturing, you will be surprised with this ranking. We looked at a number of components to fitness that include physical activity, aerobic activity, vegetable intake, fruit intake, the number of parks and how close they are to each inhabitant, how much people walk, and the amount each city is willing to spend on developing parks and recreation. What we discovered was that America still has a long way to go towards wellness for all individuals and particularly where vegetables are concerned. Even the below fittest cities were not coming close to consuming enough vegetables and fruits or getting enough aerobic activity, but this is not about what we're doing wrong as a nation, this is about the cities that are doing it better than the rest. The following cities are paving a way (and in many cases including more than pavement) to accessible, affordable, and enjoyable recreation and food options that lend themselves to optimal fitness. Moreover, if you don't see your city on this list, don't lose heart-the biggest take away that we discovered is that fitness is possible anywhere and some of the cities that made it to the top of our list are not beach destinations or resort town, they're just average American cities providing the opportunities for their citizens. We hope that you find this ranking informational and even more so inspirational.
Methodology:
Environmental Factors (1/4): the average walk score for the city and the percentage of the city who lives within 10 minutes of a park, equally weighted.
Activity Levels (1/4): the percentage of the city who have exercised in the last thirty days, and the percentage of the city who meet the CDC's recommended 30 minutes of aerobic exercise a day.
Consumption Habits (1/4): the percentage of the city who meet the CDC's recommended three servings of fruit and two servings of vegetables daily.
Fitness Policy (1/4): the average spending per resident of the city on parks.
1.
Portland
Portland, Oregon taking its name from Portland, Maine is a port town with a dynamic history. Before WWII, Portland was actually known for organized crime and racketeering- it was kind of like the Atlantic City of the West Coast. Today when describing Portland words like "counter-cultural" "liberal" "unique" "conscientious" "beautiful" and others spring to mind. Out-of-towners want to live there and locals can't imagine leaving. But "P-Town" is more than its quirky coffee shops, eccentric individuals, and excellent farm-to-table cuisine, (though it is all that and more)! Portland is also our number one pick for the fittest city in America. What makes Portland stand out above the rest? Portlanders eat healthy and on-average consume more fruits and vegetables than most Americans. Diet is a very important component to fitness. The people of Portland fuel their bodies with fresh local ingredients from their year-round farmers markets, accessible CSA coalition (community supported agriculture) and plethora pf restaurants that welcome all types of healthy food lifestyles. On top of that, Portland has over 10,000 acres of park space. There are parks literally everywhere in the city! Proximity to a park is essential for many reasons: walkability, decompressing in fresh open space after a long work day, accessibility and recreation for families, and plenty of organized events available to all walks of life. If you're interested in more than a stroll Portland is also within easy access to a variety of seasonal sports including skiing in winter (and in some spots summer) as well as trails for hiking, biking, and rivers for kayaking and canoing. This counter-cultural, unique, conscientious, beautiful town is setting the example for how to sustain a healthy lifestyle in America.
Activity Rank: 1/50
Healthy Consumption Rank: 7/50
Environmental Rank: 13/50
Park Spending Rank: 12/50
2.
Chicago
Surprise! Chicago is number two. Chicago is the third-most populous city in America known for its diverse economy, phenomenal universities, museums, galleries, theaters and food. Maybe deep dish pizza and Italian beef don't elicit words like fitness or health, but Chicago cuisine is more than just its iconic food items. Keeping warm in the "windy city" means staying active and Chicagoans are doing that almost better than anywhere else in the country. Chicagoans love to run. In Chicago there is at least a 5k race almost every single day of the year and in the warmer months, sometimes as many as three per day. As a metropolitan city, you better believe people are putting one foot in front of the other, and more so than people in Los Angeles, Atlanta, and other major cities in the nation. Perhaps one of the reasons people are walking more in Chicago is the park space. Park-space is an important factor in any major city or town. Wall-to-wall concrete is not Chicago. There are incredible parks dotted all across the city (over 600 of them), and 90% of its citizens are within a 10 minute walk from a park. Some notable parks include Jackson Park, Grant Park, and Lincoln Park. Also did you know that Chicago is home to 11 beaches? When the sun is out, people are out and taking advantage of the coastal space on Lake Michigan. When it comes to nourishment, Chicagoans are doing it well again- with many more of its people eating the daily recommended portions of fruits and vegetables than many other cities in America. Perhaps thats due to the fact that there is an ever-expanding list of healthy food options from vegan to Paleo all across the city even some of the famous diners are including healthier alternatives. There's something for all types in this amazing city.
Activity Rank: 10/50
Healthy Consumption Rank: 6/50
Environmental Rank: 7/50
Park Spending Rank: 6/50
3.
San Francisco
San Francisco is the cultural center of Northern California and home to an eclectic and diverse mix of people. Historically, San Francisco has been one of the first cities in America accepting of the LGBTQ community electing the first openly gay man to public office- Harvey Milk. In so many areas San Francisco made important advancements ahead of other metropolitan cities utilizing practices like recycling, clean power, innovative tech start ups, the Healthy San Francisco initiative, environmental action and others. It may come as no surprise that conscious living translates to healthier living. San Francisco is the second most densely populated city in America after New York, and with so much happening in one place, it's very natural for San Franciscans (or Bay Areans) to walk. According to The Mayo Clinic walking is shown to improve mood, lower blood pressure and decrease risk for type 2 diabetes. The city invests a lot of money in park space- San Francisco is 4th in the country in park expenditures and it shows. Parks in the Presidio Heights neighborhood and particularly along the Marina are stunning places to take a stroll. Almost 100% of it residents are a few minutes away from any park in the city- accessibility is again and again a key feature to healthy living. Not only are people from the Bay moving more, they're including healthy eating practices including more vegetable consumption than almost any other city in the country. Just outside of San Francisco there are endless ways to move around and stay fit like across the Bay Bridge to Muir Beach or further south towards Moon Bay. When your water source is the Pacific Ocean, there's no shortage of opportunities for outdoor recreation for all ages. San Francisco has it all, mountain within reach, beaches, and many reasons to be on foot exploring in "the Paris of the West."
Activity Rank: 28/50
Healthy Consumption Rank: 4/50
Environmental Rank: 1/50
Park Spending Rank: 4/50
4.
Seattle
Seattle is located on an isthmus and for those of us who don't remember 5th grade geography, that's a narrow body of land in between two bodies of water. With Pugent Sound to the West and Lake Washington to the East, Seattleites enjoy a lot of coast. There are eight lifeguarded beaches in Seattle, and several parks dotted along the coastal areas. When it comes to aerobic activity, residents of Seattle get their hearts pumping more than any other city in the country except for Portland. There are six famous mountains around Seattle: Mount Si, Mt. Olympus, Mt. St. Helens, Mt. Baker, Mt. Adams, and Mt. Rainier. Residents have easy access to day hikes or for the serious adventurer could take on greater and higher peaks like those on Mt. Rainer. The day hiker can easily find waterfalls, views of Canada and endless miles of bluff views overlooking the coast- all the more reason to get out! Additionally, Seattelites explore "Emerald City" in more ways than just on foot. From kayaking to cycling the more than 20 miles of shores from Lake Washington to Puget Sound there are endless bike trails and boat through-ways to explore in Seattle. Another impressive metric for Seattle is its expenditures on parks. Seattle comes in second place only to Washington D.C. for its parks expenditures. When factoring in the number of historic monuments D.C. has to maintain, this is quite a feat for Seattle. Investing in park space means attracting its locals both young and old- Seattle is paving the way for future generations of healthy Americans.
Activity Rank: 2/50
Healthy Consumption Rank: 24/50
Environmental Rank: 7/50
Park Spending Rank: 2/50
5.
Washington D.C.
Washington D.C. is our nation's capital and as such has no shortage of memorials, iconic buildings, and grand boulevards perfect for the city's pedestrians. Those who live in the District are privileged to have access to some of the most intricate and ornate park areas in the country. Washington D.C. spends more on its parks spaces than any other city in the United States. After a stroll through The National Mall from The Capital to the Lincoln Memorial, there are still many hidden gems to explore for both locals and tourists. Some of the most inspiring walks in the city include the U.S. National Arboretum located across from the National Herb Garden. You may want to slow down your pace here as this is home to one of the largest collections of bonsai trees in North America. Dumbarton Oaks at the highpoint in Georgetown is another phenomenal spot to walk jog or simply take in fresh air and will really take your breath away in May when all of the peonies are blooming. Rock Creek Park was established in 1890 actually as an act of congress at the third official National Park and provides over 1,700 acres of natural beauty for joggers, hikers as well as a habitat for all of the native species in the area. It certainly helps that almost 100% of locals live within ten minutes from a part. Head down the Potomac River for boating, fishing, canoing and other ways to get sunshine and relaxing aerobic exercise. The average Washingtonian is consuming more healthy fruits and vegetables than any other city on the east coast, and has no shortage of healthy options for its residents. And for those who are ready to take a break from concrete monuments, and marble museums, the Appalachian Trail provides 2,200 miles for Washingtonians to work with- check out Seneca Creek Park or Patuxent River State Park for outdoor adventures.
Activity Rank: 18/50
Healthy Consumption Rank: 9/50
Environmental Rank: 6/50
Park Spending Rank: 1/50
6.
Boston
Boston is the capital of Massachusetts and an international center for higher education. The City of Boston ranked among the most energy-efficient cities in the United States and remains high on world livability rankings. One major factor in fitness is accessibility to fresh fruits and vegetable. There are 30 farmers markets available to Bostonians in nearly every neighborhood. This is made possible through Boston's Office of Food Initiatives who aim to make fresh produce affordable and available to everyone in Bean Town. Others who think of Boston may associate it with the variety of sports activities in the town from Baseball to Hockey. Quality sports are not just for the pros as in Boston many of the universities host sports and games nights for all ages. You're only ever a stone's throw from a higher learning center that offer team sports, single player sports, as well as lecture rooms for all kind of health lifestyles classes. In terms of walkability, each neighborhood is different but the city itself is easy to cross and there are plenty of reasons to like The Freedom Trail among other historic walking tours. The Boston Harbor is a national Park area with beaches and plenty of sand and sun in the hotter months. Those who venture out have a vast array of choices like a hike up to Royalston Falls, rafting in Crab Apple, whale watching in Gloucester, or a hike up Monument Mountain. For a real quiet escape, locals will take a ride then a ramble to World's End in Hingham.
Activity Rank: 8/50
Healthy Consumption Rank: 14/50
Environmental Rank: 3/50
Park Spending Rank: 15/50
7.
Minneapolis
Minneapolis, Minnesota is one of the twin cities and made its way into our top 20 for many reason but the biggest reason was for physical activity. Minneapolis lies on both banks of the top of the Mississippi river where it meets the Minnesota River which feeds into the cities lakes- 13 of them as well as the wetlands creeks and even waterfalls! There are plenty of opportunities for kayaking, rafting and swimming particularly in the warmer months. In the colder months locals may head to Buck Hill. Buck Hill is a winter and summer ski resort where Minneapolitans enjoy skiing, snowboarding, and tubing throughout the year. Other cold-weather options include the vast array of fitness centers open in Minneapolis everything from Yoga to Crossfit to community dance. Minneapolis also spends a tremendous amount on their parks and ranks third for park expenditures after D.C. and Seattle. Parks in Minneapolis run all along the Mississippi River like Mill Ruins Park (built around an old historic mill), and Gold Metal Park. Most parks come equipped with walking and biking baths and some with free to the public recreation centers. Perhaps the most extraordinary feature of Minneapolis is the aforementioned Chain of Lakes. The Chain of Lakes is a beautiful array of lakes linked together just a couple miles outside of downtown and are a perfect spot bike rentals, roller-blading, canoing, picnics, and even sailing!
Activity Rank: 6/50
Healthy Consumption Rank: 28/50
Environmental Rank: 9/50
Park Spending Rank: 3/50
8.
Denver
Denver is the capital of Colorado and it may come as no surprise that it made our ranking for top 20 fittest cities in America. The area that Denver scored highest on was physical activity. The City of Denver is located next to the largest mountain range in America and the second longest range in the world- the Rocky Mountains. East of Denver is Rocky Mountain National Park where its hikers can enjoy breathtaking views of Cascade Falls, Bluebird Lake, and Deer Mountain. It's also where to find Twin Sisters Peaks and Mound Ida. If locals aren't hiking the Rockies then they're probably, biking, fishing, horseback riding, or camping. Fresh air is linked to relaxation, it benefits the lungs, and keeps the respiratory system vibrant. Another benefit of fresh air is actually the sunlight which you get plenty of when your live like a Coloradan and practically live outdoors. Physical activity isn't an option it's a must for people of Denver. "A hike and a beer" is a common daily activity for those lucky to live there as Denver and the surrounding areas are also known for their craft brewing. People in Denver love to climb, and if it's not outside, than it's indoors at any of the local climbing centers. Additionally, Denver has 4 active YMCA centers offering affordable community programs and fitness activities for all ages. Boulder is just a short distance away by bus and literally backs into the Rocky Mountains. The typical winter mountain are big in Denver like skiing, snowboarding and snowshoeing.
Activity Rank: 3/50
Healthy Consumption Rank: 13/50
Environmental Rank: 17/50
Park Spending Rank: 22/50
9.
San Jose
San Jose made it to our top 20 for a number of reasons but the biggest reason was food choices, and specifically vegetables. San Jose actually is right at the top of the list for its citizen's consumption of the recommended amount of vegetables per day. When we took a closer look it all became clear when we saw accessibility. There are farmer's markets, grocery stores, and specialty grocery stores all over San Jose! It makes sense when you look at the demographic. This is the Southern most city in the Silicon Valley. Tech startups are not bias when it comes to who they hire, they just want the best. These individuals at the top of their game come from all over the world to make it in Silicon Valley and with that comes the influx of international cuisines. There are several international markets from all parts of Asia including India and southeast Asia as well as Italian, Hispanic and more. Asian cuisines use healthy ingredients and of course include plenty of produce. Not only that, but we are talking about California which has no shortage of health-conscious individuals. There are over 15 farmers markets in San Jose all providing fresh seasonal fruits and vegetables as well as omega 3 powerhouses caught right out of the San Francisco Bay. When it comes to physical activity, this sprawling city makes it a bit trickier to walk in, but is still surrounded by beaches and mountains. A short car ride or bike ride away and the locals are boating, fishing, camping, swimming and hiking- just another reason San Jose made it to our top ten.
Activity Rank: 14/50
Healthy Consumption Rank: 10/50
Environmental Rank: 24/50
Park Spending Rank: 7/50
10.
San Diego
Located in Southern California along the Pacific Ocean is San Diego. San Diego is in the perfect spot for well, perfect weather. It's hard not to get jealous when thinking of warm breezy weather that exists virtually year-round, but that is what San Diego is known for, oh and it's Zoo, it's border with Tijuana, its University, Spanish heritage and a ton of other things, but really the weather. Of course San Diego ranked highly for its aerobic activity. People in San Diego seem to be living it up outside. San Diegans love to run, and there is plenty of gorgeous scenery to take in while doing so from beginner trails like Balboa Park, hillier areas like La Jolla, and really expert runs such as the coaster run right along scenic Coast Highway 101. San Diegans also love to dive particularly around Mission Bay. There are several scuba diving schools and rental centers in San Diego and locals are fortunate to be near some unique wildlife. Taking a deep dive may mean swimming with a school of fish, sharks, or even spotting some coral. A shallower swim may mean you're swimming with seals. Kayaking and boating are also popular activities. Imagine paddling through caves and looking down through crystal clear water year-round. This is the life for those living in San Diego. Not only are San Diegans getting more cardiovascular exercise than almost any other city in the country, they are eating healthy. A lot of culinary options include local fish and even more remain focused on green leafy vegetables. Perfect weather and beautiful scenery seem to be a couple of key ingredients to fitness.
Activity Rank: 21/50
Healthy Consumption Rank: 2/50
Environmental Rank: 22/50
Park Spending Rank: 19/50
11.
New York City
New York City is the most populous city in the United States as well as the most densely populated city in the nation. It is a major global power and a prominent gateway for immigration to the United States. Located across 5 boroughs at the base of the Hudson River, this global city is one of the biggest port cities in the country. When it comes to fitness, New Yorkers are number one in the nation for walking. Nearly all of its inhabitants (over 8.5 million of them) are walkers, and it makes sense when you're in the thick of it- when all the cabs are full and the subway just seems like too big of a headache, walk. In Manhattan, though it's long it's relatively easy to navigate for visitors and second-nature to long-term locals particularly for Midtowners as this part of Manhattan is a grid. Manhattanites are on the go a lot and are not afraid of getting there using the easy-to-navigate grid system. Get further down to lower Manhattan, the grid disappears and starts to look more like a city from one of our old-world descendants (namely Amsterdam), though that doesn't stop locals who regularly take to the streets. We mentioned earlier that New York is dense. It's a good thing that in addition to walking, almost all of New Yorkers are within a 10 minute walk to a park- largely thanks to New Yorks great escape- Central Park. This National Historic Landmark is 843 acres of some of the most interesting and historic park space in the nation and it is so centrally located (hence the name) that it becomes a resting point for many of its visitors and its inhabitants. Central Park went over a complete renovation in the 2000s and is now placed in the care of Central Park Conservancy- another area New York City excels in, investing in park space. The Battery, Riverside Park, and Inwood Hill Park in the Bronx are all fantastic examples of innovative ways a what could have been concrete city really utilizes every opportunity to stay green.
Activity Rank: 48/50
Healthy Consumption Rank: 15/50
Environmental Rank: 2/50
Park Spending Rank: 8/50
12.
Sacramento
Sacramento is the capital of California and home to some hard-core athletes. It's true that Sacramento has a bacon festival and its inhabitants are die hard about their ice cream parlors. That being said, Sactowners are running, swimming, and biking harder than almost anywhere else in the US. In fact, Sacramento is home to one of the old triathlons in the nation. During the warmer months, there's one or two triathlons per month for all ages- yes, even triathlons for kids! When Sactowners aren't running, swimming, and biking- they're river rats and proud of it. Sacramento is located at the confluence at the Sacramento River and the American River in the norther portion of the Central Valley meaning kayaking, canoing and more swimming. Further out in the Sierra Nevada, Sactowners will head to Folsom Lake- one of the most visited parks in the California system for recreation, fresh air, and site seeing. Bacon festival aside, Satowners are healthy eaters- in fact, more than any other city in the nation they are consuming the daily recommended fruits and vegetables- an integral part of our fitness metric and essential for a lasting healthy lifestyle. Sactowners have easy access to fresh local produce and are within range of nearly 20 local farmer's markets.
Activity Rank: 24/50
Healthy Consumption Rank: 1/50
Environmental Rank: 23/50
Park Spending Rank: 22/50
13.
Milwaukee
Milwaukee has been steadily growing and expanding for decades. Known as a spot for a beer and a brat, die-hard Packers fans, and a unique quirky mixture of people, Milwaukee should now be known for its active community. When it comes to getting fit, Milwaukee is one of the top cities in the nation. Green leisure activities are prominent in this lakefront location. Referred to by locals as just "the Lake" Lake Michigan provides endless water sports opportunities for locals. Anything from jet-skiing, to sailing and windsurfing; in the warmer months, people are making the most of the sun and surf. If not Lake Michigan, than the Milwaukee river activities are a popular way to stay active whether walking, running, or biking along the six-mile lake front trail. And nearly 90% of people fortunate to live Milwaukee are withing 10 minutes of their well-developed park system. "The Grand Necklace of Parks" designed by Frederick Law Olmstead (designer of New York's Central Park) create a stunning park space with phenomenal views of "the Lake." Other fantastic parks and natural spaces include Havenwoods State Forest (urban green space and environmental education center) , Milwaukee County Grounds, and Cathedral Park – also a great spot to unwind at night.
Activity Rank: 9/50
Healthy Consumption Rank: 16/50
Environmental Rank: 15/50
Park Spending Rank: 26/50
14.
Salt Lake City
Salt Lake City is the capital of Utah and the mos populous city in the state. Right now, Salt Lake City is a member of the Silicon Slopes a new hot spot for tech startups, and remains the headquarters for The Church of Jesus Christ of Latter-day Saints. Salt Lake City made it to our top 20 for its tremendously active community. The Wastach Range- a 160 mile mountain range that stretches along the Utah-Idaho border contributes heavily to this cities physical fitness. Salt Lake Citians stay physically active in a myriad of ways. The moment the powder hits the ground, locals are all in it and enjoy skiing, snowboarding, back-country skiing as well as cross country skiing. Cycling and climbing are also popular ways to stay active in Salt Lake City. Perhaps the best way to get around town is to bike- the cities bike lanes are built up and getting your lay of the land is more regularly being done via bike. Locavores enjoy year-round farmer's markets like Sprout's Markets and Local Flavors Market and Cafe. Of course we can't forget the Lake. Salt Lake Citians enjoy beautiful views, trails, horse back riding, primitive campsites, wildlife and more at Antelope Island State Park. Other visually stunning areas to stay fit include the Bingham Canyon Copper Mine, Fifth Water Hot Springs, and the Bonneville Shoreline Trail which crosses above the city and is 100 miles of interconnected trails dating back more than 10,000 years.
Activity Rank: 4/50
Healthy Consumption Rank: 11/50
Environmental Rank: 50/50
Park Spending Rank: 37/50
15.
Tampa
Tampa is located on the West Coast of Florida on Tampa Bay and near the Gulf of Mexico. Tampa is at the top of our list because its locals are eating healthier and staying active. Being a coastal city seems to help with physical activity. Florida is a retirement state and known for leisure, getaways, and its beaches and the people of Tampa are certainly taking advantage of those. Locals particularly love the Courtney Campbell Trail with views of Tampa Bay, and miles of trail space to run, walk or job with your dog. Now that the trail is complete, locals also bike, skateboard, and rollerblade along this scenic spot. Hikers, bikers, and kayakers also love Lettuce Park Lake. For hardwood swamp forest, nature lovers take canoes and paddle through the cypress trees, birdwatch and fish. This $2 park is dog-friendly and includes a boat dock and ramp, playground and plenty of spots for families to grill and take picnics. Playing a few holes of golf in the morning is a common way for Tampa Bay residents to stay fit and locals love to do so at Rocky Point Golf Course or farther out at award-winning Pebble Creek. Eating fresh and local is well-practiced in Tampa with dozens of healthy menus and well-loved healthy grocery stores. The people of Carrollwood love Abby's Health and Nutrition.
Activity Rank: 10/50
Healthy Consumption Rank: 23/50
Environmental Rank: 29/50
Park Spending Rank: 11/50
16.
Hartford
Hartford is the capital of Connecticut and is located on both banks of the Hartford River. The suburban areas are home to many golf courses like Goodwin Park, Rockledge Golf Club, and Wampanoag Country Club. Hartford is the last of the Northeastern cities on our list and it distinguishes itself for fitness primarily for physical activity and healthy eating habits. It doesn't take beaches or mountains to be physically fit, though as you have read above those certainly appear to be a factor. Sometimes, it boils down to conscious living and education. We believe this is what is setting Hartford apart from some of its neighboring cities. First of all, Hartford citizens get moving in all the ways available to most American, there's just more of them doing it. The locals love to bike, walk, and take mini excursions outside of the city and do so in unique quaint and historic parks and grounds. The Comstock Covered Bridge is one of Connecticut's last remaining covered bridge and a popular excursion for locals and tourists alike. As Hartford is located on the Connecticut River, River sports are popular and becoming more so each day via the Riverfront Recapture which is seeking to connect Hartford with the Connecticut River by providing access to Riverfront Parks.
Activity Rank: 10/50
Healthy Consumption Rank: 8/50
Environmental Rank: 10/50
Park Spending Rank: 49/50
17.
Cleveland
Cleveland is the second-largest city in Ohio and is located on the coast of Lake Eerie. Cleveland is doing a little bit of everything right when it comes to fitness which is why it made it to our top 20. Aerobic exercise is what Cleveland is doing the best and it's difficult to pinpoint exactly what Cleveland is doing more so than almost any other city in the country, but the difference is that Clevelanders are doing it. "It" could be anything from Pilates to CrossFit or simply running outdoors. It's not about what you do, it's about if you are doing it and regularly. Not only do locals get more aerobic exercise than almost any other city in America they are eating much better- including more fruits and vegetables than most cities, and there are farmer's markets along the coast as well as further inland- 10 of them to be exact. For proximity to parks, 75% of its residents are within a 10 minute walk to a park. There are beautiful lakeside parks all along Lake Eerie and further inland. Some of the favorite spots include Wade Park Lagoon, and Cleveland Lakefront Nature Reserve. Hiking, gardening, and biking are other ways residents like to get out and get fresh air and have ample opportunity to with surrounding nature. Beaches, nature reserves, clean and hand parks where fresh local produce is available all year round seem to be the recipe for a city that rocks at fitness.
Activity Rank: 17/50
Healthy Consumption Rank: 27/50
Environmental Rank: 19/50
Park Spending Rank: 21/50
18.
Atlanta
Atlanta is the capital and the most populous city in Georgia and is also considered to be "a city in a forest" due to the vast quantity of trees rare among major cities. This canopied city made it to uur top 20 for many reasons but its best score came in on physical activity. One popular choice is cycling. Atlanta cycling trails are abundant and diverse from low elevation all the way through the highland areas and beyond- there's even a bike trail that goes from Atlanta to Chattanooga for real adventurers and is part of the Silver Comet Trail. The Silver Comet Trail is 13 miles northwest of Atlanta and is a popular spot for walking hiking, cycling, and horseback riding, and it's free and wheelchair accessible. Lake Lanier is another fantastic option for locals, students, and visitors and is where many people enjoy kayaking and paddle boarding and has lifeguarded pools for kids. We haven't mentioned Sports very much during this ranking but it appears that a popular way to stay fit in Atlanta is playing tennis, and there are numerous leagues in Atlanta that include a full range of competitiveness. The Men's senior baseball league includes a wide-range of players well, in terms of age, at least. In fact the league boasts an inclusion of ages 18-70, not bad for some cross-generational fitness.
Activity Rank: 16/50
Healthy Consumption Rank: 24/50
Environmental Rank: 27/50
Park Spending Rank: 17/50
19.
St. Louis
St. Louis, Missouri is a major port city and is located on the west bank of the Mississippi River bordering Illinois. Known for ragtime, blues, jazz, baseball, and that snazzy arch that serves as a gateway to the West St. Louis is also one of the fittest cities in America. The Gateway City is doing a number of things right particularly and recently in terms of parks! Forest Park may be one of the most treasured gems in St. Louis. Forest Park contains the St. Louis Zoo, St. Louis Art Museum, the Norman K. Probstein Golf COurse and the golf and tennis center and so much more! THis 1,371-acre park is a popular spot to walk, run, bike, golf, and relax. The St. Louis County Parks Trails are a wonderful place to kayak canoe and bike on the beach. FIsherman's trail is less than a mile and made of a grave tread-way it loops around the lake and is a perfect spot to see great blue herons in the summer months. St. Louis has recently included a 30/30 hikes program- that is 30 trails across the city to encourage its citizens to get their 30 minutes a day of recommended exercise- which is what St. Louis is doing better than almost any other city in the nation.
Activity Rank: 18/50
Healthy Consumption Rank: 39/50
Environmental Rank: 16/50
Park Spending Rank: 13/50
20.
Providence
Providence is the capital of Rhode Island and home to Brown University and the Rhode Island School of Design. Providence is a compact town with picture-perfect homes dating back to the 1700s. The city made it to our top 20 primarily due to its walk score. As providence is compact scenic and accessible, locals walk and do so in some pretty quirky neighborhoods. Benefit Street is a great place to take a stroll and is an architectural exhibition of a completely intact 18th century neighborhood. Meander further up to college hill and the location of Brown University- a quaint and beautiful campus that winds around towards Thayer Street. Students walk up and down Thayer a street that is filled with reasons to be on it including healthy intentional cuisine options, bookstores, cozy record shops and so much more. The pedestrian bridge and soon-to-be bridges are another fantastic way to put one foot or pedal in front of the other in a scenic crossing of the Providence River to East Providence. This city is filled with restaurants that accommodate all kinds of healthy diets including The Grange- a rustic and vegetarian spot complete with a juice bar, east side pockets for Mideastern fresh quality food, and Veggie fun a pan Asian restaurant with high quality ingredients and light vegan and vegetarian options .
Activity Rank: 31/50
Healthy Consumption Rank: 21/50
Environmental Rank: 4/50
Park Spending Rank: 33/50