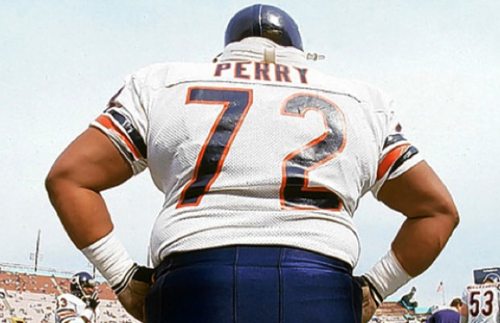 When you think about top male athletes, the first image that likely springs to mind is that of a super-fit sportsman like Rafael Nadal or Kobe Bryant. Top athletes' fitness routines are published in magazines alongside editorial spreads showing off their sculptured and toned bodies. That said, in the end, the way an athlete performs on the field or court is far more important to their legacy as a first-rate sports star than how they look or what they eat. In some cases, exceptional athletes have gone on to excel in certain sports despite their hulking physical sizes and struggles to keep the weight off. Here's a look at ten of the fattest top-flight sportsmen who went on to achieve sometimes great things.

10. Eric "Butterbean" Esch – Boxing/MMA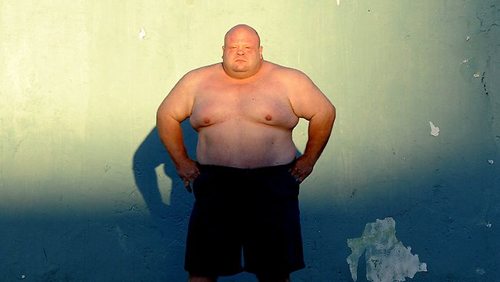 It's a widespread belief in boxing that bulging, bodybuilder-style muscles can be more hindrance than help, but heavyweight boxer, kickboxer and mixed martial artist Eric "Butterbean" Esch took that idea to its virtual limits. Born in Michigan in 1966, Esch first entered the ring in 1994 when he was 28 years old – late compared to notable figures such as Mike Tyson and Muhammad Ali. Before that, he took part in Toughman Contests around Arkansas and was crowned World Toughman Heavyweight Champion five times. Butterbean's nickname stemmed from his diet, comprising mainly butterbeans and chicken, which he used to slim down for the 400-pound cut-off weight for the Toughman contests. In boxing, it wasn't long before the big man inspired a cult following, and he compiled a record of 77 wins, 58 by knockout, with ten losses. In 2003 Butterbean transitioned to kickboxing and MMA, and he has also appeared, usually as himself, on TV as well as in films and video games.
9. Aaron Gibson – Football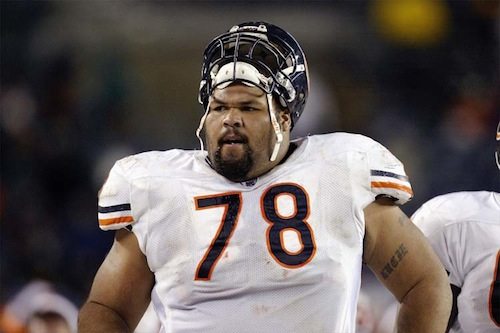 Ex-University of Wisconsin offensive linesman Aaron Gibson was a first-round draft pick by the Detroit Lions in 1999, having been a consensus All-American whilst in college. Gibson weighed more than 440 pounds while still in high school and is currently listed at 375 pounds. Nevertheless, when he was with the Dallas Cowboys, the Indianapolis native tipped the scales at 410 pounds, making him the heaviest player in National Football League history. After leaving the Cowboys, Gibson joined the Chicago Bears and played in all 16 games of the team's 2003 season. Then, following his NFL career, he played in the Arena Football League with the Austin Wranglers. While the NFL looks for huge men like the 6'6" Gibson, there is still a reluctance to take on a player whose weight might impact on his performance. Still, Gibson, now 36, seems to have proven himself to be a capable athlete in spite of his massive size.
8. Emmanuel "Tiny" Yarborough – Sumo/MMA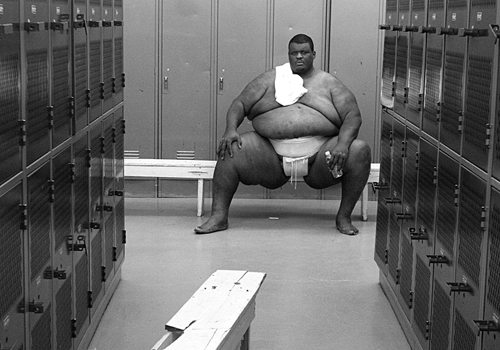 Towering over most people with his 6'8" frame and having weighed a staggering 800 pounds, sumo wrestler Emmanuel Yarborough picked the right sport in which to compete. He was born in 1964 in New Jersey, and his nickname, "Tiny," playfully emphasizes his immense size. Yarborough competed as an amateur sumo wrestler and won the 1995 Sumo World Championship in the openweight class. Prior to that, he played college football and wrestled while at Morgan State University. And he also took to mixed martial arts and competed in the Ultimate Fighting Championship. Sports aside, Yarborough has done a bit of acting, appearing in a Bollywood film and in the HBO prison series Oz, as well as showing up as a guest on talk shows. He is quite popular with fans and candidly documents his attempts to lose weight on his own website. Notably, he is down as the Guinness World Records' largest sportsperson.
7. Jonathan Broxton – Baseball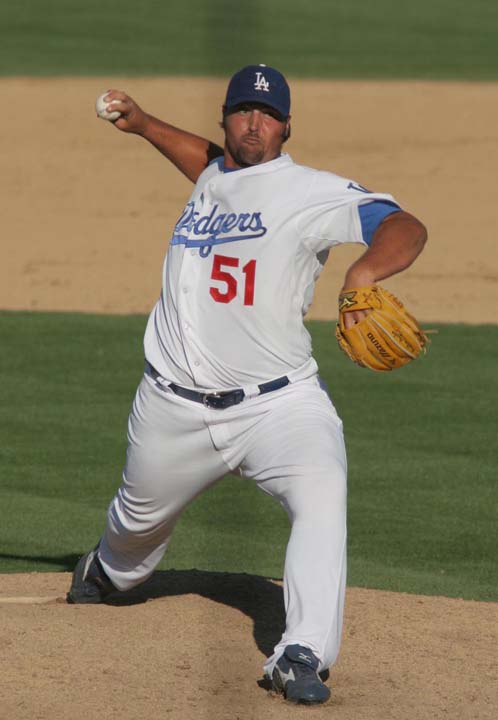 Jonathan Broxton is a Cincinnati Reds right-handed relief pitcher listed at 6'4" and 310 pounds. The baseball player has also enjoyed spells with the Los Angeles Dodgers and Kansas City Royals during his eight-year career in the Major League, previously operating as a setup man as well as a closer. Broxton boasts a fastball that has reached over 100 mph on top of a decent hard slider. The 29-year-old Georgia native has had injuries, but they seem to have had little to do with his considerable size. In fact, his massive thighs may contribute to why he's able to generate the power he does and produce such a ferocious fastball. Such capabilities aside, in 2012 Kansas City Royals teammates Everett Teaford and Tim Collins jokingly tweeted a photo of them both standing in Broxton's oversized uniform pants, with each of them squeezing inside a single leg.
6. Oliver Miller – Basketball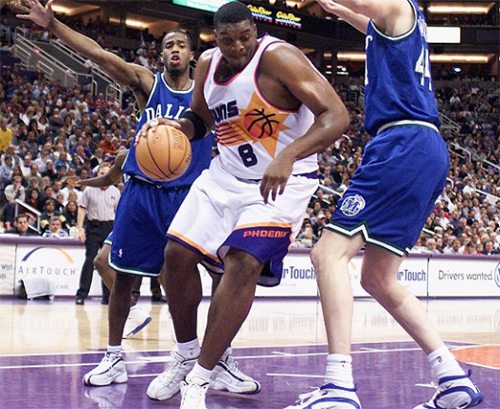 Former National Basketball Association player Oliver Miller was a first-round draft pick by the Phoenix Suns from the University of Arkansas in 1992. Born in Texas in 1970, Miller developed into a shot-blocking center with a deft passing touch. The 6'9", 315-pound athlete played in the NBA with the Suns, the Detroit Pistons, the Toronto Raptors, the Dallas Mavericks, the Sacramento Kings and later the Minnesota Timberwolves. He also did stints in teams around the world and for the always-entertaining Harlem Globetrotters. Miller's problem was his propensity to put on weight, which led to his nickname "The Big O," as he ballooned to more than 300 pounds. The weight negatively influenced his movement on the court and ability to stay on it without getting tired. Interestingly, after he retired in 2010, Miller was arrested and charged for allegedly hitting a man with a handgun while at a barbecue in Maryland in April 2011. He pleaded guilty and was sentenced to serve a year in county jail.
5. Prince Fielder – Baseball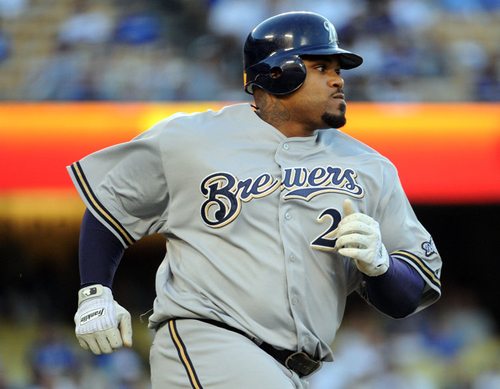 Sports talent clearly runs in the family in the case of Detroit Tigers designated hitter and first baseman Prince Fielder, since he also happens to be the son of onetime power hitter Cecil Fielder. Born in California in 1984, the 29-year-old Prince spent the first six seasons of his career with the Milwaukee Brewers and then in 2012 went on to join his father's old team the Detroit Tigers. Fielder's size was mocked in Michael Lewis' famous 2003 book Moneyball, as the player was considered excessively hefty even for a then-struggling team like the Oakland Athletics to draft. Listed at 5'11" and 275 pounds, the weight-challenged Fielder has even tried experimenting with vegetarianism. Still, notwithstanding such dietary issues, he's a five-time All-Star and a one-time All-Star Game MVP. Clearly, his weight has not overly affected his play, and these days his wallet is way fatter than his belly, thanks to a record-breaking $214 million, nine-year contract with the Tigers.
4. John Daly – Golf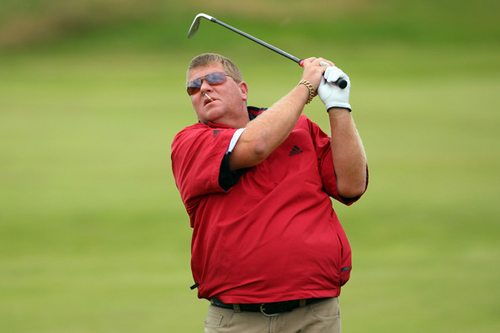 Golfer John Daly is known for rising from relative obscurity and going on to win the 1991 PGA Championship. He also famously caused an upset when he snatched the 1995 British Open title from Costantino Rocca's clutches – but it's no secret that his personal life is on the controversial side. Born in 1966 in California, Daly was raised in Arkansas and started playing golf when he was just five years old. He is known for his "all or nothing" attitude on and off the course and is a competitor whose weight has fluctuated drastically during his career. Nicknamed "Long John," he is regarded as one of the longest pro drivers, owing to his "grip it and rip it" approach. Daly has had drinking and gambling problems, he chain smokes, and he's also a caffeine fiend. Perhaps fitness isn't as important in golf as it is in other sports, but the eccentric player had beefed up to around 300 pounds before undergoing lap band surgery in 2009 and dropping down to as low as 185 pounds. Interestingly, Daly's interests have now expanded to music composition and launching a clothing line-meets-golf design firm called Loud Mouth.
3. Carsten Charles "CC" Sabathia, Jr. – Baseball
Born in 1980 in Vallejo, California, Carsten Charles Sabathia, Jr., better known simply as CC Sabathia, stands 6'7" tall and is listed at 290 pounds. However, the New York Yankees starting pitcher has played while weighing well over 300 pounds. He has lost and gained weight throughout his career, and some claim that he's more effective at a heavier weight. A former Cleveland Indian, Sabathia is a six-time All-Star, a two-time American League (AL) wins leader and an AL Cy Young Award winner. He also has a World Series victory under his belt, with the Yankees in 2009, and before that, in 2008, he helped carry the Milwaukee Brewers to the playoffs. What's more, although he's a pitcher, Sabathia is no slouch with the bat. Regarding his fitness, he has shed some weight in the interests of reducing stress on his bad knee, but for some reason the 33-year-old tends to pitch better when he's heavier – at least, according to some sports writers.
2. William "The Refrigerator" Perry – Football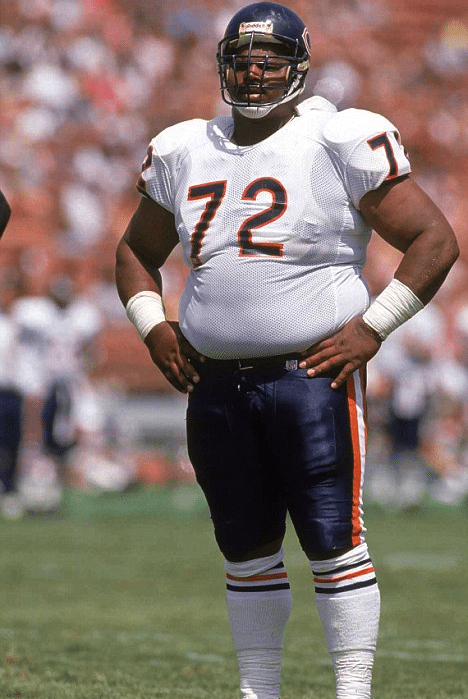 Born in 1962, iconic defensive football player William "The Refrigerator" Perry is well known for his gargantuan stature. Perry was a member of the 1986 Super Bowl-winning Chicago Bears team and is a former All-American. A defensive tackle and defensive linesmen, the South Carolina native was picked by the Bears in the first round of the 1985 NFL draft in spite – or because – of his 325-pound heft. Although he was already popular with the fans, Perry gained more fame when Bears coach Mike Ditka used him as a running back against the 49ers in 1985. The switch provoked a media craze as the heavyset "Fridge" proceeded to run in two touchdowns and catch for another in that same rookie season. Perry promoted Coca-Cola and McDonald's while still a high-profile player and retired in 1994. However, by 2011 he had ballooned up to 400 pounds and was affected by health problems relating to his weight as well as alcohol intake.
1. George Herman "Babe" Ruth, Jr. – Baseball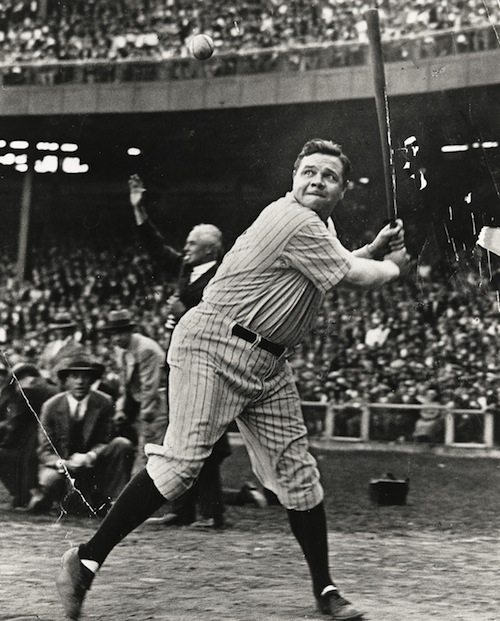 Babe Ruth was notorious for skirt chasing, unbridled drinking, and overeating. Born in Baltimore in 1895, Ruth began his baseball career as a pitcher but went on to developed into one of baseball's top hitters, which gave rise to his "Sultan of Swat" nickname. By the time he was traded to the New York Yankees in 1919, he had pretty much permanently switched to being an outfielder. These days, any conversation about the best players in baseball history will, or at least should, include Ruth. Based on statistics, his accomplishments are nonpareil, and he did it all while neglecting his health and, towards the end of his career, piling on weight. Ruth led the American League in home runs a dozen times, hit 714 career home runs, and still holds the career record for slugging percentage. Just imagine how much better he could have been if he had taken better care of himself – or, who knows, maybe that would have killed the magic.