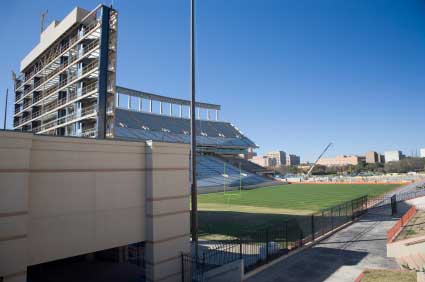 When most people think of careers in sports management, they are primarily talking about sports agents representing big-name clients in professional sports. In reality, there are a wide variety of career paths in sports management that can appeal to individuals with different interests and skill sets. However, there is one common characteristic of individuals that pursue sports management careers; they must have a life-long passion for sports. This passion for sports and a career in sports management often arises out of an individual's amateur athletic career.
Recommended Sports Management Programs
Careers in sports management are varied and require different levels of education and experience. The opportunities that exist in sports management include everything from coaching/managing teams to event management to sports venue management to recreation management. Competitive candidates for some of these positions will need backgrounds or education in business and finance, law and marketing. A sports management degree from an accredited program can provide this background and is geared specifically towards those that are interested in pursuing sports management careers.

Sports Management Salary
The salaries paid to individuals in the sports management field can vary greatly. Agents of professional athletes who are generally paid percentages based on a player's salary and endorsements can make a great deal of money. Salaries will decrease significantly if you are involved with promoting events or are involved with amateur athletics. Many of the people at the upper end of the pay scale achieved their position and salary by leveraging their own careers in amateur athletics. College athletes, in particular, are exposed to scouts, agents and coaches and are able to use these connections to further their career.
On the lower runs of the ladder of sports management, pay can be hourly and the job search can be competitive. Working in sports is a dream job for many, and so a degree in this specific field can be helpful in giving a leg up over other candidates.
A sports management career can blossom anywhere there are sports and athletes. In other words, regardless of an individual's location, there will be opportunities to develop a sports management career. Obviously, certain locations are better than others for careers in sports management. Not surprisingly, California and New York are near the top of the list in regards to both employment and income levels. The Bureau of Labor Statistics lists employment data regarding Agents, Business Managers of Artists, Performers and Athletes. A review of these statistics shows that the states with the highest employment level in this category are California, New York, Florida, Illinois and Tennessee and the states with the highest concentration of employment in this category are New York, California, Tennessee, Vermont and Florida. These same statistics show that the states with the highest median salary for this category are California, Connecticut, Virginia, New Jersey and New York. As an example, as of 2011, the mean annual wage for business managers and agents in the United States was $102,240. The mean annual wage for a business manager or agent in California during this time period was $127,990 but the mean annual wage for the same occupation in Florida was $45,350.
The Bureau of Labor Statistics also shows the disparity in earnings between careers as agents and careers in promoting. The mean annual wage in 2011 of agents and promoters was $92,250. This figure is based on mean annual wage of $102,240 for agents and $65,140 for promoters. The income potential for sports management drops significantly if pursuing a career as a coach or scout. The Bureau of Labor Statistics data for 2010 shows that in 2010, the median pay for coaches and scouts was $28,340 per year. Obviously, coaches and scouts for professional and high-profile college teams will earn amounts significantly in excess of this number.
The future for those that desire careers in sports management is very bright. The Bureau of Labor Statistics is predicting an increase of 29% in jobs in coaching and scouting through 2020 and a 10% increase in agents and managers of artists, performers and athletes through 2016. These statistics show that the job prospects are good for individuals interested in careers in sports management.
Sports Management Education
Before entering the field of sports management, it is important for an individual to determine what area interests them the most and what area their skill set is most suited for. The answers to these questions will determine the education and career path of that individual. For instance, a person interested in coaching athletics will have a much different career and educational path than a person who wants to negotiate contracts for teams and athletes. In the latter instance, a person interested in negotiating contracts will need education in business, finance and law, all of which will be covered in a typical sports management program. Their career path may start out at a law firm or working in-house for a sports team or product line. A person interested in becoming a coach will probably have started their career as a professional or amateur athlete. While connections and athletic experience may be a prerequisite to many of these coaching positions, a degree in sports management is often acquired by these individuals as they proceed in their career. Even amateur sports teams are run like businesses and background and education in the business side of sports is beneficial to anyone pursuing a career in coaching.
If you're interested in greater detail about degrees that can lead to careers in sports management and related fields, check out our degree guide here.
Career Path
Many who enter the field of sports management will begin with an internship. The field is so competitive that pay will be low, or even non-existent at the beginning. While there are sports management jobs all over the country, it is still helpful to be willing to relocate if a job is found in another area. Outside of the high profile agent/athlete management positions, jobs in sports management can be found in nearly every town. Every city of any size has a parks and recreation department with facilities and recreation programs that need managed. Nearly all medium size cities and larger have professional sports, be it at the minor league level or major. Rarely will a sports management candidate start out with a high profile, major league job, but those willing to work hard and put in the time can advance until they are in the position they desire. Keep in mind the caveat that, like any highly desired job, it is a very competitive field, but the harshness of that fact is lessened somewhat by the knowledge that the industry is booming and new positions are being created all the time.
Career Outlook
Sports management is an exciting field to work in because it offers a wide variety of career options and paths. It can be lucrative and exciting but it is also hard work. It is an industry with a bright employment outlook and one that a willingness to work hard can lead to bigger and better opportunities. While many paths can lead to a successful career in the sports management industry, one component that should not be overlooked is a degree in sports management. Whether a person's dream job is coaching athletes or promoting sporting events, understanding the business, legal and marketing aspects of sports management is an invaluable tool.
Sources: