Sports have changed dramatically in the digital era. Instead of measuring athletic performance through guesswork or the vaunted "eye test," athletes, coaches, general managers and other executives can use a vast array of advanced statistics and computations to predict, measure and improve athletes' output, often from their phones. This revolution has changed the way athletes exercise, eat, practice, basically anything that effects their play, which in turn has led to a revolution in coaching and sports executive careers. A great way to access these changes remotely is through coaching apps. Coaching apps help coaches find work, record statistics, study video, build better workouts and practices, and much more. Here we've looked at some of the top coaching applications available on the market today.
1) CoachUp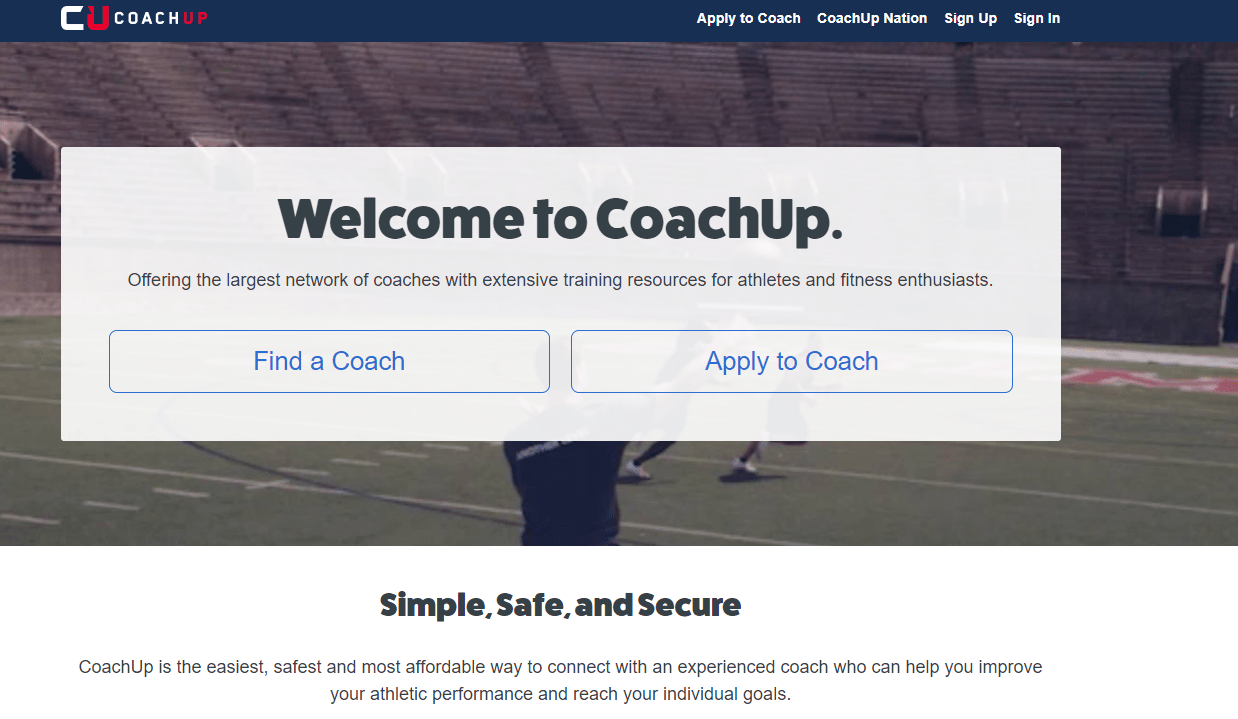 CoachUp connects athletes with incredible sports coaches across the country, so they can access personalized, one-on-one training. This helps them to build skills and confidence leading to advanced performance and better decision-making. This app lets coaches build a thriving business that they control, and offers them $1 million in liability insurance on any training booked through CoachUp. Athletes and parents get a secure way to find and hire quality coaches, track training, analysis and feedback. And all parties involved can access training resources like drills, workouts and more. Over 20,000 coaches are using CoachUp, and there are hundreds of training sessions facilitated through it daily.
Works for iOs and Android
Free to download
2) Hudl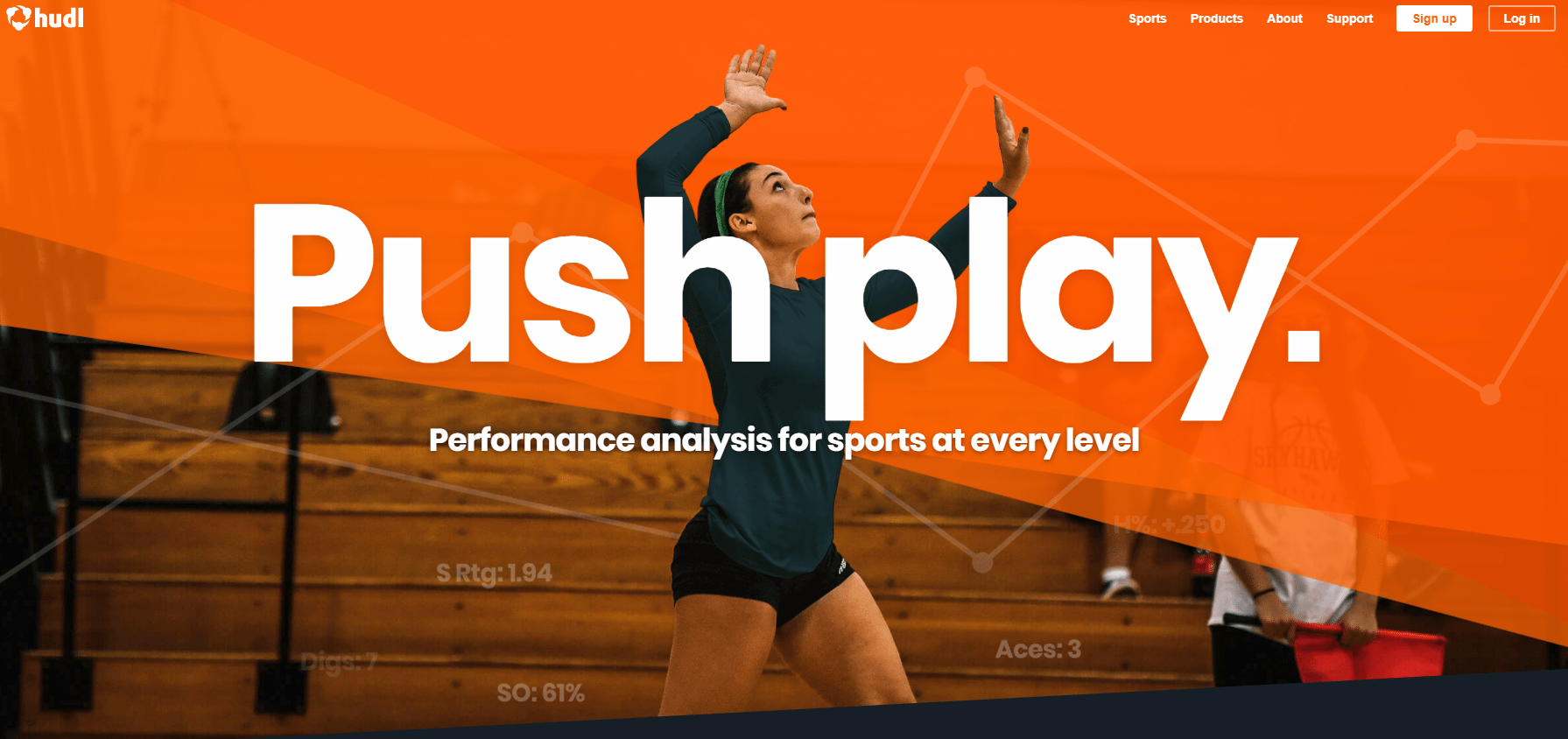 Hudl focuses on one of the most important components to athletic success: video. Without analyzing live game tape, it's hard to know what to do to improve in crucial situations, both on the field and off of it. Hudl makes it easier for coaches to view their teams games, practices, and the games of their opponents. Video can be captured and uploaded on your phone through the app, which also facilitates note taking and analysis and other data. It's also a useful tool for athletes to post and share their footage with friends, scouts and teammates.
Works for iOs and Android
Free to download
3) iPractice Builder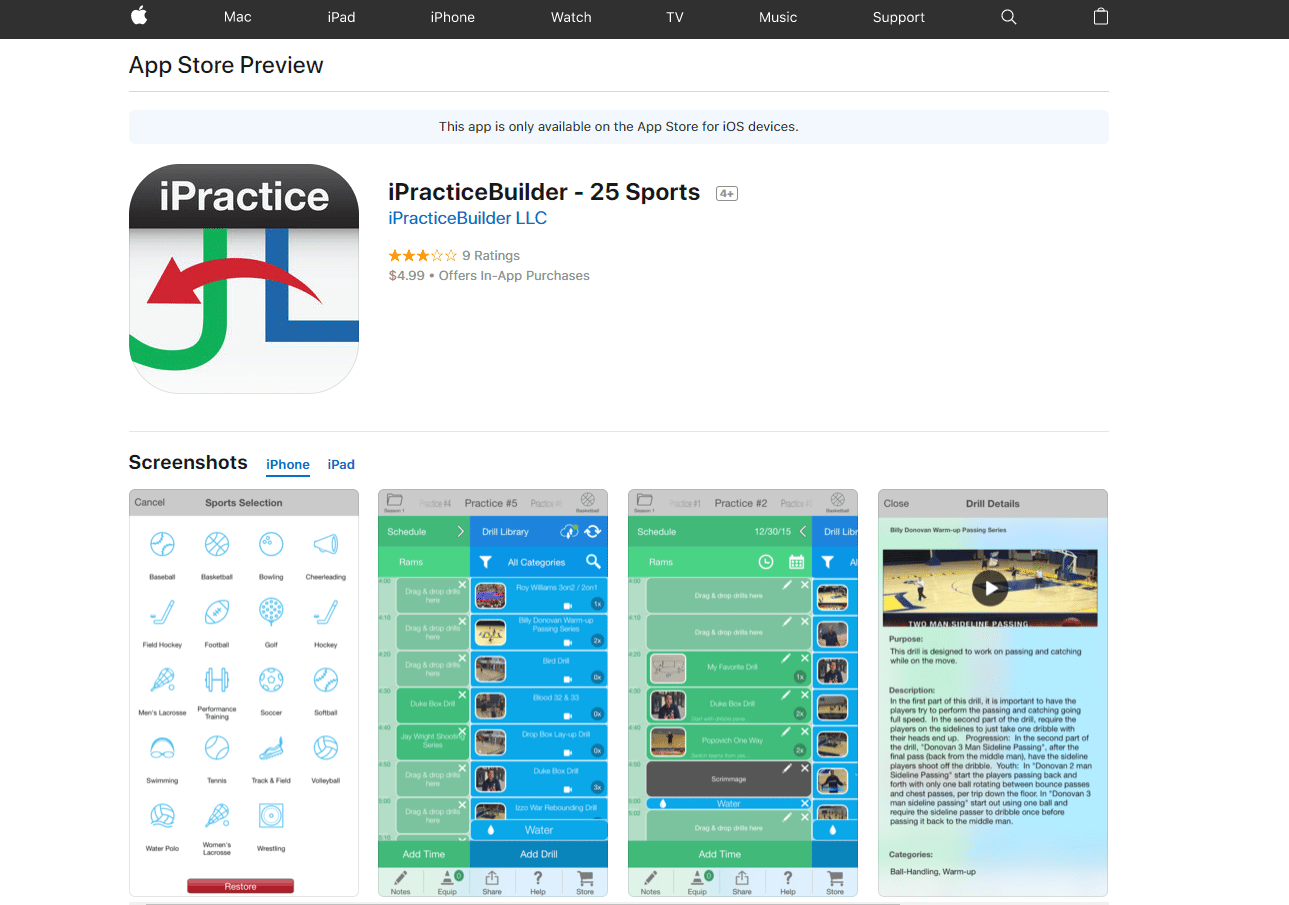 This app allows coaches to create or choose new drills for their athletes, schedule practices or full days, take notes, print or email practices, all from within a sleek interface that keeps all of these components organized and easily accessible. This app works for 25 different sports. It also has a wealth of in-app features you can buy to enhance your experience, if you so choose. It was named 1 of 3 of the Very Best Sports Player Apps by Digital Trends in Dec 2016, and 1 of 18 Mobile Apps Guaranteed to Help Coaches on the Go by Coach & Athletic Director Magazine in 2015.
Works for iOs
$4.99 to download
4) Removed by Editor
5) Coach's Eye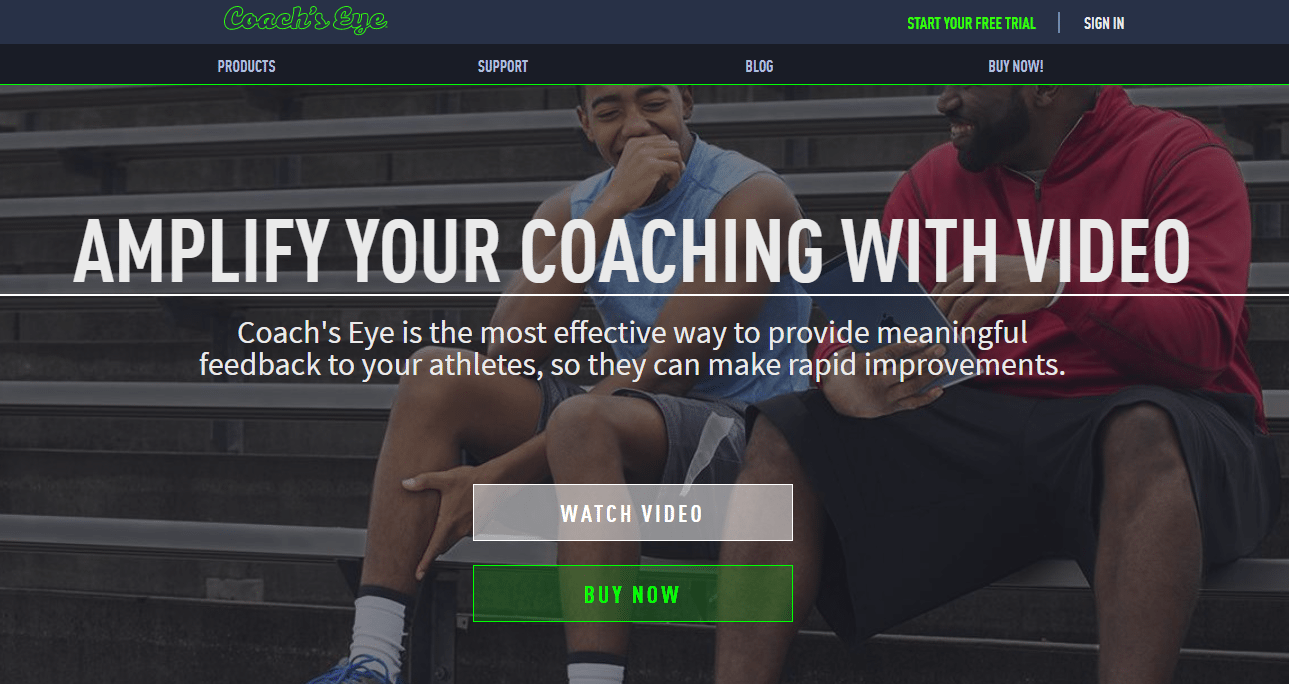 Coach's Eye lets coaches take video of their athletes, then gives them a range of options to customize it for better review. Whether it's easy and intuitive slow motion, note-taking, panning, comparing two clips, or drawing over clips instantly, Coach's Eye has you covered. Every action on the field, court or even the weight room has form, and Coach's Eye helps coaches and players capture that form and refine it. As 4x Gold Medalist USA Track & Field star Allyson Felix said, "Coach's Eye is an innovative way for anyone to gain the competitive edge by studying the performances of elite athletes and translate that to their performances."
Works for iOs and Android
$4.99 to download
6) BAND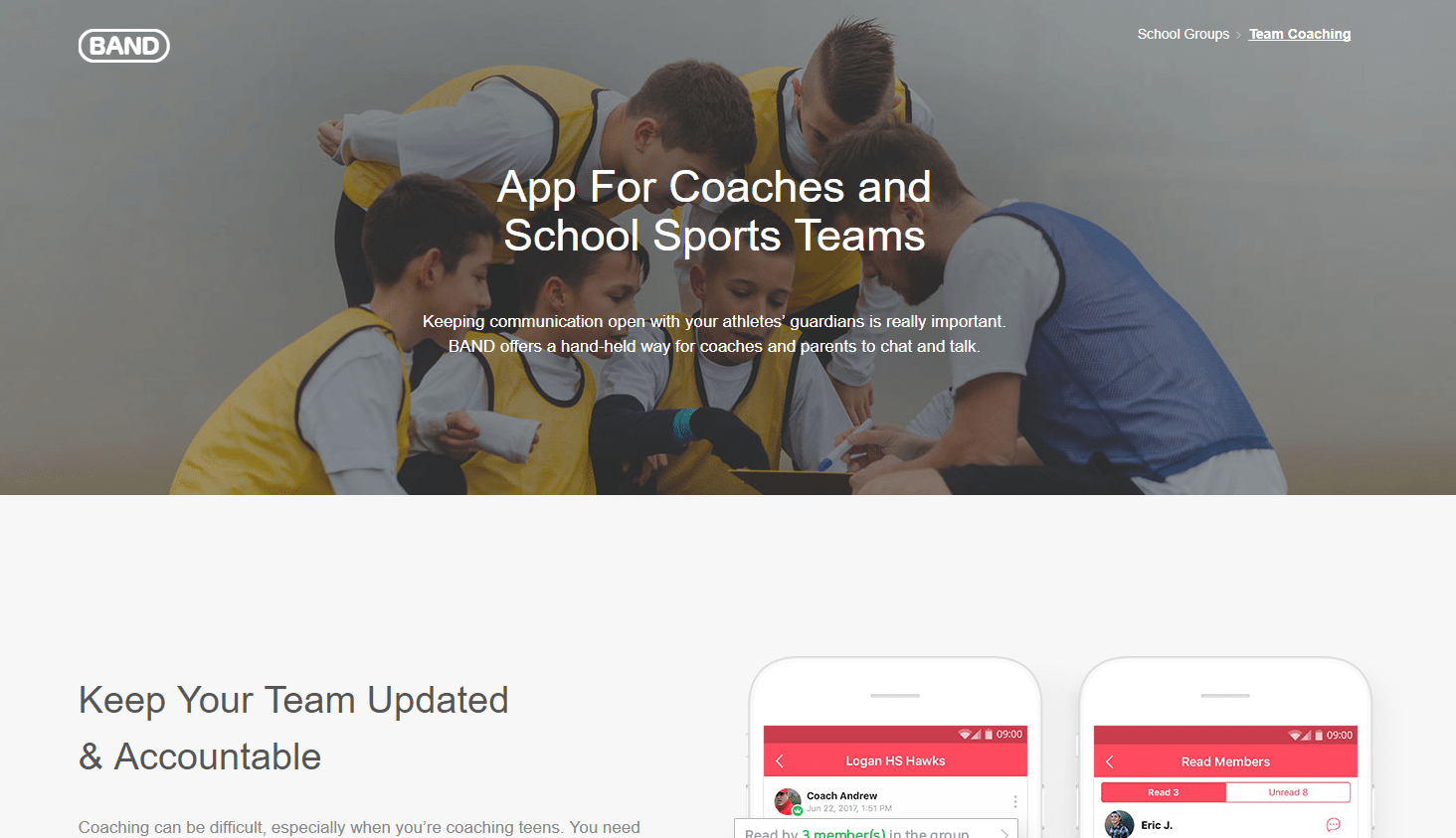 BAND lets coaches stay in constant contact with their athletes and their parents. Coaches are constantly under the gun to keep parents and athletes informed about fees, practices, position changes, important dates and other updates. BAND has easy interface calendar, messaging and notification system that can keep your entire team on the same page. This is also a great way to inform relevant parties instantly in case of victory, emergency, or other situations that might come up for your team.
Works for iOs and Android
Free to download
7) Sportlyzer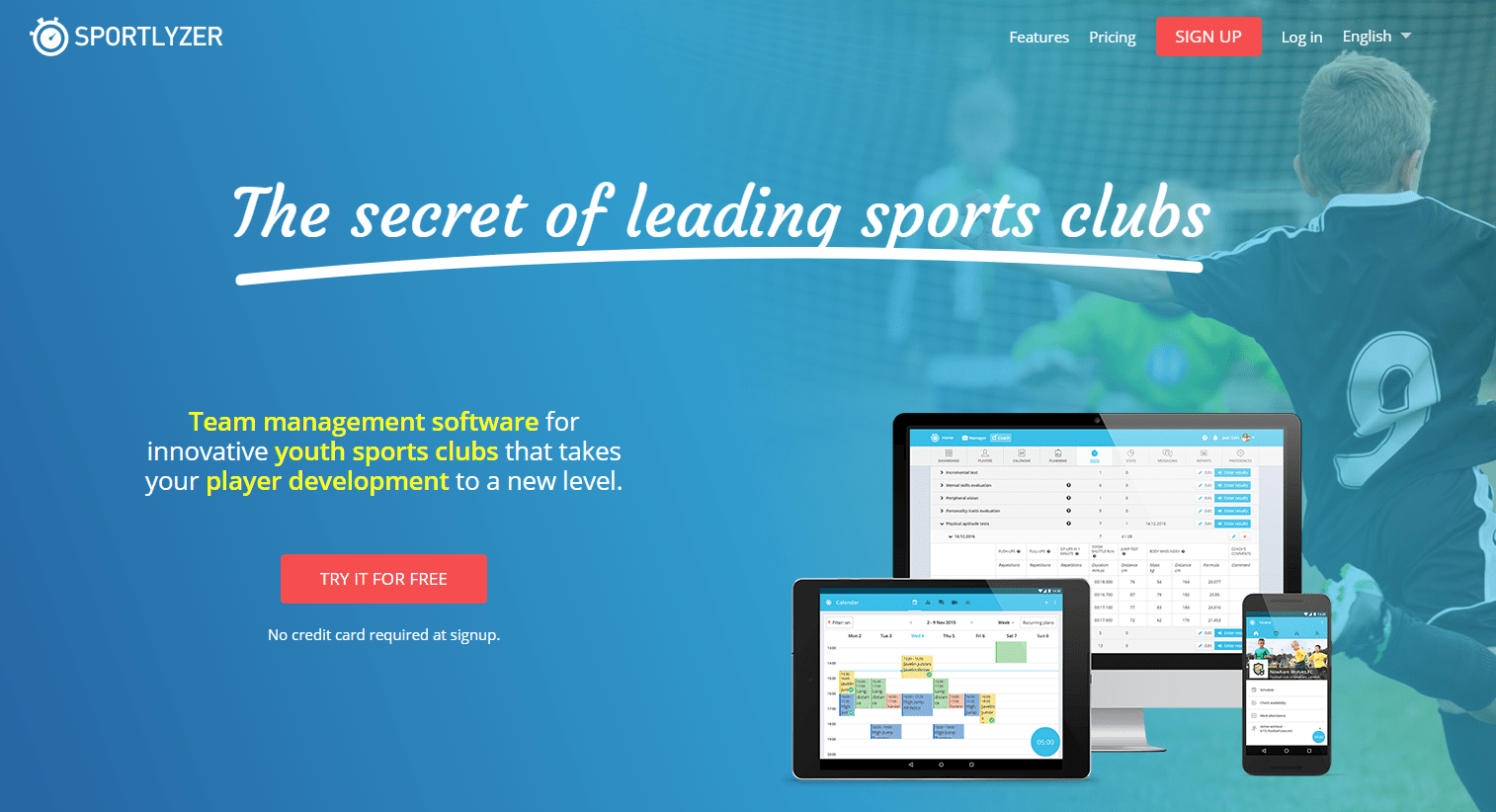 Sportlyzer is an all-in-one app for coaches. It helps you manage your team through registering athletes and parents, facilitating contacts and scheduling. It helps coaches plan, measure and analyze players' training, results and progress. And it helps coaches easily share information with players and parents. Over 21,000 coaches and 230,000 athletes are using Sportlyzer to improve their lives.
Works for iOs and Android
Free to download, some services come with a subscription
8) TrainingPeaks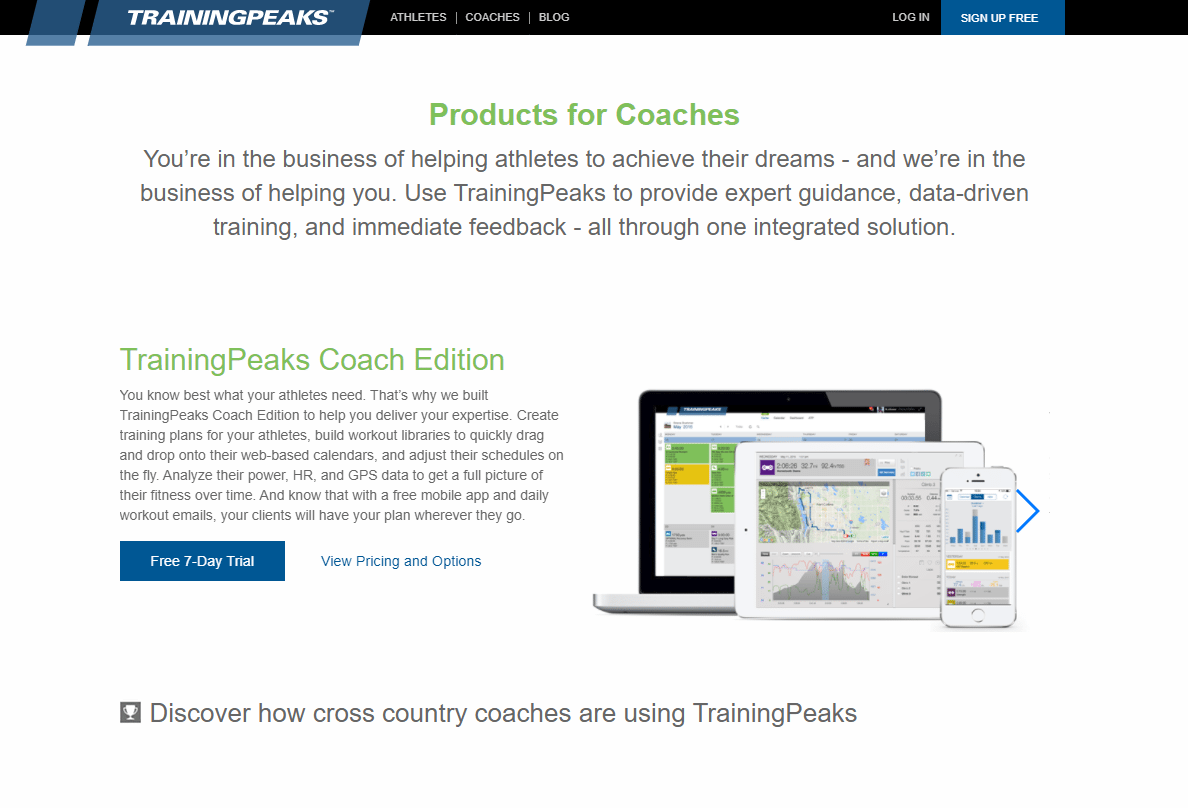 TrainingPeaks is aimed at coaches of endurance sports. It provides nutrition analysis, coach matching services, and lets coaches plan, monitor and break down their athletes workouts' or performances. It has tracking and mapping training as well. It also promotes the sharing of workouts with friends, peers and athletes. It's available in English, French, Spanish, German, Italian, and Portuguese.
Works for iOs and Android
Free for athletes to download, range of services costing different amounts for coaches
9) GameChanger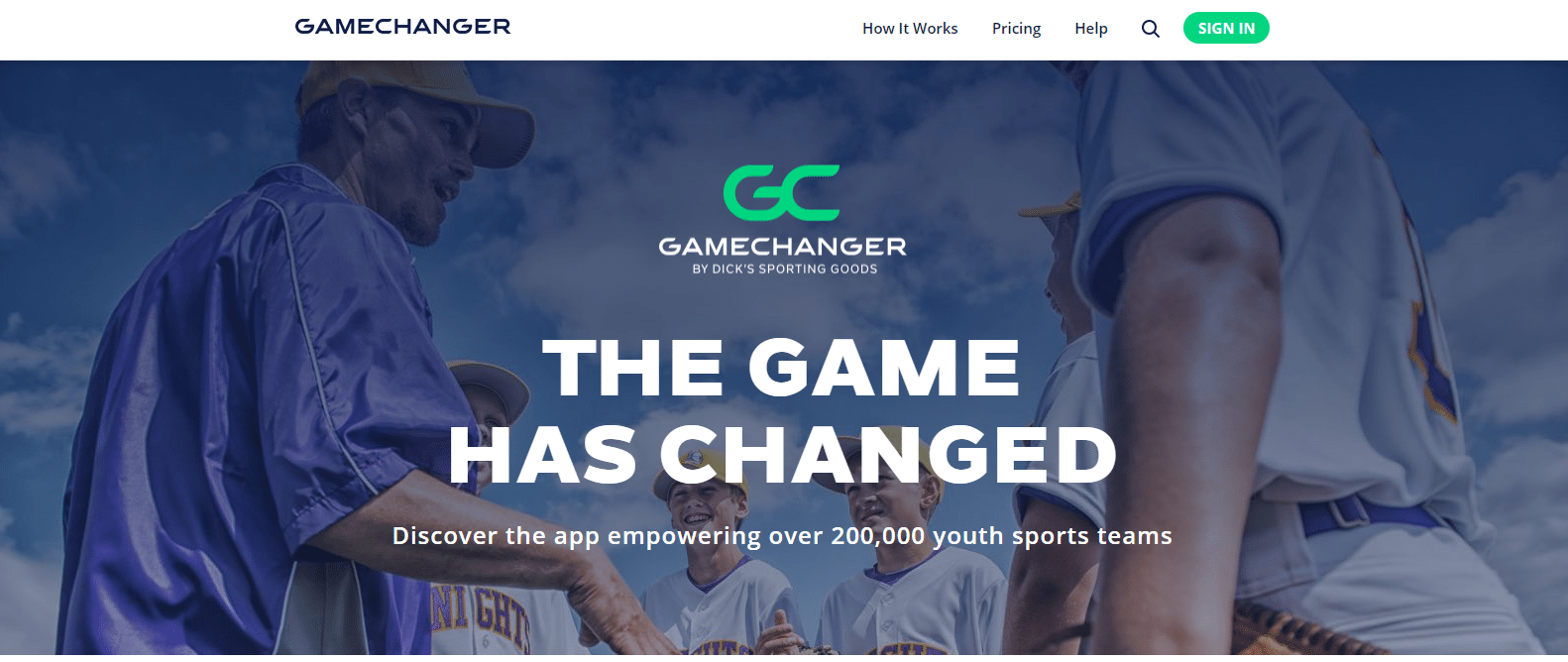 GameChanger started with baseball, softball and basketball, and has expanded into football. It lets coaches manage their roster, schedule practices and games, and more. It also lets a scorekeeper record important plays, events and stats through a simple, intuitive interface. GameChanger knows how to take inputs and generate statistics, which it can compile automatically over a season. Over 200,000 sports teams use GameChanger to improve their record keeping.
Works for iOs and Android
Free to download
10) MyFitnessPal

A challenge for any coach can be making sure your athletes are on a diet that allows them to reach peak performance. MyFitnessPal is a fun, interactive way to get athletes to track what they eat, which studies have shown is among the best ways to lose weight. It makes calorie counting simple, opens athletes to the possibilities of its over 5 million foods in the MyFitnessPal database, and much more. It's also very good at integrating with wearable fitness devices.
Works for iOs and Android
Free to download
11) Endomondo Sports Tracker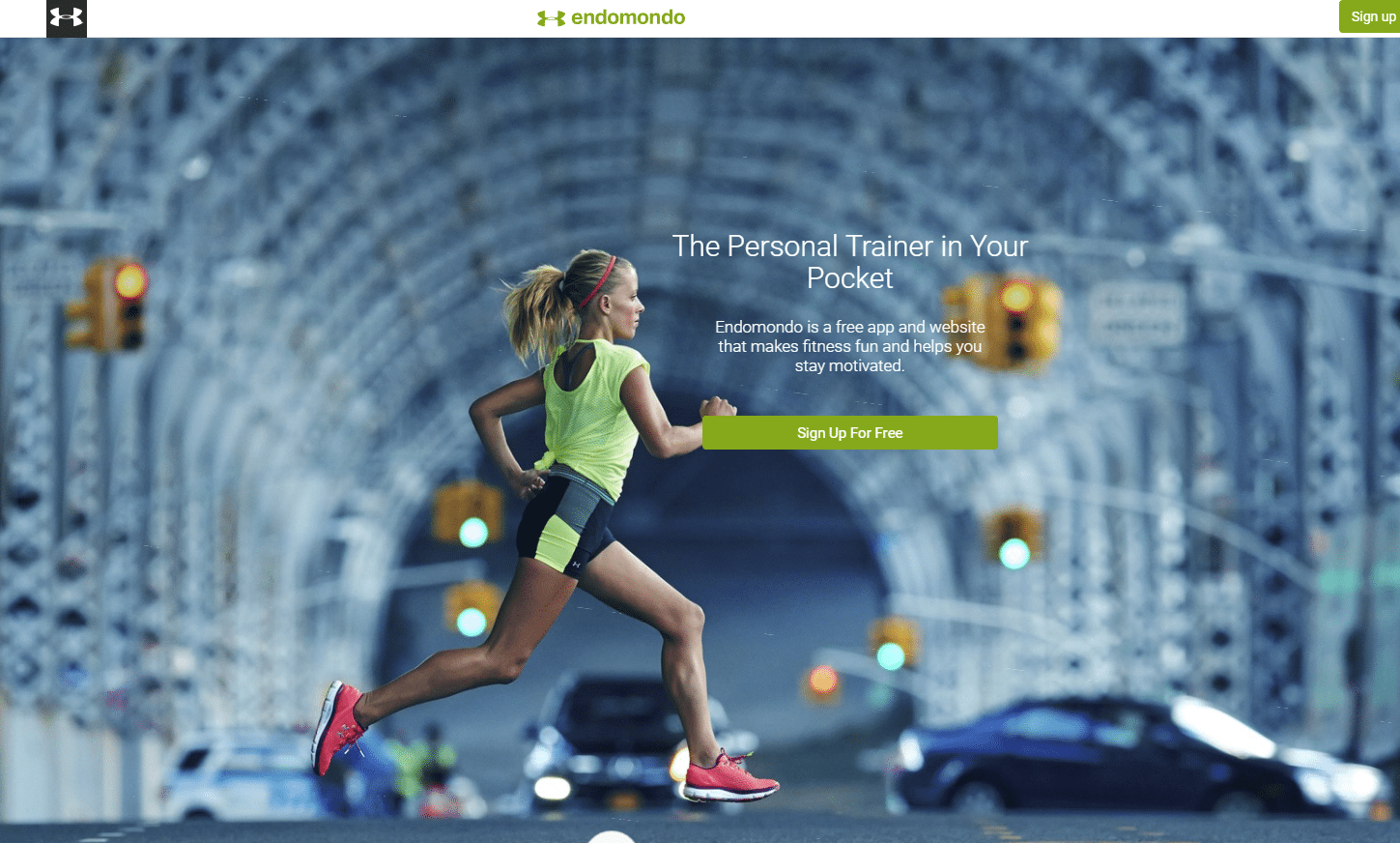 You can't always be with your athletes. That's where Endomondo comes in, a self-described "social fitness network." This app puts a trainer in the pockets of all your athletes. It tracks workout duration, distance, calories and more in real-time. It gives users audio feedback, and lets friends, teammates and coaches send encouragement while you work out. It has a full training log, and easily connects to MyFitnessPal. It's compatible with over 40 sports.
Works for iOs and Android
Free to download
Endomondo
12) American Red Cross First-Aid App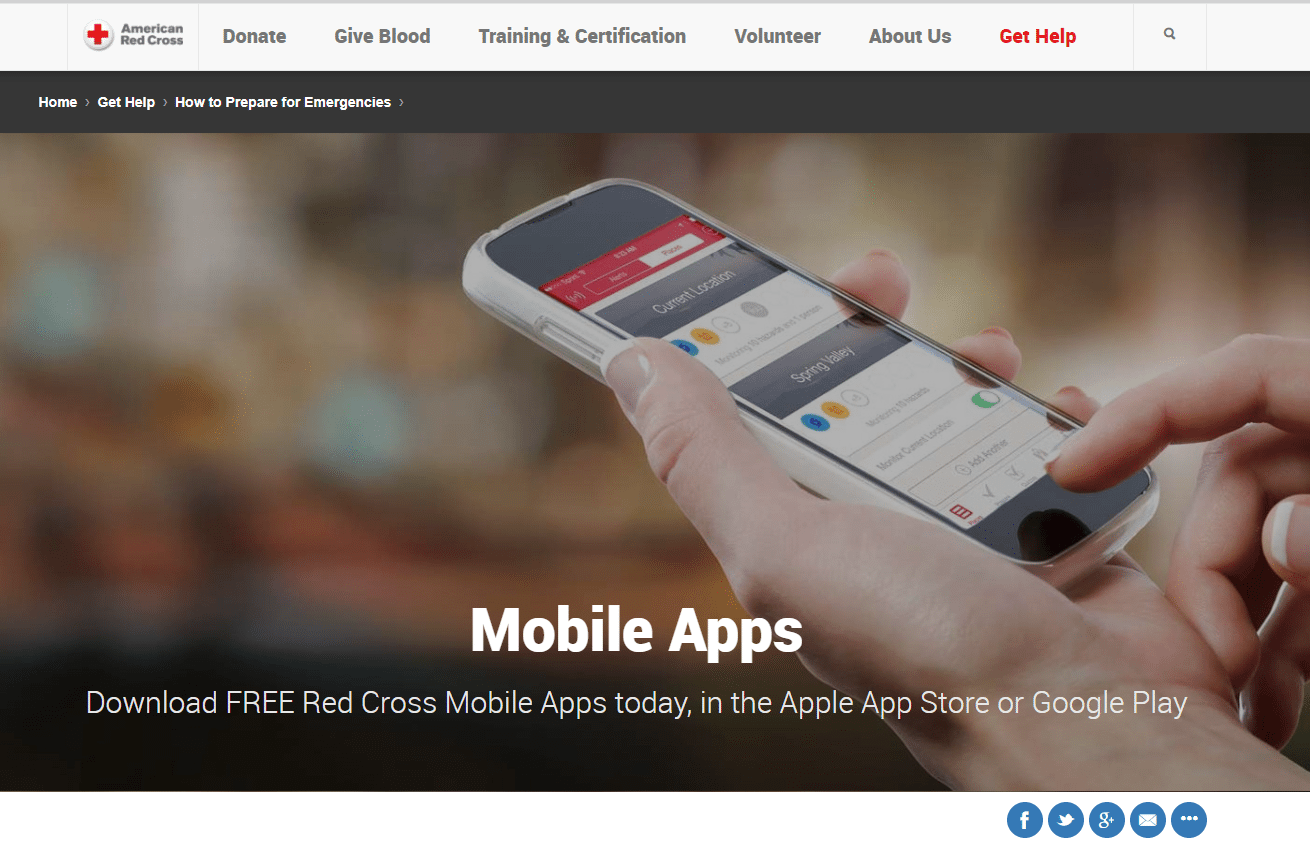 Coaching isn't all x's and o's. A coach is entrusted to take care of their players, and make sure they're safe. With this app, you can access information on how to handle common first aid emergencies. It includes text instructions, video, and extensive Q&As. It can be used to train yourself and subordinates on first aid, and is also a comprehensive resource of injury and health emergency care information. Refresh and build your first aid knowledge, and that of your assistants and parents through this app.
Works for iOs and Android
Free to download
Soccer Coaching Apps
13) Sportplan Soccer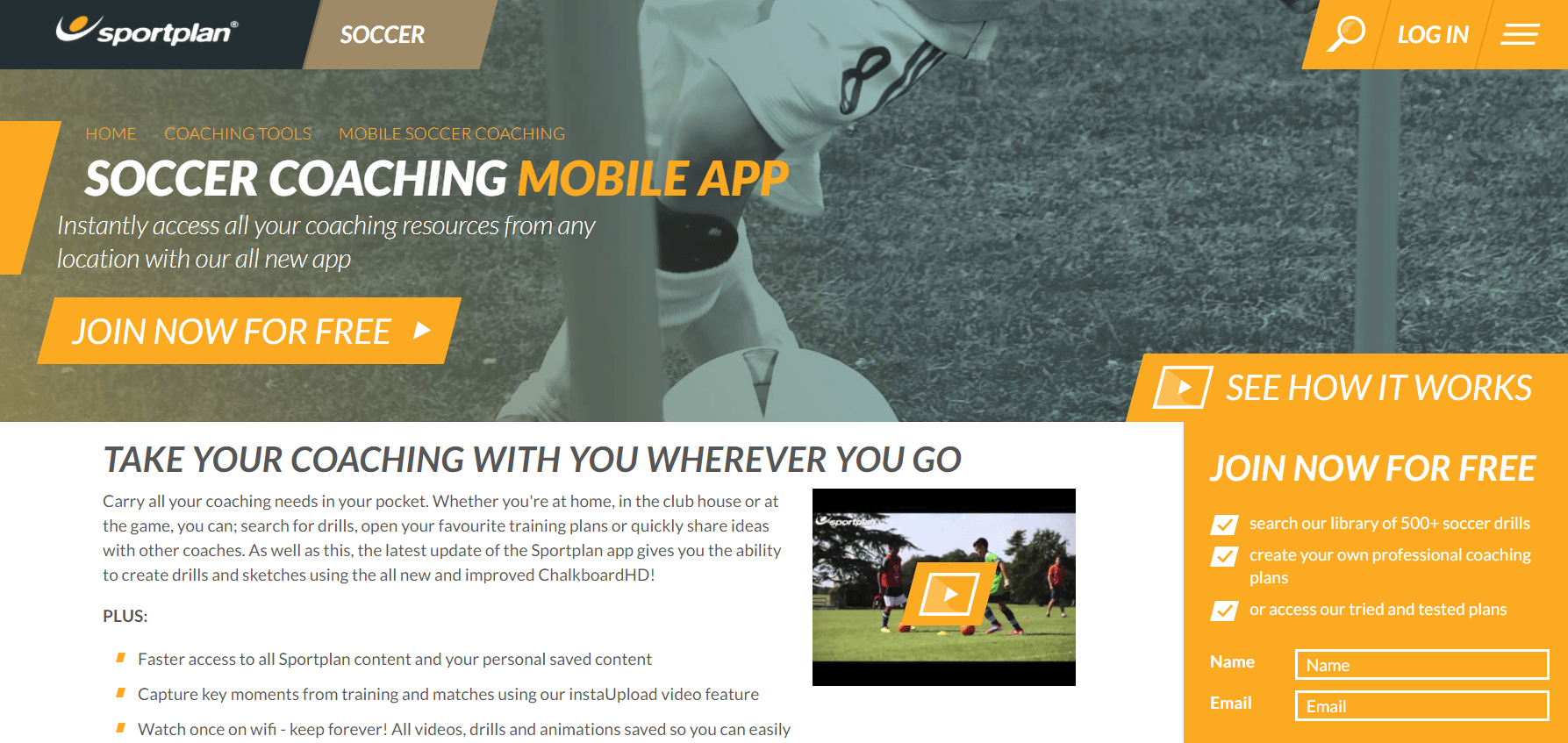 This app gives coaches access to over 500 soccer drills. It helps coaches create coaching plans, or use ones that are proven to work and are stored in its database. Coaches can capture and store key moments from training and games through this app. It's also useful for note taking, and holding all your soccer training information in one place. Everything you view or create is conveniently saved once it's viewed on wifi.
Works for iOs and Android
Free to download
14) Tactical Soccer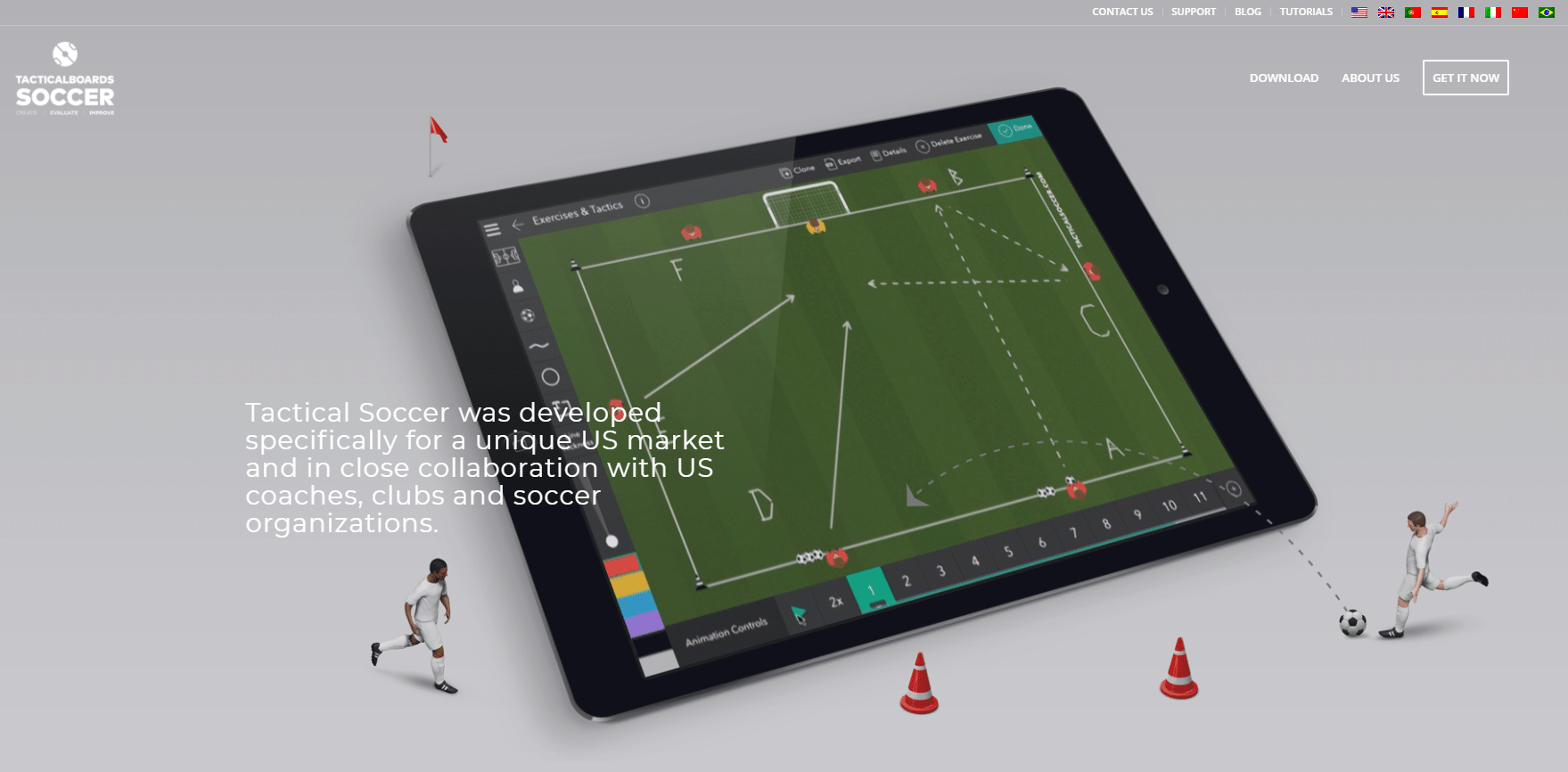 Tactical was specifically designed for the US soccer market. It was created with the help of US coaches, clubs and soccer organizations to make sure it's applicable to the modern American game. It works without wifi, letting you use it out on the pitch. Coaches can compile a secure tactics library, get access to drills, practices, powerful, intuitive animation and much more. It's also great at scorekeeping, analyzing statistics and creating player/match reports, among many other features.
Works for iOs and Android
Between $59.99-99.99 annually depending on total users
Baseball Coaching Apps
15) Baseball Radar Gun High Heat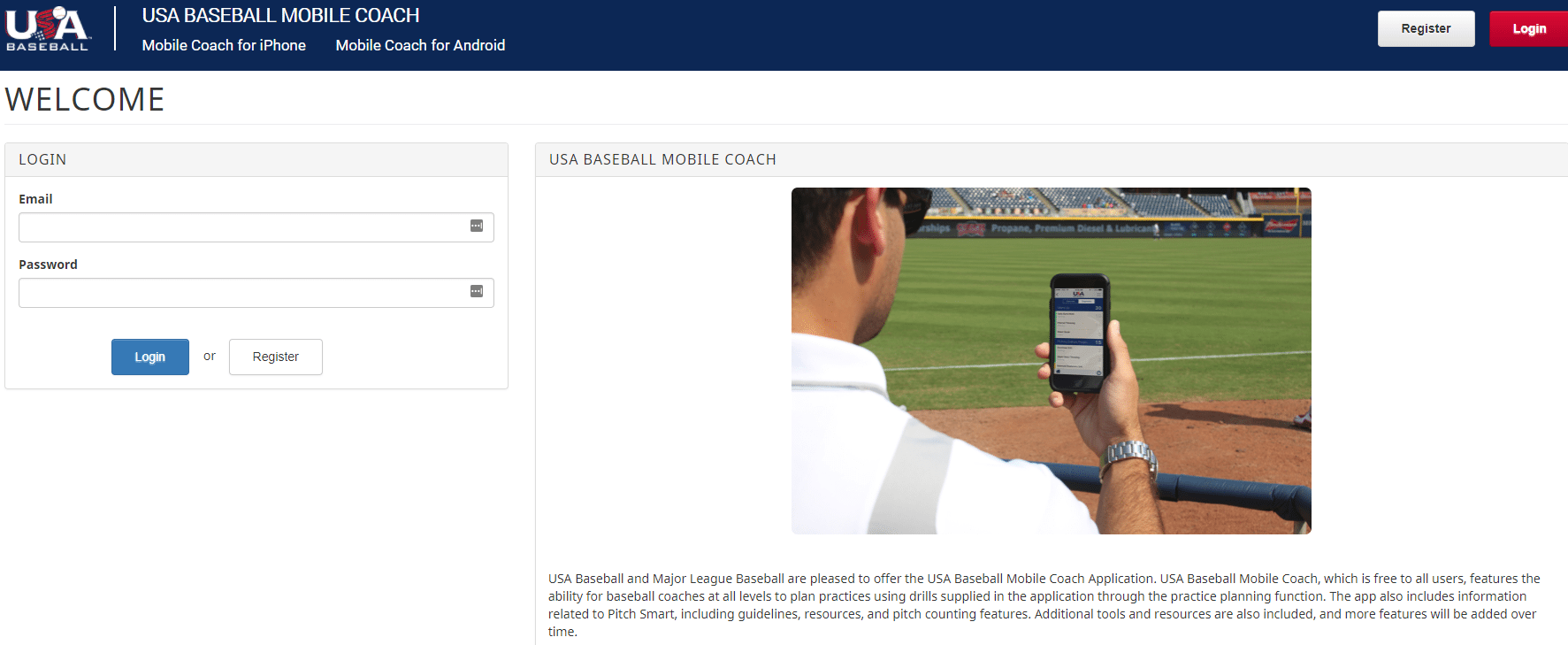 This app lets you measure the pitch velocity of your athletes, and their opponents. Over 1 million people use this app at practice, games, or even professional parks. It also lets users easily track the score, inning, number of outs, and ball/strike count. Reviewers rave about its accuracy. This app can be used in English, Japanese and Korean.
Works for iOs
Free to download
16) USA Baseball Mobile Coach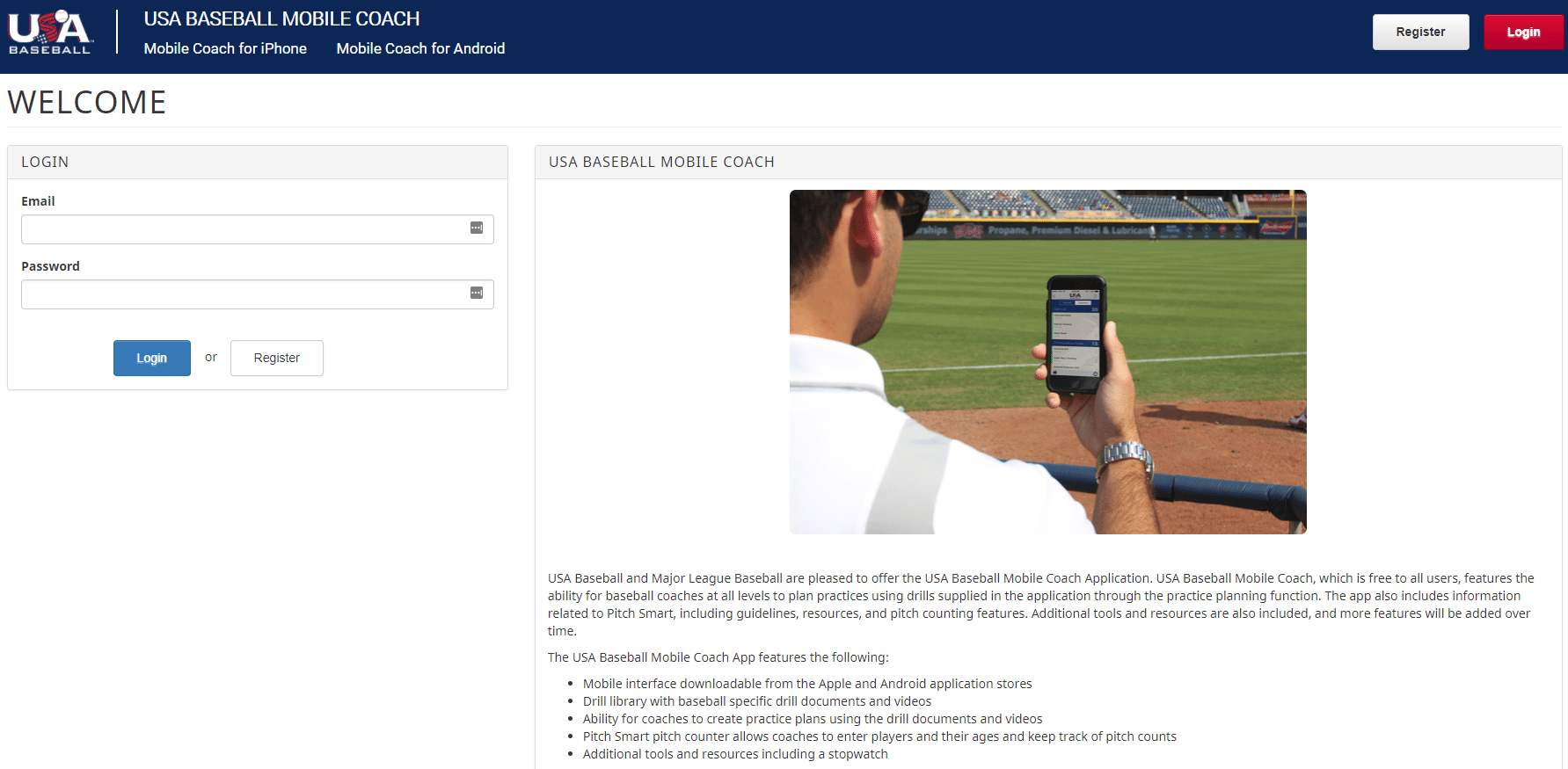 This app has a wealth of features for baseball coaches. Use drills from a large library. Use practice plans that USA Baseball and other experts created. Easily track pitchers' pitch counts to make sure you're taking care of your young arms. There's also great fielding instructions that place your players in specific situations and help them build experience and muscle memory to deal with them. Also features a huge library of videos and tutorials.
Works for iOs and Android
Free to download
USA Baseball Mobile Coach
Football Coaching Apps
17) Firstdown Playbook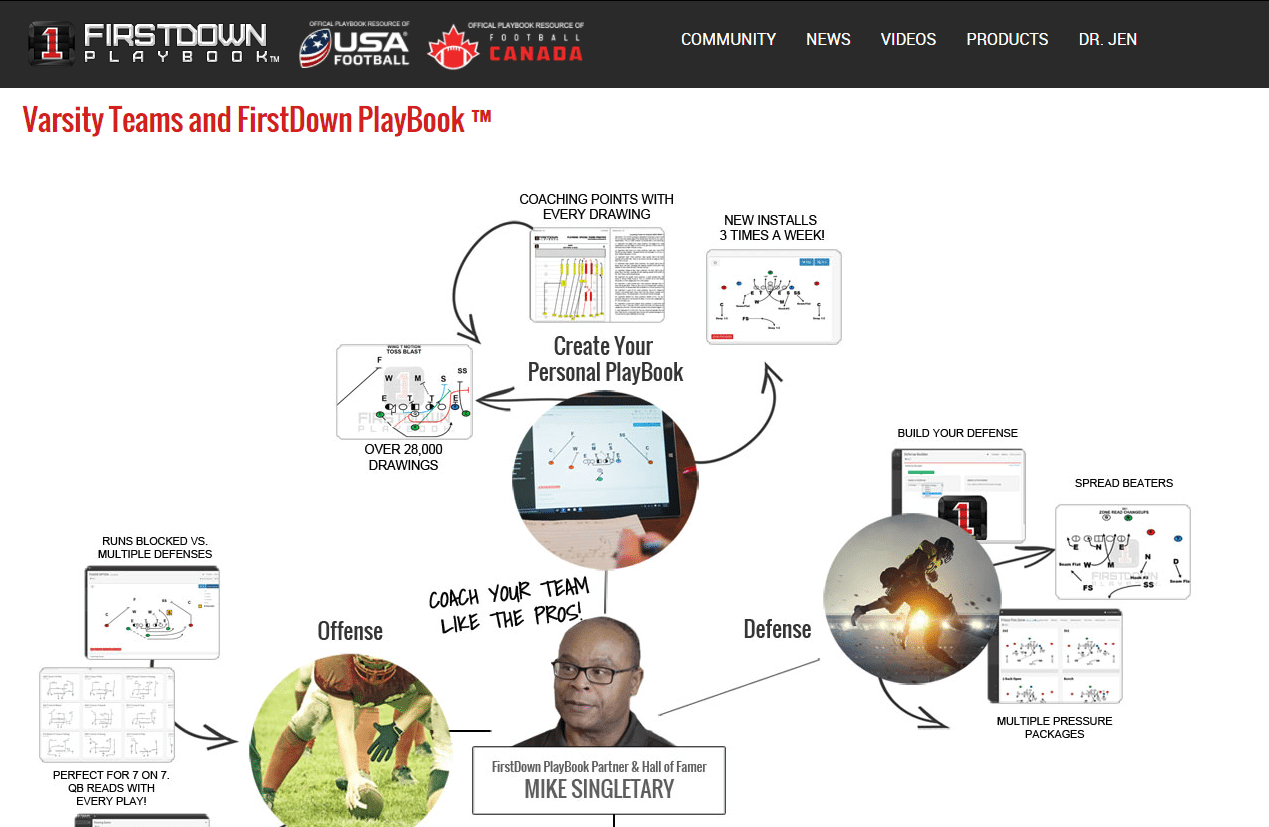 This app helps coaches create their own personal playbook, with accessible schemes and a great interface for storing and keeping them. The playbook coaches access has tens of thousands of plays in it, and is being constantly updated. It helps players with technique, understanding different looks, and much more. The app is useful for all phases of the game, including offense, defense and special teams. It has partnered with NFL Hall of Famer Mike Singletary.
Works for iOs and Android
$30 a month or $100 annually
18) CoachMe Football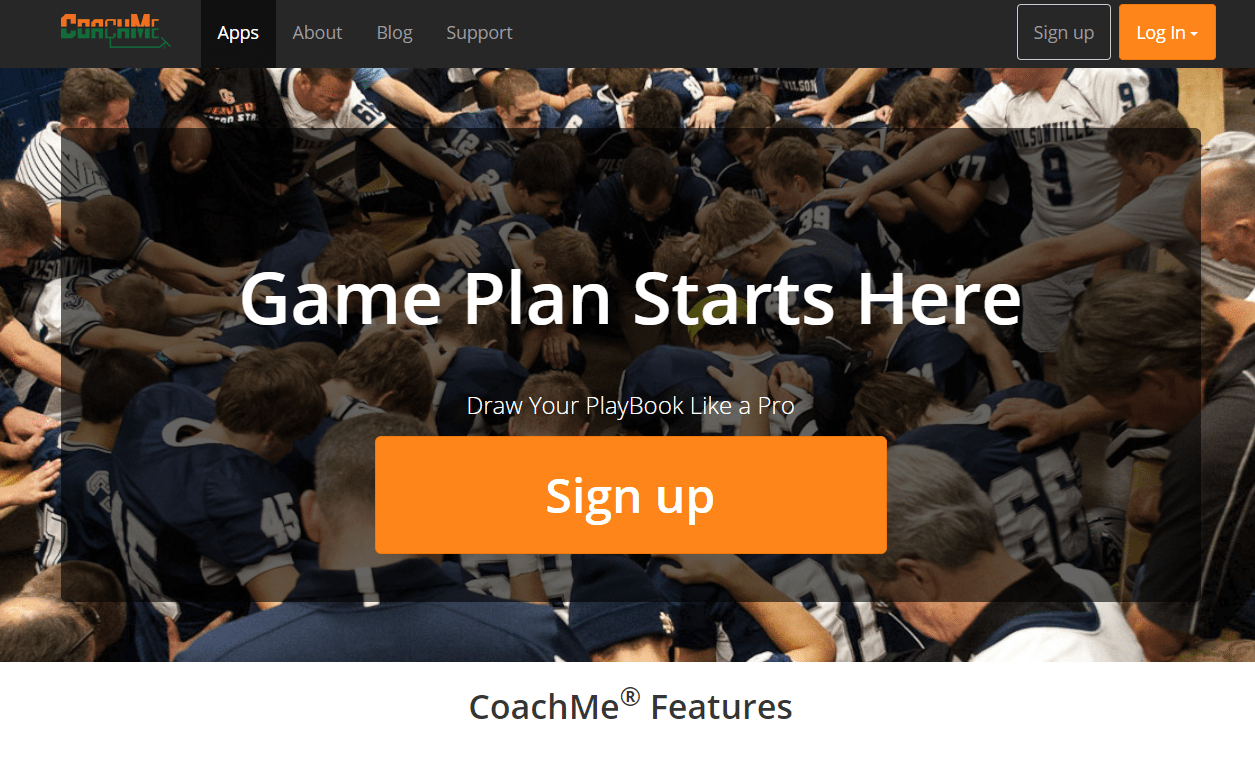 This app is also great for football coaches that constantly need to create, revamp and execute complex plays. To help facilitate that, CoachMe offers animation tools and customizable player options into an instinctive interface. It's also easy to create edit and share your plays through mobile or web to whoever is allowed to see them. CoachMe also lets you write posts, read comments and access your personal Locker, PlayBooks and Messages with others, among other features.
Works for iOs and Android
Free to download the Lite version, various prices for other options
Basketball Coaching Apps
19) TeamSnap Basketball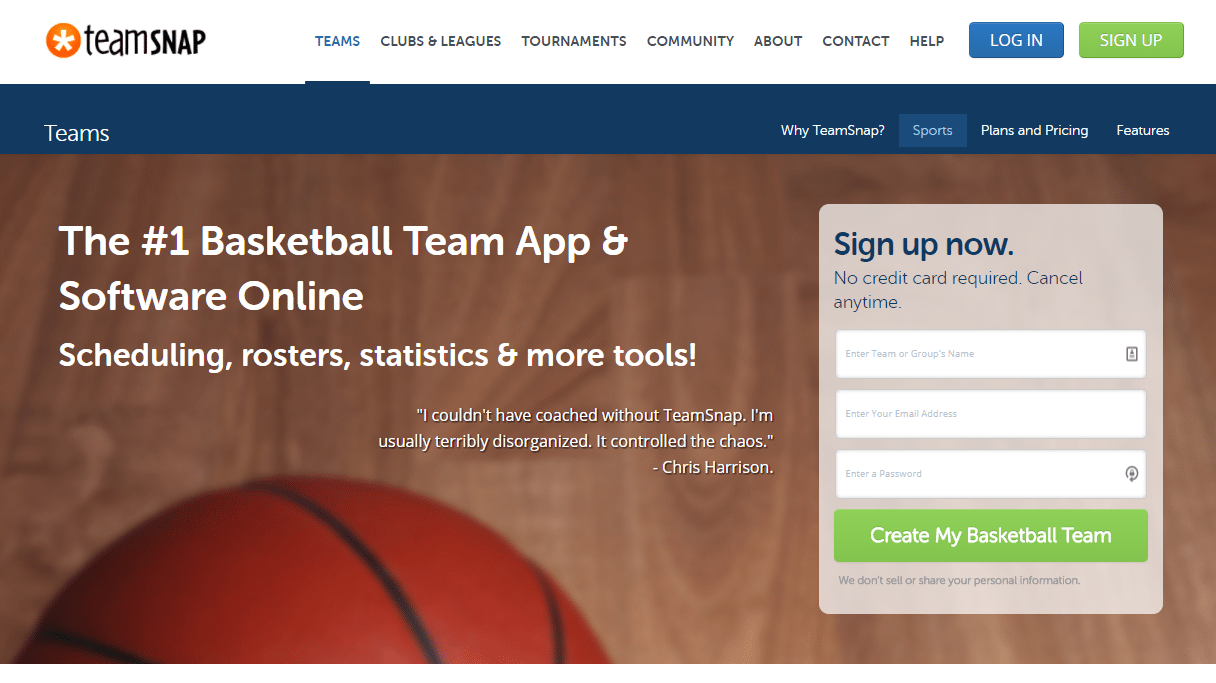 This app is essential for team management. Coaches can communicate with team members, makings sure they're showing up to important dates, changing practice locations last minute and letting everyone know, and much more. Coaches can also access skills and drills, a podcast, a blog, and much more to enhance their teams performance and educate themselves about the latest strategies and techniques in coaching. Former NBA star Keith Van Horn uses TeamSnap to organize teams in his league. Team Snap is also great for separating different teams or individuals you're coaching.
Works for iOs and Android
Free 21-day trial and $9.99 per month paid plans
20) FIBA Basketball Coaching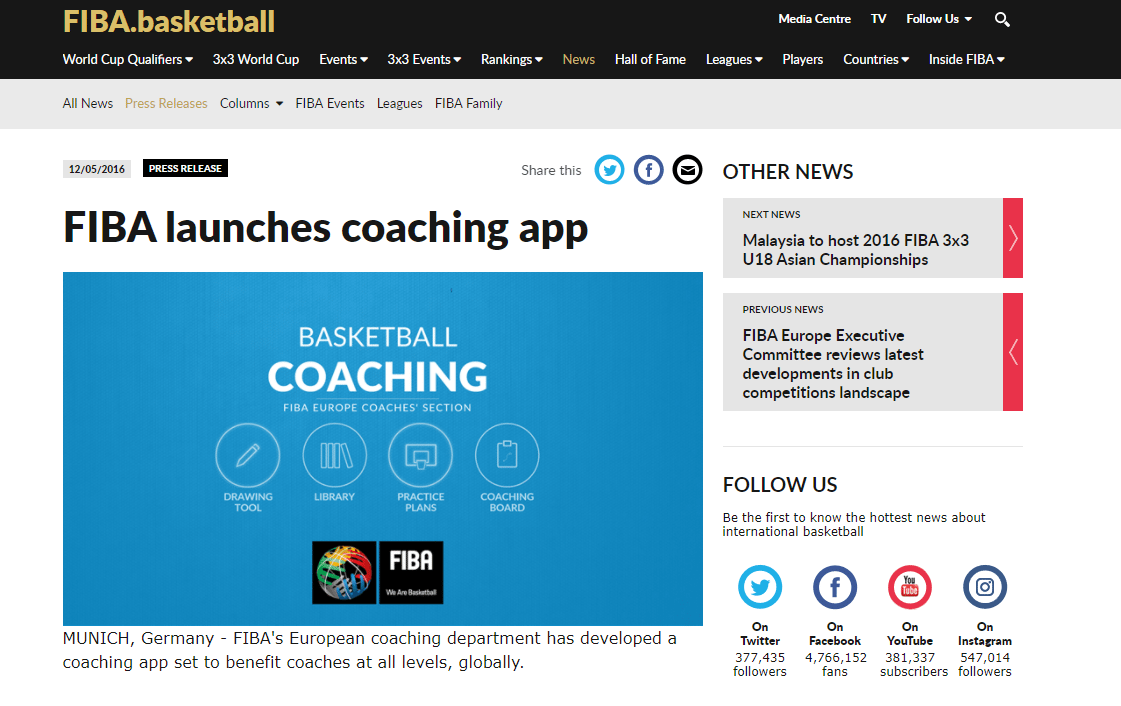 This is the official coaching app of the Fédération Internationale de Basketball, and is intended for coaches all over the globe. As basketball rapidly expands, this app allows coaches worldwide to share strategies, training and specific plays. It offers a coaching board for drawing up plays, can be used on and offline, and helps make practices more productive and intuitive through its pleasing interface. American basketball coaches are being imported all over the world to burgeoning basketball programs, and getting involved in the social aspect of this app could help build connections and job opportunities that change your coaching career.
Works for iOs and Android
Free to download