One of the oldest forms of human competition is the race. The premise is eternal: start at the same time, from the same place (or thereabouts) and finish at a predetermined location. Whoever gets there first wins. Simple right? From primordial ooze surging to crawl out of the mud to sperm racing each other to fertilize eggs, all of life can be seen as a race. Eventually, when all we had were legs, we raced on those. With the wheel, and all its descendants, we found ways to speed up the pace, but the goal was the same. Candidates race to hold office, only to see their reigns melt away in subsequent races. Incredible actor Sir John Hurt said, "We are all racing towards death. No matter how many great, intellectual conclusions we draw during our lives, we know they're all only man-made, like God. I begin to wonder where it all leads. What can you do, except do what you can do as best you know how."
Hurt died in January, but his words serve as a reminder that the ultimate race is against complacency, inertia and entropy. In that spirit, let's examine some of the greatest, most grueling, longest, highest races that man still embarks on today. You'll contemplate the dangers and challenges in jungles, mountains, mind-boggling temperatures, elevations and combative terrain, from the safety of your computer screen. You'll be transported to Peru, Alaska, Costa Rica, one block in Queens, NY, Patagonia, the forests of Tennessee and much more, learning the specs of what it takes to attempt, much less complete them.
1) Barkley Marathons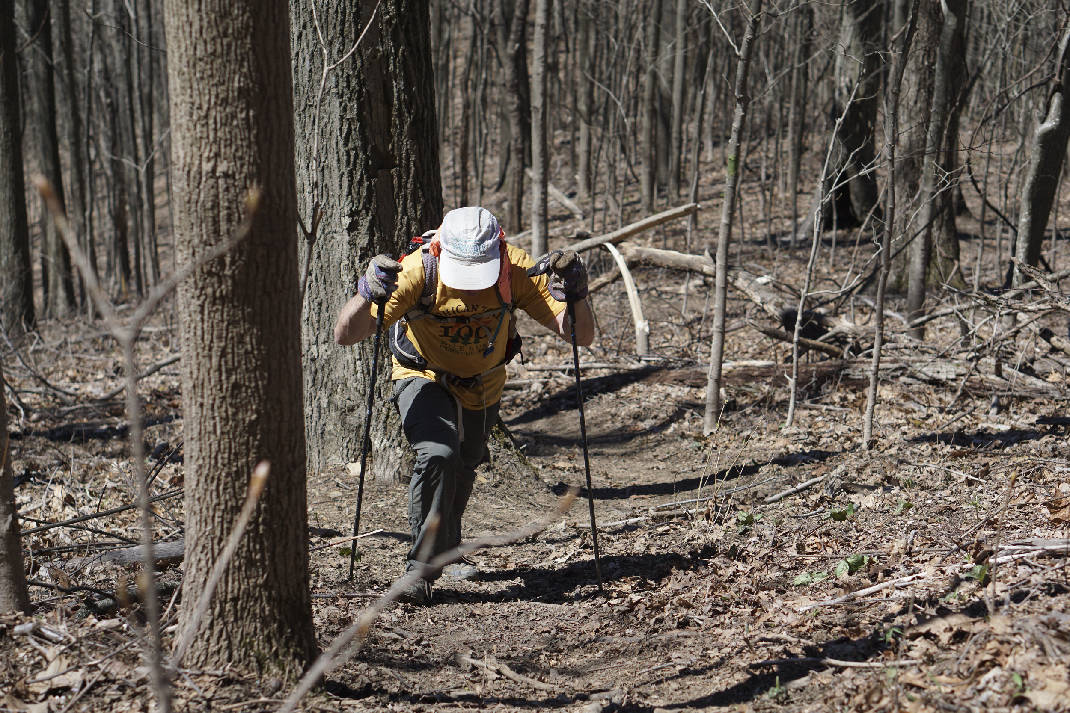 The Barkley Marathons is an approximately 100 mile race held in Frozen Head State Park in Tennessee. Runners have 60 hours to complete it. Only 40 runners are allowed to compete each year, and do so on an oft-changing course. Runners do 5 laps of approximately 20 miles through wilderness, picking up pages of hidden books along the way to prove they ran the correct course. Over the course of the race, they climb an accumulated 54,200 feet. Barkley was created by runner and Tennessean Gary "Lazarus Lake" Cantrell, after hearing about the 1977 escape of James Earl Ray, the man who killed Martin Luther King, Jr. Ray had broken out of the Brushy Mountain State Penitentiary, but only made it 8 miles before he was caught in the surrounding forests, 55 hours later. Cantrell was unimpressed, believing he could have run at least 100 miles in that time. The race was born.
In order to enter the Barkley, applicants need to write an essay entitled "Why I Should be Allowed to Run in the Barkley", pay $1.60, and whatever else Cantrell decides that year. Accepted applicants receive a "letter of condolence". When first time runners arrive at Frozen Head, they must bring a license plate from their state or country. Runners must also bring Cantrell an item that he needs. For example, Cantrell might want flannel shirts, so he'll get 40 of them. A magnificent, compelling documentary was made about the 2012 race, called "The Barkley Marathons: The Race That Eats Its Young," directed by Annika Iltis and Timothy Kane. This year, only John Kelly finished the 2017 Barkley Marathons. He became only the 15th person to do so, in 800 attempts of the race. Heartbreakingly, another racer, Gary Robbins, completed the race six seconds after the 60 hours allotted to do so.
2) 6633 Arctic Ultra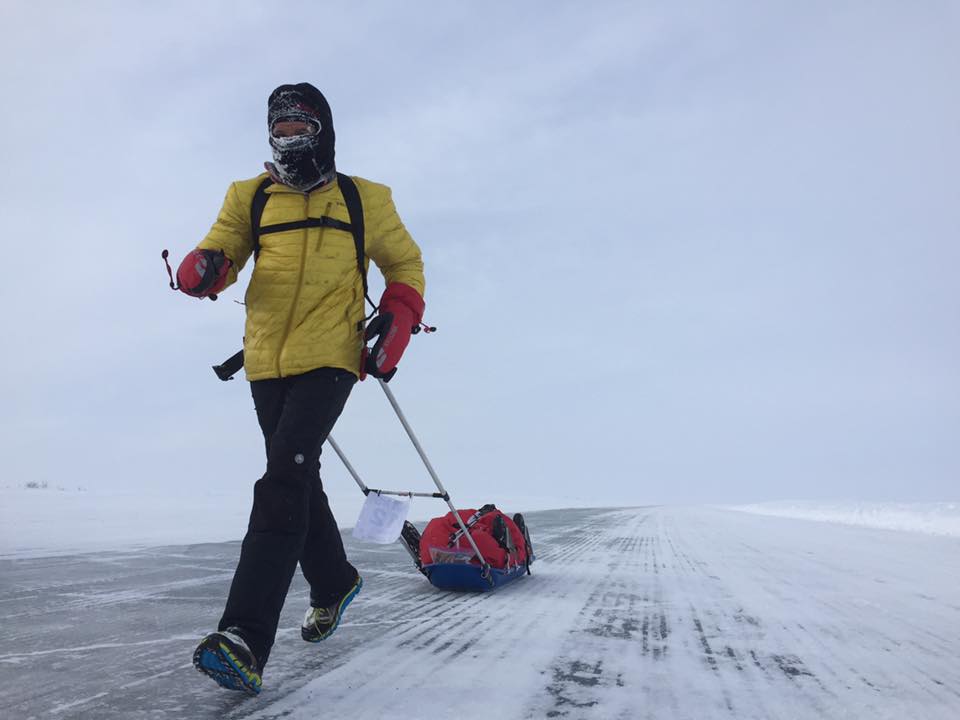 The 6633 Arctic Ultra is known as one of the hardest, coldest, windiest long distance footraces humans have undertaken. The recently completed 2017 version was only the 9th time it's been held. Competitors must support themselves over 120 or 350 miles, both of which cross into the Arctic Circle (at the 23rd mile, 66 degrees, 33 minutes). The 120 mile version ends at First Nations Hamlet of Fort McPherson, and the 350 mile race continues to the banks of the Arctic Ocean at Tuktoyaktuk. For much of the race, participants everything they need on sleds while they race through mountains between the Yukon and Northwest Territories. Temperatures are tend towards 25 below zero, but with winds that can reach 70+kph making the experience much colder. 2017 was the last year the route included all of the Ice Road from Inuvik to Tuktoyaktuk (the final 120 miles). Next year a new route will have to be chosen because the Ice Road to Tuktoyaktuk will no longer exist.
Runners must complete the course in 191 hours. The sleds they pull with them contain food, cooking gear, clothes, sleeping kit and safety gear. Runners who complete the 350 mile race are allowed 2 drop bags with resupply gear at approximately the 120 and 230 mile marks. Throughout the course there are checkpoints, spaced between 23 and 70 miles apart, for racers to rest and make food. At those checkpoints, racers are treated to luxuries like hot water and shelter. Race organizers Martin and Sue of "Likeys Events Ltd," put together a comprehensive list of advise on just what to bring based on their years of racing in Arctic conditions. This year, Romanian Tiberiu Userlu came first in the 350 mile iteration in a shocking 158 hours and 25 minutes. In comparison, second place went to Roddy Riddle of Scotland, who finished in 165 ours and 39 minutes.
3) Dragon's Back Race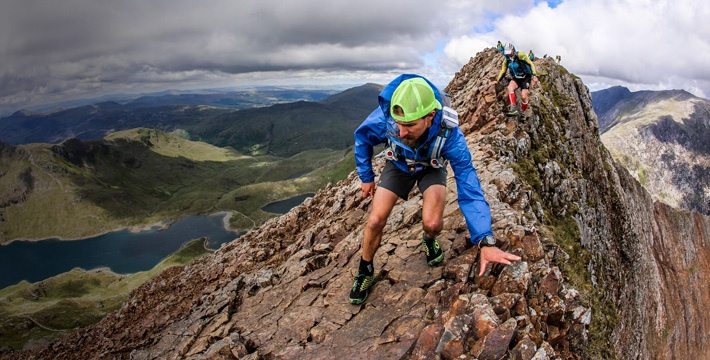 Dragon's Back calls itself the toughest 5-day mountain running race in the world. The course is through the "mountainous spine" from north to south Wales. It's 186 miles long, and requires a 51,000 foot climb, on a course, often with no trails. The first Dragon's Back race was in September 1992, and its legend has grown ever since. The next race took place twenty years later, in 2012, with 85 entrants, and only 32 finishers. Only three years later, the third Dragon's Back Race was held in 2015. That year, Jim Mann finished after 40 hours, 8 minutes and 3 seconds to win, followed by Jasmin Paris, who finished second at 41 hours, 45 minutes and 34 seconds. Runners explore iconic Welsh areas over the five days include Carneddau, Glyders, Snowdon, Moelwyns, Rhinogs, Cadair Idris, Plynlimon, Elan Valley and Brecon Beacons. You can see why it's called Dragon's Back.
The 2017 race will take place between May 22nd-26th. Throughout the race there are checkpoints for racers to recuperate, but how racers reach them is an individual struggle due to trackless portions of the race. get to each one is up to them. Speedy competitors runners go for eight hours a day, but for some in order to finish the race in 5 days they need 18 hours a day. Runners will have to run and find their way often in rainy, low-visibility conditions. The routes only clear definitions are the checkpoints often found at mountain summits. that define They contain boxes where participants can punch in and and record their time. Checkpoints can be manned or unmanned. Checkpoints are played out on a course map, with guidance times for runners to find them, and cutoffs. Runners that don't make it to overnight camps in time (23:00) each night aren't allowed to race for the full day the following day.
4) Self-Transcendence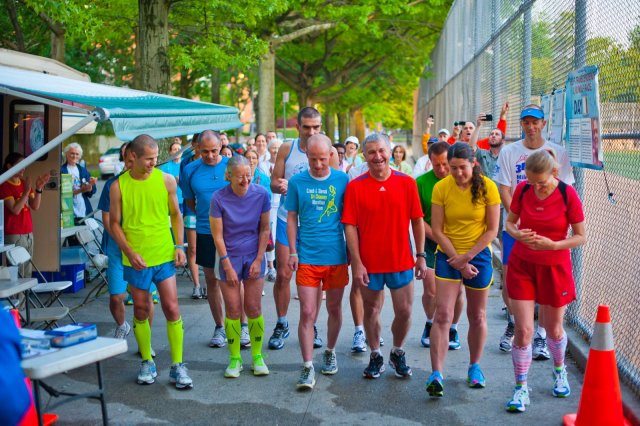 Perhaps the most existential race on the list, and certainly the longest in time and distance is Self-Transcendence. The race calls on runners with, "…tremendous courage, physical stamina, concentration and the capacity to endure fatigue, boredom, and minor injuries." Runners cover 3,100 miles in 52 days by running 5,649 laps around one block in Queens, NY, passing the same playground, ball fields, and high school, all on punishing concrete. Successful runners have to cover 60 miles a day. A comprehensive documentary was made about the 2008 race called "Spirit of a Runner." It's available for free on Vimeo. The 2009 winner, Asprihanal Aalto from Finland, averaged 72 miles a day. Last year's winner, Yuri Trostenyuk, 52, from the Ukraine, completed the race in 46 days, 1 hour, 10 minutes and 25 seconds. It was his fourth time finishing the race. Second place finisher Ashprihanal Aalto, 45, from Helsinki, Finland also finished in 46 days. It was his 14th time finishing the race.
Runners recommend plenty of ice cream, soda and coffee (for energy, fat and sugar) plus "infinite" water. Runners often come in overweight because they know they'll lose it over the race, in which it's standard to average 10,000 calories daily. Racers regularly go from 6am in the morning (when the course is open each day) until 11 or midnight, only to do the same thing the next day. "The flesh and the body do not want to do sixty miles per day. So what is that? That is the mind," Mitchell G. Proffman, a marathoner and chiropractor who supports runners once said. Proffman has offered runners sideline hip realignments in the past. This year's race (the 21st edition) will take place from June 18th to August 8th. If this race won't make you overcome your individual self and melt into congruence with the universe, what will?
5) Jungle Ultra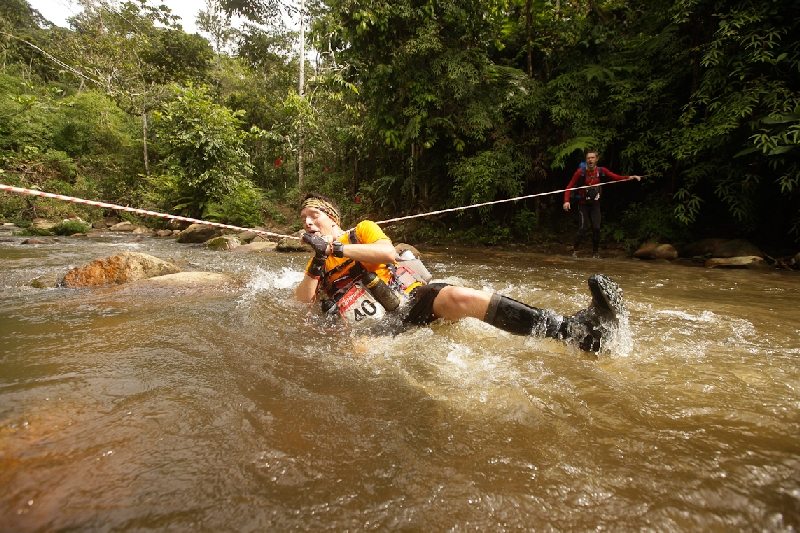 Do you love bugs covering your body? How about nearly 100% humidity (runners should expect "choking" humidity, the organizers warn)? Jungle Ultra is for you. This race covers 142.6 miles through the Peruvian jungle, exploring the cloud forest and dropping 10,500 feet to the base of the jungle floor. Runners cross 70 rivers and streams as they contend with whatever creatures they come across. This Amazon Rainforest stretch (from the Andes mountains to the Madre de Dios River) is one of the few naturally unspoiled areas left on the planet. The website's description really captures the challenge before you: "The clouds boil and roll across the canopy below and the air around you is thin enough to double the effort required to move. Soon you will descend…and make your way through 230km of sweltering jungle, choked with mud and humidity, broken by river crossing after crossing." At times, apparently it's useless to sweat to cool your body down because the humidity is so powerful.
To enter the race, runners will need to spend £2000, and get themselves to Manu National Park in Peru. Jungle Ultra is a self-sufficient race, so runners will carry their gear, including food, safety equipment and at least 2.5 litres (there are places to refill it at checkpoints along the way, so no need to drink the river water). Runners will have to run in complete darkness, following the course by head torch, but will be able to sleep sometimes at research stations and lodges that are scattered across the course. This year's Jungle Ultra isn't until June 4th, so you still have time to enter!
6) Marathon des Sables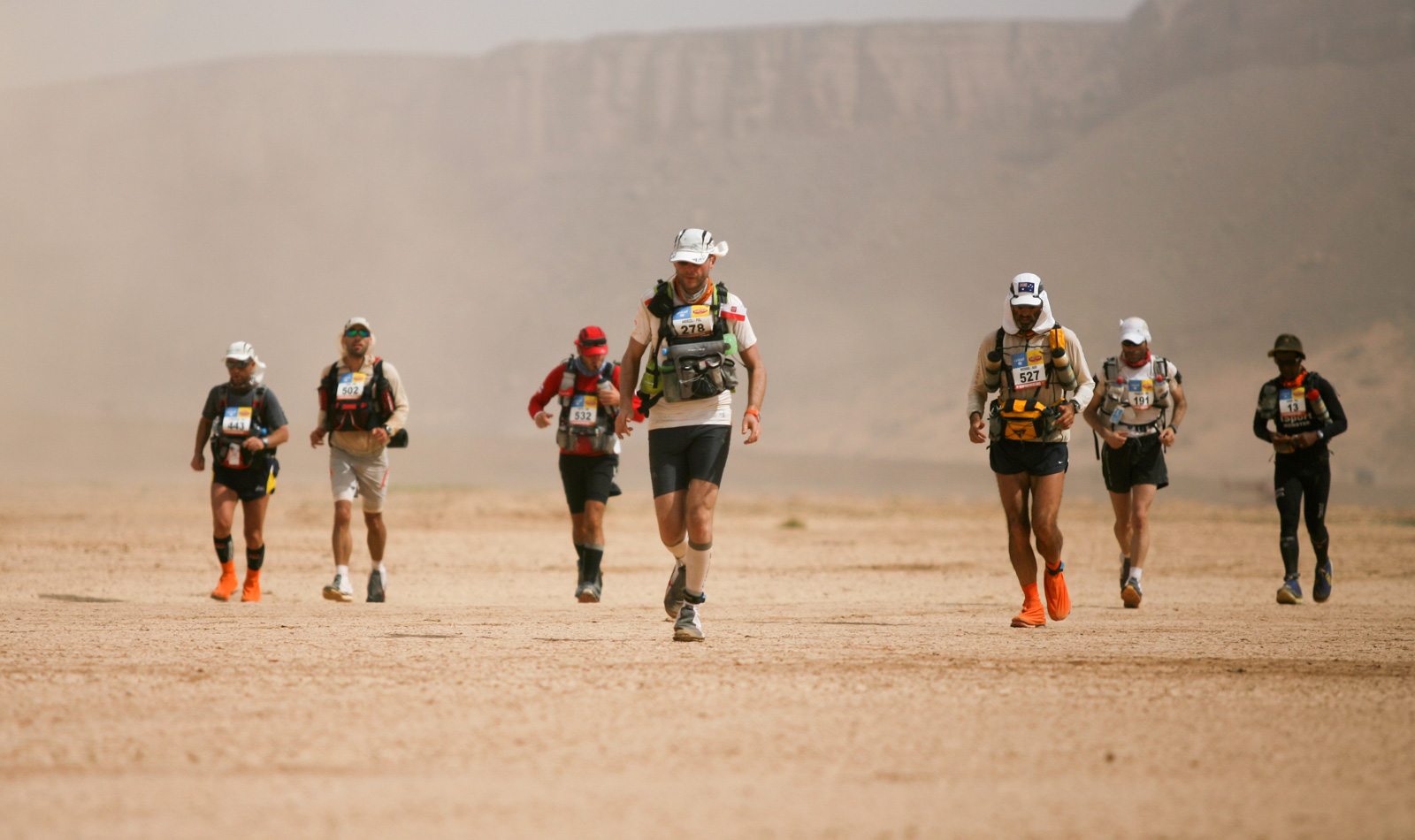 The Marathon des Sables is a six day, 154-mile race that takes place in the Sahara desert in southern Morocco. This race is especially dangerous, and three people have died since the race began in 1986 (there's also a half long version that takes place in September this year). In its first year, 23 participants took part, One of the most difficult aspects of the race (besides being stuck in the desert for 154 miles) is that the sand is so fine it's often impossible to run. Instead, each footstep can be absorbed by the sand in parts of the race, causing runners to drag, slide and slog their way through. Also it takes place in April when temperatures are regularly much higher than 100 degrees. Still, 1,000 people sign up each year. Impressively, the race organizers make sure participants have Internet access and phone service so they can keep in contact with family and sponsors.
The race traces its history to 1984, when Patrick Bauer, 28, decided to travel 350 kilometers of completely uninhabited desert in 12 days, with everything he needed strapped to his back. By 2015 there were 1,300 competitors involved in the race (a total of 20,000 people aged 16-83 hailing from 52 different countries have participated). Over its history, the distance has expanded, with 2016 being the longest MDS in history at 257 kilometers. This year's race took place between April 7th and 17th. Runners are suggested to consume between 3-4,000 calories a day (and to carry that much on their back). In order to make this work logistically, runners need to carry freeze-dried food and energy bars. In order to train for the full race, MDS suggests runners do weekly runs of 100-125 miles.
7) Grand to Grand Ultra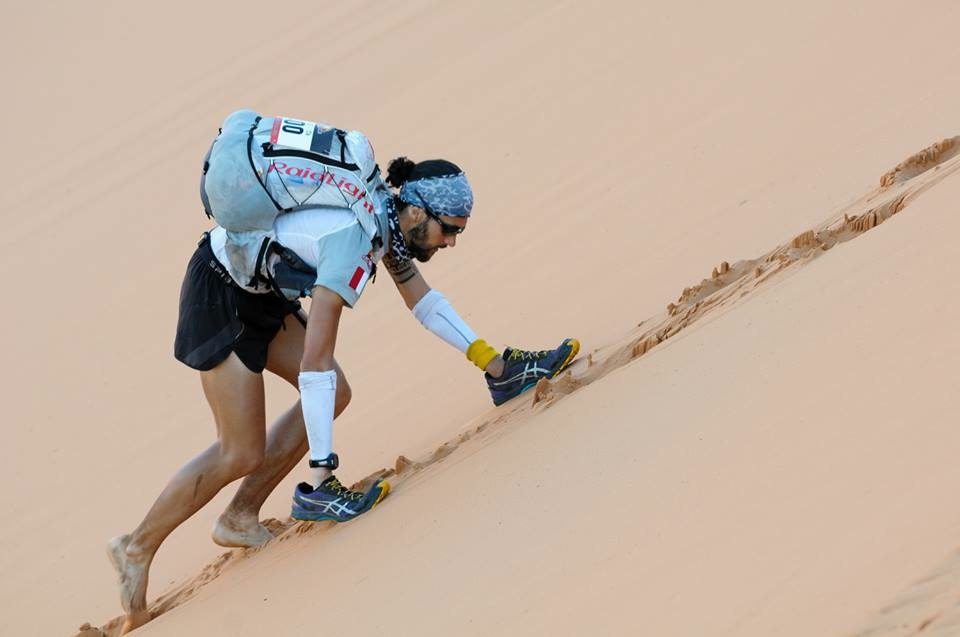 The Grand to Grand Ultra primarily describes itself as: "273 km (170 miles). 6 Stages. 7 Days." This American race takes competitors through Utah and Arizona, starting at one of the Seven Natural Wonders of the World, the north rim of the Grand Canyon, and concludes at the sandstone cliffs of the Grand Staircase. Along the way, participants will run through coral-colored sand dunes, red rock slot canyons, alien hoodoos, buttes and mesas and hoodoos as they traverse the Utah desert. They'll also climb 19,000 feet during the race. This year the race will be held between September 24th-30th, at a cost of $3,300 per racer. There are nationality quotas to make sure runners worldwide get an even chance to participate. From all accounts, this race brings participants together like no other, and the organizers put in financial incentives for returning runners, and their family/friends to participate.
The race is self-supported, but water will be provided throughout at checkpoints. The 2017 iteration of the race is only its 6th incarnation. The race was founded by Colin and Tess Geddes. They've also previously offered a shorter, 108 mile version of the race for runners who felt the longer version was too much. The course chosen by G2G was picked because it's the most remote part of America, an area first explored by its earliest human settlers, the Navajo and Paiute Indian tribes. It's rumored that Montezuma's gold is buried on this land. Runners will run among rare, threatened cacti, big horn sheep and the endangered California Condor. Phones and laptops aren't allowed on this course, giving runners a greater opportunity to encounter the fascinating environment around them.
8) Badwater Ultramarathon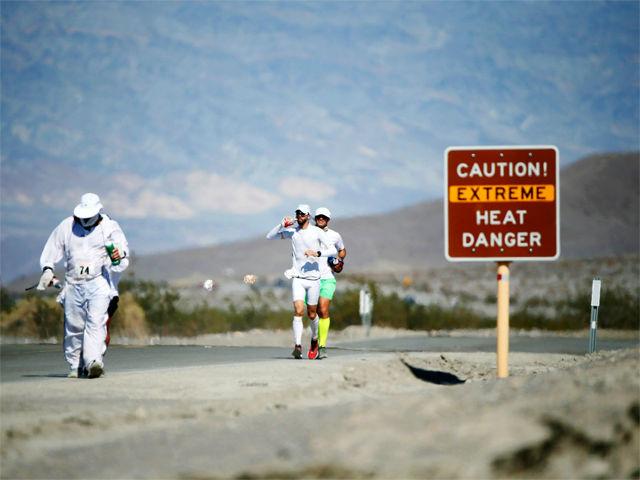 Badwater is one of the oldest races on this list, with roots that begin in the late 60's and mid 70's. The race is held on three days in mid-July each year (July 10-12 this year). It swears that despite competing claims, it is in fact the "world's toughest footrace." This 135 mile course was conceived as race between the lowest and highest points in the United States. It begins at Badwater, Death Valley (279 feet below sea level) and ends at Mt. Whitney's summit (14,505 feet above sea level). These two points are only 80 miles away from one another, but due to detours and climbing (14,600 feet of cumulative elevation gain and 6,100 feet of cumulative descent), Badwater's full physical effort comes closer to 157 miles. The first hike between Badwater and Mount Whitney was made in 1969 by Stan Rodefer and Jim Burnworth of San Diego. Then in 1974 and 1975, Al Arnold attempted (and failed) to run the course. In 1977, he traversed from Badwater to Whitney in eighty hours, never to return again (except to be inducted into the course's hall of fame).
In 1987, Bad water became an official, organized race. The course is more self-sustained than others in the sense that all requirements must be provided by a crew that supports (and is recruited) by each runner. Intravenous fluids are no longer allowed. Early on, there was no official course, and runners could attempt shortcuts (one of the first five runners, Adrian Crane, used cross-country skis to cross salt-flats). Runners used to be allowed 60 hours to complete the course, but are now only permitted 48, with several checkpoint cutoff times along the way. The course record for the previous 146-mile distance (235 km) was set in 1991 by Marshall Ulrich at 33 hours and 54 minutes. Current records for the modern 135-mile (217 km) course are 22 hours 51 minutes 29 seconds (men) by Valmir Nunes, and 26 hours 16 minutes 12 seconds (women), set by Jamie Donaldson. A documentary called "Running on the Sun: The Badwater 135" was made about the 1999 race. In recent years, 70-80 people compete in the race, and around 20-40% usually fail to complete it. Miraculously, the race has produced no fatalities.
9) Spartathlon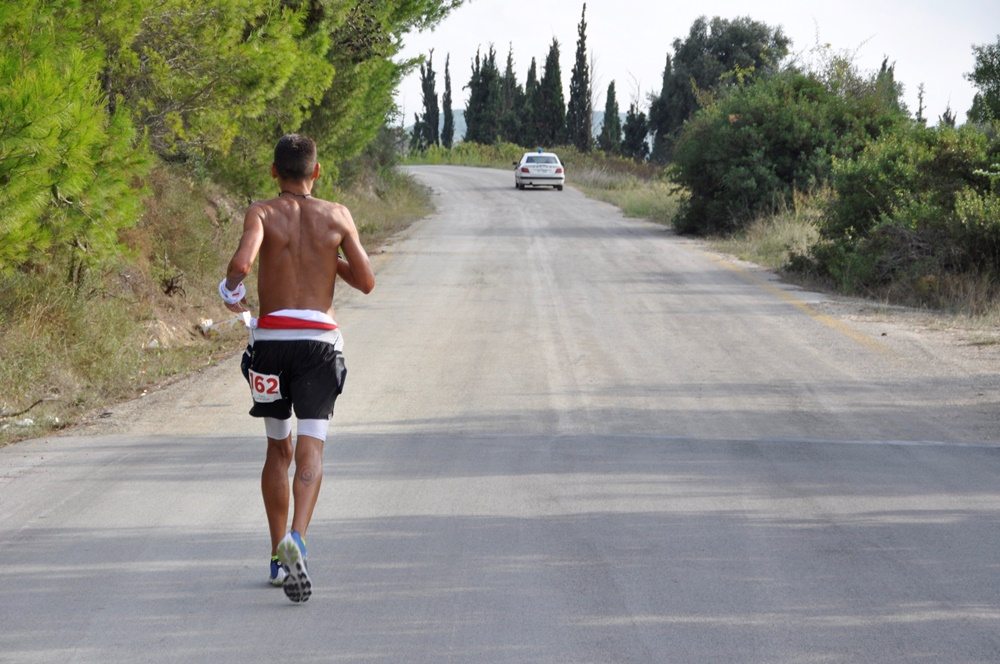 This race traces its roots to the ancient world, and the story of Pheidippides, an Athenian messenger sent to Sparta in 490 BC to ask for aid from the Persians in the fortuitously named Battle of Marathon. It took Pheidippides a day to get there, Greek historian Herodotus claims. The first race commemorating Pheidippides' trip was held in 1983. Each year the race begins a 7 AM, usually on the last Friday of September. The race starts at the Athenian citadel Acropolis, then winds out of Athens along the coast towards passing Elefsis, Megara, and Kineta, then hitting Corinth as the first major checkpoint of six (the race has 75 total checkpoints, all of which have cut-off times). The race is 153 miles (246 km) long, and must be completed within 36 hours.
For the first half of the race, checkpoint tardiness can be tolerated, but after that it is strictly enforced. Organizers can eliminate competitors for being late to a checkpoint or who are showing fatigue at their discretion. There are some intense requirements for participants. Runners must have either finished a race of at least 62 miles or 100 km in under 10 hours, 30 minutes, competed and completed a 120 mill or 200 km race in under 29 hours and 30 minutes or already competed in Spartathlon and made it 172 km in less than 24 hours, 30 minutes. The course record belongs to Yiannis Kouros, who won the first Spartathlon in 1983 with the current record time of 20:25:00. Kouros competed in four Spartathlons, winning all of them and setting the four fastest times in the race's history.
10) Patagonian Expedition Race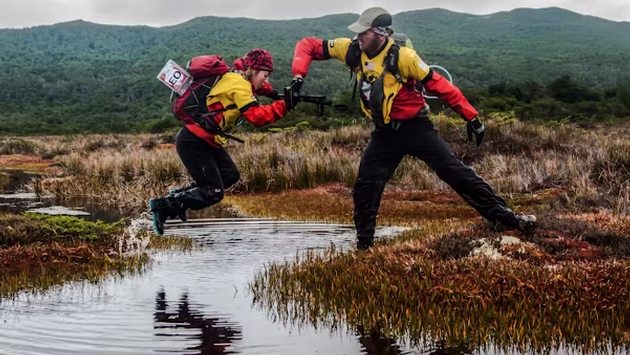 This endurance race involves 10-days of trekking, sea kayaking, orienteering, and mountain biking for co-ed international teams of four (no more than 20 teams). It takes place on different courses each year, but always in the remote wilderness of Chilean Patagonia in February. Since it was created in 2004, courses have been between 320 miles (520 km) to 680 miles (1112 km), and teams have had 9 to 14 days to complete them. Route details are only revealed 24 hours before the race begins. The race has a cause: raising awareness and protecting the unique, fragile environment of the area, and to discourage the exploitation of the region's wonderful flora and fauna by unsustainable industries. It was created by geologist Stjepan Pavicic for this purpose.
People from 26 different countries (Australia, Canada, USA, México, New Zealand, South Africa, Denmark, Sweden, Norway, Finland, Japan, Russia, Spain, France, Germany, Turkey, Great Britain, Czech Republic, Colombia, Brazil, Uruguay, Argentina and Chile) have participated in the race, and since 2007 it's had an official partnership with the Olympic Committee, the only adventure race to do so. Some areas involved have included the mountains of Torres del Paine and the Cordillera Darwin, the plains and hills of Tierra del Fuego and Isla Riesco, and the freezing water of the Strait of Magellan and the Beagle Channel. There's an average completion rate between 35-50% for teams, due to the extreme difficulty. In 2016, the winning team, made up of three Australians and an American (Nick Gracie, Chris Hope, Warren Bates and Jari Hiatt) in 5 days, 22 hours, 25 minutes, traversing mountains, fjords, and glaciers heading into the western sector of southern Patagonia. It was an "inhospitable" course that the race had never previously entered.